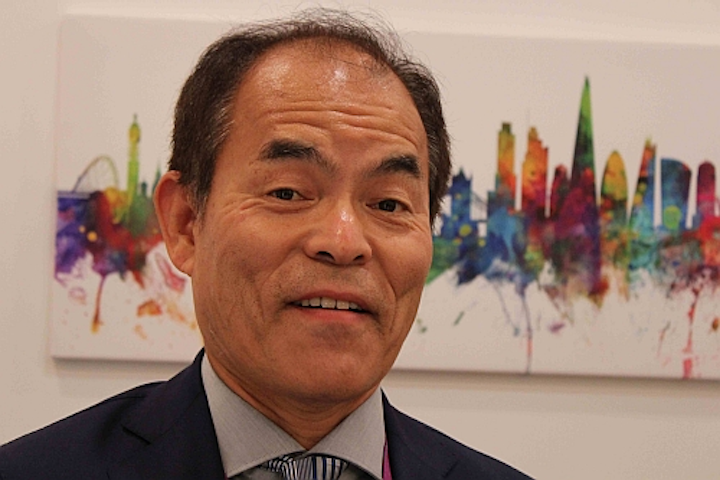 The LED technology developer launches a glare-free ceiling fixture with CRI exceeding 90.
FRANKFURT – Violet emitting solid-state lighting (SSL) specialist Soraa has expanded into luminaires, announcing its first ever ceiling fixtures while also showing off its recently introduced flicker-free lamps and several new snap-on lenses that improve lamps' color rendering and beam direction.
Interested in more articles & announcements on LED lighting?
The company introduced the luminaires here at the Light+Building exhibition, targeting them at the office, healthcare, and retail markets, and marking a move beyond its spot lamps.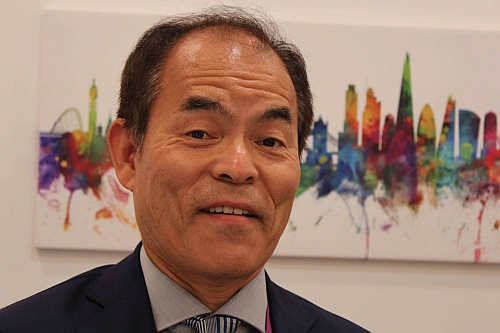 Violet-emitter specialist Soraa expands into luminaires
Soraa co-founder Shuji Nakamura, who a decade ago moved on from his Nobel-winning blue LED in favor of violet, was on hand at the Soraa Light+Building booth to help see violet into ceiling luminaires. Nakamura these days is a big believer in a laser diode future. Watch for our upcoming interview with him. (Source: Mark Halper.)
The luminaires will use Soraa's violet-emission3-phosphor technology, which taps violet LEDs rather than blue, delivering white light said to be free of glare and providing superior color rendering, with a color rendering index (CRI) of over 90. The company said those features improve the "human-centric" nature of office lighting.
They come at a premium price, given the relative costliness of producing violet emitters versus blue LED diodes.
Soraa also displayed the flicker-free MR16 reflector lamp that it introduced last month. By removing flicker, a common invisible stroboscopic occurrence on LED lamps, Soraa says it is eliminating the adverse physiological effect associated with it.
At the same time, the Fremont, CA company introduced two new lenses that snap onto its MR16 lamps. One, called Enhance, improves the lamp's color rendering. Another, called Aim, allows users to change the direction of the lamp's beam by rotating the lens rather than having to redirect the lamp. Both use the same magnetic technology that Soraa already uses in its SNAP line of lenses and accessories.
MARK HALPERis a contributing editor for LEDs Magazine, and an energy, technology, and business journalist (markhalper@aol.com).