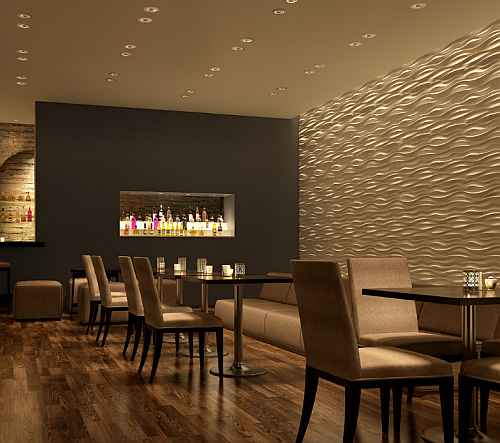 The Mainstream Dynamic technology platform includes LED-based fixtures with warm dimming, tunable white point, and dynamic color capabilities while the LightFlex CCT system employs remote phosphor to match natural light to electrical light CCT.
Acuity Brands has announced two new technology platforms that, while quite different, both have CCT control as a common theme. The Dynamic Mainstream solid-state lighting (SSL) technology platform includes warm dimming, tunable white, and dynamic color capabilities in LED-based downlights and wall washers. The LightFlex CCT technology works with the Sunoptics tubular skylight systems and uses remote phosphor to present natural light at a CCT that matches the electrical lighting in a space.
Interested in more articles & announcements on networks & control?

Tunable lighting
Apparently, Acuity will utilize Mainstream Dynamic as a brand for tunable SSL that will include a variety of luminaires, networks, and controls. The company is launching the platform in the Gotham Evo family of recessed luminaires used in wall-wash and downlight applications with the capabilities coming to other luminaires in the futures.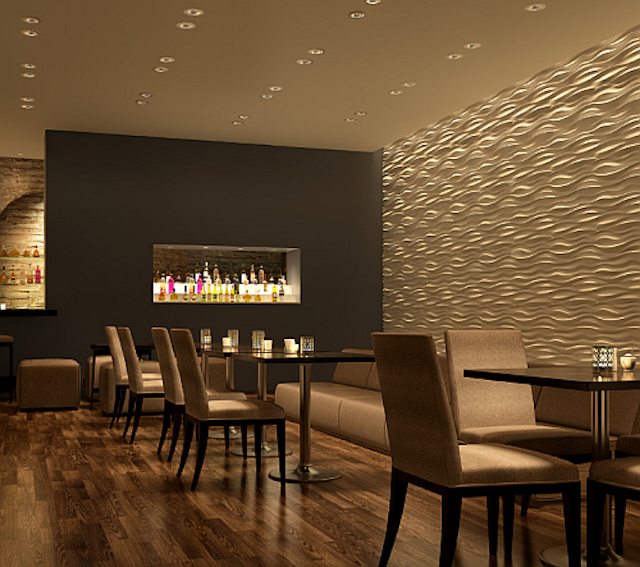 Acuity announces tunable SSL technology, and adds CCT control to daylighting
"This is a real game changer in lighting indoor spaces," said David Ciccarelli, vice president of dynamic lighting at Acuity. "We have simplified dynamic lighting by addressing the hidden complexity before the system is installed and by using the forms and networks our customers know and trust." Specifiers will be able to use either the Acuity Fresco Touch Screen or nLight Wallpod to control Mainstream Dynamic installations.
Acuity presented a webcast on tunable SSL back in September, and much of that discussion was on ways that the company is characterizing metrics and specifications for tunable products. Mainstream Dynamics brings some of that work to fruition. The system uses Gamut, Path, Handle, and Data (GPHD) elements to convey operational characteristics. Gamut defines the range of color a luminaire can produce while Path defines the range supported by the system. The Handle is the control language and Data is the network used to interconnect the system.
Ultimately, Mainstream Dynamic will support warm dimming in three ranges — Incandescent (2700K–1800K CCT), Halogen (3000K–1800K CCT), and Golden (2700K–2000K CCT). Tunable white will be offered in four ranges — Rhythm (2700K–6500K CCT), Productivity (3000K–5000K CCT), Layers (2000K–5000K CCT), and Atmosphere (1800K–4300K CCT). Acuity calls the third offering Architainment Color and said luminaires with that feature would support a full RGBW (red, green, blue, white) color-tuning engine. The company said the feature will bring theatrical-grade lighting to commercial applications.
For now at least, Mainstream Dynamic will be a closed platform, in part due to the complexity of the undertaking. Ciccarelli said, "Mainstream Dynamic system components are designed together to work together, as opposed to a fragmented, difficult-to-operate, unreliable system comprised of multiple manufacturers. And because all components come from Acuity Brands, specification is greatly simplified."
We recently noted that Acuity has taken a special interest in tunable SSL in a story that reported Acuity's acquisition of Juno Lighting. Clearly, the Mainstream Dynamic platform development was nearing fruition before that acquisition was made. But one other angle that may have in part driven Acuity's interest in Juno was the latter's intellectual property portfolio in the tunable lighting area.
Tuned sunlight
Meanwhile, the second announcement from Acuity in recent days involves the counterintuitive notion of controlling the CCT of sunlight. So often we discuss the concept of mimicking natural light with LED-based products. But the new LightFlex CCT seeks to do the opposite.
Daylighting is broadly used, and even required by some regulatory codes, to minimize energy use in commercial buildings. Such daylight can come through windows or in many cases through tubular skylights that bring natural light through suspended ceilings. But that daylight changes in CCT during the day.
Many lighting designers/specifiers, however, prefer to have a uniform CCT in a lit space. The remote phosphor optic in the new system yields daylight in the 3600K–2700K-CCT range. Acuity said the CCT closely matches the 3500K–4000K-CCT range found in a lot of commercial spaces.
"Our unique integrated daylighting solution creates uniform color in common spaces such as office spaces, retail environments, and education facilities, allowing architects and lighting designers to maintain consistency in their color specification while taking advantage of the unique benefits of natural daylight," said Pete Shannin, vice president of daylighting product solutions at Acuity. "With the new LightFlex CCT, our specifiers can now implement the most comprehensive, sustainable, and energy-efficient daylighting solution on the market to drive improved energy efficiency and greater workplace productivity."
Acuity has for several years supplied a LightFlex system that used mechanical louvers and dampers to control the intensity of natural light in skylight systems. We published a detailed feature on the use of natural light back about the time when LightFlex was first introduced.