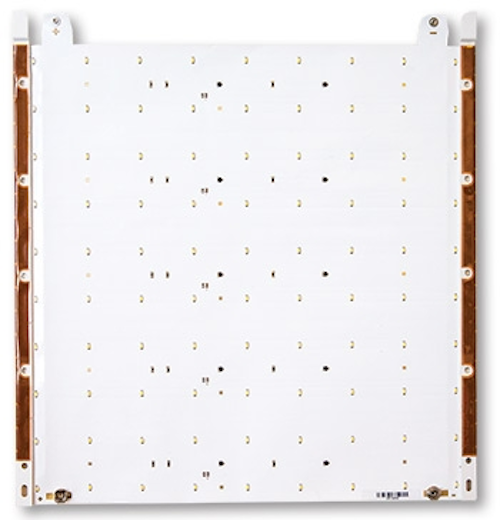 The square SSL sheets are still bendable for flexible installations scenarios and can be cascaded in two dimensions to cover large-area LED lighting applications.
Cooledge Lighting has the announced the Square family of LED light sheets, adding to its portfolio of flexible sheets with embedded LEDs meant for applications such as backlight of display cases and general-lighting products with unique shape or form. The new sheets measure 12×11.7 in. and can be cut using scissors to smaller sizes or cascaded in two dimensions for larger applications.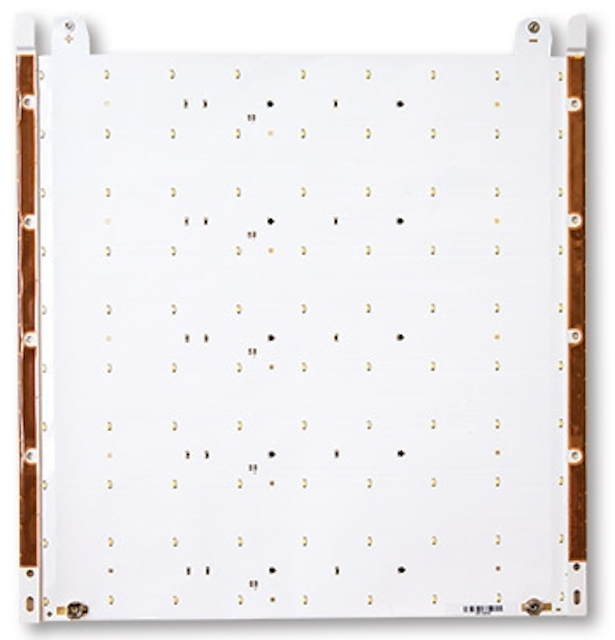 Cooledge announces square version of its LED light sheets
"Part of our vision for lighting is to keep implementation 'kindergarten simple,'" said David Kriebel, vice president of sales and marketing for Cooledge. "The Edison screw base and two-pin fluorescent solutions have made installing a bulb easy but did nothing to change the shape or possibilities of how lighting is applied. Square is so plug-and-play simple that a child could snap it together."


The Cooledge value proposition has been flexibility since the company's inception. The company's products can be bent or molded to fit 3D spaces and forms while delivering even illumination. The company won a LightFair International Innovation Award for the products in 2013.

The new SquareLED light sheets, for example, can be wrapped around a column or curved surface. The company said they were designed to light display walls or luminous ceilings and for backlighting architectural features in a space. The lighting can be combined with materials such as glass, onyx, fabric, and more. Cooledge said the lighting will appear uniform with no pixilation so long as the light sheet is set 2 in. from the diffuser material.
The new Square products are available with a lumen density of 300 or 600 lm/ft2. Sheets are offered over CCTs ranging from 2700K to 5700K and a CRI of 80. Cooledge specifies color consistency within a 3.5-step MacAdam ellipse. The LED light sheets are rated for 100,000 hours of use to L90 or 90% of initial light output.
Previously, Cooledge has offered products in linear sheets of various lengths. The company has characterized the prior products as 7- or 12-mm products, referring to the pitch or matrix size of the LED components. The 12-mm (0.47-in.) products come in 1.4-, 4.3-, and 8.5-in.-wide sheets. The 7-mm (0.28-in.) products come in 1.1-, 2.8-, or 11-in.-wide sheets.
Clearly, the Square family is using higher-power LEDs or at least a design that drives the LEDs harder. The Square family includes a matrix array of 10×10 LEDs. The company hasn't listed pitch on the data sheets at this point, but the pitch is clearly greater than 1 in. Fewer LEDs could mean lower costs, although LEDs are not the most significant cost driver for Cooledge. Rather it's the patented interconnect and LED-integration scheme that the company developed for the sheets.
The real benefit of the new product seems in fact to be the snap-together scheme that allows support for larger-area installations. The company said one 90W driver can power 18 of the 600-lm sheets or 36 of the 300-lm sheets.
Cooledge has gone from startup to established player very quickly. GE Lighting has invested in and partnered with Cooledge especially on drivers. Still, Cooledge participated in the Investor Forum at the Strategies in Light conference that took place a few weeks back. CEO Wade Sheen said the company booked $2.4 million in revenue in 2014. The new Square LED light sheets were demonstrated for the first time at the LEDucation show in New York on March 5–6, 2015.