SIL JAPAN 2011: Japan leads the way in sales of packaged LEDs and LED lamps
The LED Japan/Strategies in Light conference in late September included detailed presentations on the LED market and the growth of LED lamp sales in Japan, as well as discussions on phosphors, lighting applications and more. BOB STEELE and ELLA SHUM report.
Dec 2nd, 2011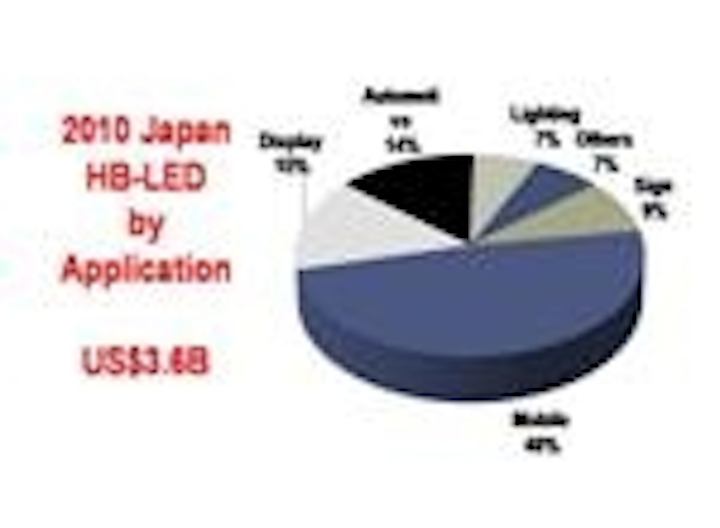 The fourth annual
LED Japan/Strategies in Light Conference and Expo
was held at the Pacfico Yokohama Conference Center on September 29-30, 2011. Total attendance was 5,300 and there were 85 exhibitors.
Ella Shum, Director of LED Practice at Strategies Unlimited and Chair of the conference, opened with a review of the 2010 LED industry. For 2010, Japan was the top region in the world in packaged LED production, with total sales of $3.6 billion. Fig. 1 shows the market breakdown in Japan by application.
Nichia was the leading LED manufacturer in Japan in 2010, while Sharp rose to no.2 thanks to its focus on LED TV backlights. Toyoda Gosei (TG) was no.3: the company makes only white LEDs, and 88% of its revenue is from display-backlight applications. TG supplies almost all the LEDs for Apple's iPads and also monitor-display backlights for Dell. Stanley Electric, another leading supplier, concentrates on lighting and automotive: its major clients in automotive are Honda and Mitsubishi Motors.
The interesting question is this: what is the strategy for the group of smaller Japanese producers who are US$50 million revenue and below? The high cost of producing in Japan, with the yen at historically high levels, and unyielding pressure to lower the price of LEDs, may force these manufacturers to look for OEMs in Taiwan, Korea or even China. At least one of these manufacturers is thinking of shutting down its LED business in 2011.
Due to the severe price declines that occurred during 2011, the worldwide HB-LED market forecast presented by Shum was significantly lower than the data presented at Strategies in Light USA in February 2011. The forecast for 2015 was reduced from $18.9 billion to $15.3 billion.
The overall market trend indicates positive growth until 2014 and a slight dip in 2015. This is due to the saturation of the display-backlight market, with the lighting market not being big enough to make up for the saturation of the display market.
LED lamp sales
In his keynote address, Yutaka Yoshimoto of Japan's Ministry of Economy, Trade and Industry (METI) reported that LED replacement lamps are selling well in Japan due to the government's emphasis on energy conservation following the earthquake/tsunami in March and subsequent damage to the Fukushima nuclear plants. Overall, peak electricity demand has been reduced by 29% compared to pre-earthquake levels. This has come mostly from the commercial/industrial sector (residential demand is only down by 6%).
The government has extended the
Eco Points system
for promoting energy-efficient products, which originally would have expired in March 2011. The estimates of LED lamp sales vary widely, ranging from one million per month to the 20 million projected for 2011 by Panasonic. METI data (Fig. 2) shows a dramatic rise in sales from March, peaking in July at 290,000 per week, then falling off in August, with cumulative sales of 6 million since April 1.
LED lamp sales in Japan now exceed conventional lamp sales. The selling price for a 40W-equivalent LED lamp has fallen from ¥4,000 a year ago to ¥1,800 ($24) currently: this 55% price reduction is likely due to larger production volumes.
METI's goal formerly was for LED lamps sales to reach 100% penetration by 2020, with 100% of the installed based replaced by 2030. These goals are now considered to be too conservative, and have been pushed up in time to 2015 and 2020, respectively.
LED market in Korea
Young Moon Yu, Professor & Director of LED-Marine Convergence Technology R&D Center at Pukyong National University, gave an overview of the technology and market trends of LEDs in Korea. He reported that LED production in Korea continues to stagnate as LED backlight-unit (BLU) sales for TVs have not kept pace with early projections, and technology advances have reduced the number of LEDs required per BLU. Major LED suppliers are installed in Korea, but the pace of growth is slowing, given the factors above.
As in other regions, Korean LED producers are counting on an increased demand for LED lighting to take up the slack from BLU sales. Overall LED lighting demand in Korea is expected to rise by 24% in 2011.
The price of LED replacement lamps in Korea ranges from 14,500 to 16,000 won ($12.30 -13.50) for a 40W-equivalent lamp. Major suppliers are Samsung, LG and Kumho Electric. These prices imply zero or negative profit margin, and are clearly intended to stimulate the market.
The Korean government continues to have a broad-based national program to support the development of LED technology and markets, ranging from basic research to market development (Fig. 3).
Phosphors
In a presentation on remote phosphors, Yi Qun Li, Executive VP and CTO of Intematix, claimed that the company's remote-phosphor technology can achieve dramatic increases in the luminous efficacy of LED lighting products compared to conventional phosphor-converted white LEDs.
Li cited an experiment that the company has done on a commercial LED downlight product. With conventional phosphor-converted (PC) white LEDs, the product had 40 lm/W efficacy (600 lm, 15 W) at 2700K and a CRI of 80. By replacing the white LEDs with 450-nm blue LEDs, and replacing the diffuser with an Intematix remote-phosphor plate of the same size as the diffuser, Li said that the lumen output increased to 1,000 lm (a 67% improvement), also at 2700K and CRI = 80. In more typical situations, Intematix expects ~30% improved efficacy with its remote-phosphor approach relative to PC-white LEDs.
Kai Su, CTO of NNCrystal, discussed the potential increase in warm-white LED efficacy by replacing the red phosphor normally used to create warm-white light in conjunction with YAG phosphor with red-emitting quantum dots.
In the former case, most conventional red phosphors absorb a significant amount of the yellow-green light emitted by the Ce:YAG phosphor. NNCrystal's ZnSe quantum dots absorb light only at <500 nm, i.e. around the 450 nm emission of the blue LEDs (Fig. 4). The company claims a 20-30% improvement in the efficacy of warm-white LEDs relative to those using conventional red phosphors, plus an improvement in CRI and a dramatic improvement in R9 (red). Life testing of NNCrystal's quantum dots shows good stability of CCT and CRI up to 6,000 hours (the length of the test), at 75°C and 20,000-lux light intensity.
Su also described the horrendous environmental cost in mining rare-earth materials for phosphors. The first stage of the mining process involves dousing the whole mountainside with sulphuric acid, killing all living organisms. In the past, the mining company just moved on once the rare-earths are stripped. Recently, the Chinese government has mandated that once the mining operation finishes, the mining company has to restore the mountainside to be the same as before. This is one of the reasons why rare earth, and thus phosphor, prices have increased exponentially this past year.
Lighting applications
John Langevin Director, Strategic Development, Lighting and Display Technology, Rambus, Inc., discussed the use of Rambus' MicroLens technology to create LED troffer and pendant replacement products. In a particular example, he showed a prototype hanging-pendant product to replace a linear-fluorescent product. The example showed an output of 5,153 lm (using 168 "mid-power" LEDs) at CCT = 3500K, and a CRI of 80. The power consumption was 80W, for a luminous efficacy of 64.4 lm/W. The product was designed as a pendant, so that 40% of the light was directed toward the ceiling and 60% downward.
Vladimir Korobov, VP of Engineering at Luxera, discussed the company's work on a solution to integrate the power supply and the driver for LED lighting applications, with the goal of reducing cost by 4-5×, with >90% efficiency and 50k hours lifetime, using an integrated driver, a new-generation IC controller, and integrated passives and integrated active devices. The company's approach is to use very-high-frequency (5MHz) PWM to reduce the inductance and to reduce the size of the output capacitor. Korobov said that Si FETs are not adequate for this frequency-power (8-40W) range, so the company is exploring the use of GaN-based FETs, in particular GaN-on-Si, to bring to cost down.
Steve Paolini, Founder and CEO of Telelumen, demonstrated an ingenious full-spectrum light recorder/playback system, illustrated in Fig. 5. The playback system uses LEDs at 22 separate wavelengths. The first demo was the playback of candle light. A darkened conference room can feel as if it were illuminated by candles.
The second demo began with a description of how to record 24 hours of light on top of Mt. Fuji. The light playback system let the audience experience the whole 24 hours of changing light in two minutes. The application of this technology can include, for example, "playing back" California sunshine in a grey and dull day in Seattle. Animals and plants could benefit from the full-spectrum light of the right season in a shorter period to speed up the growth cycle.