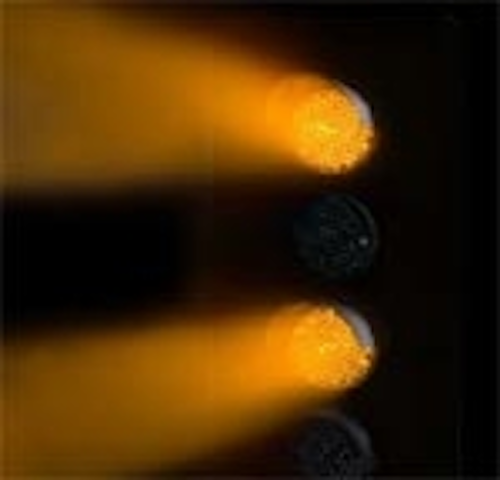 Latest
MaxMile EpiEL probes enable epiwafer EL mapping (Sep 06)
Workshop addresses safety legislation of LED lighting products (Aug 06)
A UK workshop on September 21 will tackle the numerous safety issues surrounding the use of high-brightness LEDs.
PLASA highlights impact of EU "Energy-using Products" directive (Jul 06)Now that RoHS regulations have come into force, another environmental European directive could soon have an effect on companies selling products that use any form of energy.
Newport announces power and optical meters (Jun 06)
Feature Articles
Standardisation requirements and safety concerns drive developments in LED test and measurement (May 06)
As measurements and standards catch up with the explosive growth in the development of LEDs, the UK's National Physical Laboratory is well placed to advise on best practice in measurement, and to carry out accurate and traceable measurements, according to Paul Miller, Teresa Goodman and Simon Hall.
Absorption correction - how to avoid a common LED testing error
Even when correctly calibrated, an integrating sphere does not necessarily provide error-free measurement of an LED's spectral properties, as Greg McKee of Labsphere describes.
LEDs are safe – Fact or Fiction?
Are the latest generation of LEDs safe, or can they cause eye damage? Should they be classified as lasers, or as lamps? Tim Whitaker looks at the different approaches.
Metrics for solid-state lighting
The numerous metrics used to describe solid-state lighting, such as luminous efficacy and color rendering index, are often misused and misunderstood. Kevin Dowling explains the correct use of some of these terms.
Industry alliance proposes standard definition for LED life
The Alliance for Solid-State Illumination Systems and Technologies has developed guidelines for defining LED life as a step towards establishing product standards, writes Jennifer Taylor.
Standardization of LED measurements
The CIE and various other bodies are involved in the development of standards for measuring the optical properties of LEDs, as described by C. Cameron Miller and Yoshi Ohno of the National Institute of Standards and Technology (NIST).
LED Clusters group works on optical measurement issues
A focused interest group in the UK is attempting to understand and overcome the optical measurement issues surrounding LED clusters in signalling and display applications.
Issues of color rendering and perception by the human eye
LED lighting: metrics and standards
Selected News
Color Kinetics complies with RoHS, seeks other standards (Jun 06)
As the new European directive comes into force, and other regions and countries look to adopt similar measures, LED lighting companies such as Color Kinetics recognize the important of industry standards.
Instrument Systems, Suss MicroTec develop test system (Mar 06)
Two German companies have teamed up to develop a high-speed, integrated test system for wafer-level LED testing.
California's new Title 24 standards – where do LEDs fit? (Jan 06)
California has updated its Title 24 energy-efficient lighting standards, but it's not clear how these apply to LED fixtures.
Standards remain crucial to drive business growth (Dec 05)
Specifiers must be able to evaluate LED light sources in the same way as competing lighting products for LEDs to become part of the mainstream lighting market.
Labsphere and Pro-Lite donate LED photometer to PC (UK) (Dec 05)
A Labsphere SLMS LED 1050 photometer has been donated to the Lighting Laboratory of a UK photonics organization.
Photon adds 2-D and 3-D visualization to NanoScan Beam Profiler
Nichia and Radiant Imaging support LED-based lighting design
CIE Midterm meeting discusses LED developments
The recent CIE midterm meeting discussed LED developments, while Radiant Imaging is offering a free software tool for colorimetry and photometry.
Radiant Imaging and Philips market novel inspection technology
Two companies are developing the Parousiameter, an innovative instrument that provides comprehensive characterization of display and LED output.
LED measurement group seeks participants for optical tests
Texas university gains funds to develop measurement standards
Labsphere unveils spectral lamp measurement system
Selected Products
MicReD offers TERALED tester for optical and thermal LED measurements (Jun 06)
Laservision offers protection from LED light sources (May 06)
MaxMile Technologies releases nondestructive EL mapping systems for unprocessed LED epiwafers (May 06)
The next generation of hand held photometers and colourimeters has arrived (Apr 06)
SphereOptics introduces LCS Series LED characterization systems (Jan 06)
G & R Labs announces enhanced calibration service for test equipment (Dec 05)
SphereOptics introduces new LED characterization systems
Imaging sphere measures LED angular intensity, color, view angle
Labsphere's SLMS LED Series Designed for High-Speed LED Testing
Optronic Laboratories offers complete display measurement system
SUSS MicroTec introduces BlueRay semiautomatic probe system
Labsphere's new SLMS photometers speed accurate light testing
LED light analyzer combines integral and spectral techniques
FEASA introduce LED analyser for color and intensity testing
Photon announces new instrument for profiling LEDs
Measure absolute spectral intensity of LEDs
Handheld photometer simplifies testing of LEDs, lamps
Labsphere provides fast & accurate LED testing
New AvaSoft 6.2 features Irradiance application for LED analysis
LightTools 5.1 enables modeling of flat-panel display backlights
Optronic Laboratories offers complete display measurement system
Flat panel measurement system combines view angle and spatial uniformity analysis