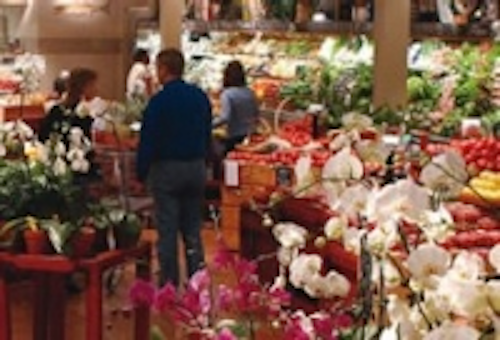 GE recognizes The Fresh Market and Walmart for LED lighting efficiency
GE Lighting honored The Fresh Market (Nasdaq:TFM) with its LED Retailer-of-the-Year award at GE's recent 3rd annual retail conference, held at its headquarters in East Cleveland, OH. Recipients of this award must have retrofitted 20% or more of their fleet of stores to LED-based lighting, demonstrated at least 20% energy savings, and visually improved the appearance of the store as recognized by its customers. The Fresh Market has incorporated LED PAR38s into 40% of its stores (107 total) for accent and general lighting applications.
Walmart (NYSE:WMT), the multinational retailer based in Bentonville, AK, was a featured retailer at the conference and has set a goal to use 100% LED lighting in all of its 5366 stores through new construction and retrofitting. "Switching to LEDs was a no brainer," said Charles Zimmerman, vice president of international design and construction with Walmart. "Now we're using LEDs in display cases, parking lots and throughout the store, and now our LED lights are outliving our refrigerated display cases, providing zero maintenance."
A Walmart parking lot installation was the subject of a US DOE Caliper demonstration report published in May. The new installation revealed an estimated 40% energy saving versus high-pressure sodium lamps and a simple payback period of 6 years.
Also at the GE retailer conference, GE recognized Walgreens with its Retailer-of-the-Year award. Criteria for the award included the use of energy-efficient products in 80% or more of its fleet, demonstration of innovative lighting techniques with improved visual aesthetics, and demonstration of a positive impact on the community. Walgreens transitioned from F28 to F25 linear fluorescent lamps, which allowed a 9% energy saving and a 10% longer lamp life. The full release is provided here.
Lighting Association announces LED product verification scheme
The Lighting Association, the UK-based test and measurement services provider, has developed and introduced its new Lab Verified Scheme, which will independently measure and verify the safety and performance of lamps, LED modules and luminaires against manufacturers' claims.
The results of tests will be uploaded onto a public website, www.lalabverified.com. Examples of the verification parameters include total lumen output, safety, CCT and Ra, power consumed, efficacy, center-beam intensity, beam angle, life and lumen maintenance. More details can be found in the full press release.
The scheme will undertake market surveillance, and products making false claims will be revealed on the website. Verified products will be randomly purchased and tested to ensure continued compliance.
UV LED Curing Association forms
Three companies involved in UV-LED curing, Phoseon Technology, Integration Technology Ltd and Lumen Dynamics have joined together to form the UV LED Curing Association. The new association will help researchers, suppliers, integrators and end users gain a better understanding of UV-LED technology and the significant benefits it brings to numerous applications. The association welcomes new members and significant contributions pertaining to UV-LED curing.
One goal of the association is to demonstrate how system developers can effectively integrate UV-LED technology into applications and, where possible, achieve better efficiencies while saving costs. Existing markets include appliance, automotive, electronics, industrial, medical device, and metal finishing.
The founders of the association will work together to help define and establish UV-LED-based guidelines for UV-LED curing applications. The association will also serve as a forum for fostering communication within the UV-LED industry. The full press release is available here.