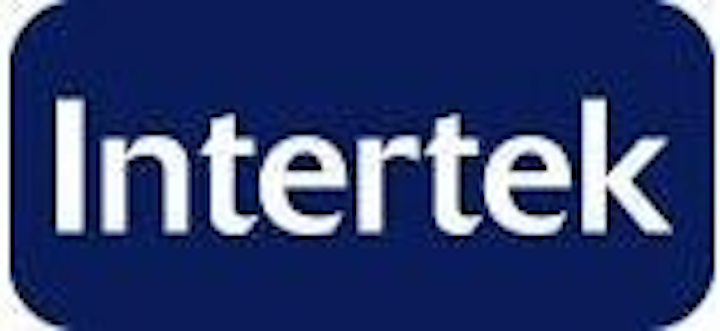 Title:
Ingress Protection for Lighting Products- IP Versus UL Rated for Wet Locations
Available now
View the archived Webcast.
Presenter: Kenneth Morgan Jr., Cortland Lighting Team Leader, Intertek
Overview
If your lighting product is intended for outdoor or industrial applications, Ingress Protection (IP) testing is a great way to ensure that your enclosure will withstand the moisture and dust environments to which it may be subjected.
This webcast covers IEC 60529 (Degrees of Protection Provided by Enclosures) and UL 50E (Enclosures for Electrical Equipment, Non-Environmental and Environmental Considerations).
This webcast includes information on:
IP ratings and UL ratings

When each is required

Typical ratings

Fixtures/equipment required for testing

IP/UL rating equivalency
View the archived webcast
+++++
SPONSOR: Intertek
+++++
Intertek has earned the reputation of being one of the leading global third-party, independent testing laboratories with expertise in Photometric testing of Lighting Products including LED and Solid State Lighting for many applications including residential, commercial, automotive, traffic signal, marine, and airport lighting. Intertek's vast capabilities include Photometry, Color, Environmental, and Mechanical Testing, as well as ENERGY STAR testing, product safety certifications, and global market access. Contact Intertek to bring your products to market faster.
For more information, please visit: www.intertek.com/lighting.
+++++
PRESENTER: Kenneth Morgan Jr.
+++++
During his 23 years at Intertek, Ken has been directly involved in a vast variety of testing and evaluations, and is currently responsible for Intertek's Lighting Safety Group in Cortland NY. Throughout his career, he has been heavily involved with both Performance Testing and Safety Certification for various types of products used in the Retail, Residential, Commercial and Medical markets. Ken's job descriptions while at Intertek include; Safety Compliance Technician, Project and Senior Project Engineer, Program Manager, Quality Supervisor and Engineering Team Leader. He has worked with several governmental agencies such as DOE, NIST, NVLAB, OSHA and SCC the Standards Council of Canada. Ken is an accredited reviewer for 30 Intertek Product Categories covering 280 Nationally Recognized Standards.