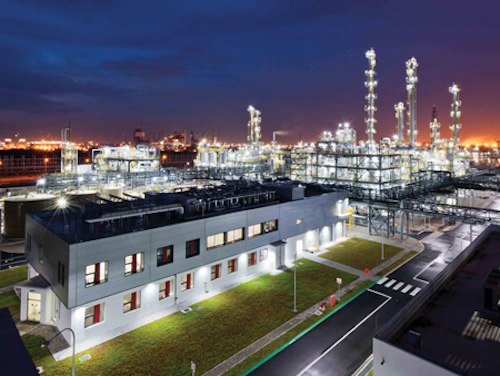 Extreme conditions and high-risk environments in hazardous locations mean that LED luminaires must be designed to meet a unique set of challenging criteria, discovers CAROLINE HAYES.
Imagine a workplace where maintenance and inspection is a constant burden, where the flammable conditions or explosive atmosphere are also subject to vibrations and shock and extreme temperatures. Now imagine that workplace without light. The importance of safe lighting in hazardous environments has led to LED lighting replacing fluorescent and high-intensity discharge (HID) lighting. LEDs offer energy efficiency and better light control and distribution for such applications. Still, it's the rugged design and virtually zero maintenance of solid-state lighting (SSL) that are leading to widespread adoption in this unique application area.
A high risk or hazardous area is where potentially explosive gases and dusts may exist. Low-maintenance design is desirable, as both the luminaire and the location of the facility it is in can be remote or difficult to access. There may also be threats posed by humidity, water ingress, or extremes of temperature.
Typical examples of hazardous environments are refineries, drilling platforms, and chemical and power-generation facilities. In these areas, low maintenance is essential, either due to the inaccessibility of the site or the vast expense of a shutdown.
Oil, gas, and petrochemical refinery processes can create explosive atmospheres and flammable conditions. As well as energy-efficient and fit-for-purpose, lighting also has to be able to withstand constant shock and vibration in extreme temperatures. Lighting used here has to meet OSHA (Occupation Safety and Health Administration — the US federal agency) or EU-OSHA (the European Agency for Safety and Health at work) guidelines.
Changes in lighting design in some hazardous industrial settings has compelled the replacement of fluorescent lighting with energy-saving LED lighting and practical designs of housings, where aesthetics come second to safety, protection, and security. Birthe Tralau, lighting application manager at Zumtobel, explained, "The LED is a directed light source, directed with lenses and optics, whereas fluorescents need reflectors to direct the light, which loses efficiency, hence the reduction in lumens [compared to LEDs]."
Low maintenance
Stuart Head, technical support manager at Dialight, added another reason for LED lighting's adoption. "LED lighting is characterized by low-maintenance design and construction that enables extended periods between maintenance inspections."
He summed up some of the maintenance factors to consider in hazardous areas. "Maintenance in harsh environments can be extremely dangerous. If the units are sealed, it ensures that lamps do not require changing and no dust or gas can enter the unit. It also means you do not need access to the lights, because there is no need for bulb replacements — reducing health and safety risk and the cost involved with having to replace bulbs/lamps."
LED lighting in harsh and hazardous environments is used worldwide and on a large scale. Focusing on one small sector, analyst company IHS has calculated the number of offshore oil rigs around the world at 799 in 2014; while not all are working at any one time, they have a geographical spread with offshore rigs in the US, Gulf of Mexico, South America, Northwest Europe, West Africa, Southeast Asia, and the Middle East.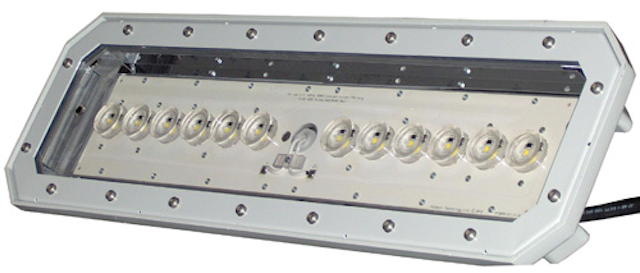 FIG. 1. The Endurance range of sealed luminaires by McGeoch.
In offshore rigs, the lighting is also subject to shock and vibration. McGeoch produces the Endurance luminaire (Fig. 1), which is designed as a direct replacement for existing conventional or fluorescent fittings. It is engineered for hazardous areas and particularly for where flammable gases may be present, with ingress protection to IP68 (for indefinite immersion in water) and to IP66 when fitted with a breather drain (for protection against powerful water jets). The sealed luminaire has a constant-current 700-mA driver circuit for use on mains supplies worldwide and an additional, low-level emergency supply. It is maintenance-free, says the company, and is ATEX approved Zone 1 and 21 (directives published by the European Union) for use in potentially explosive atmospheres.
The design offers protection against salt spray and vibration, and has a storage temperature of -20° to +60°C. The Lexan polycarbonate lens is ultraviolet (UV) and impact resistant. The chassis is made of hard anodized marine-grade aluminum, with a stainless-steel bezel. A 17W slimline version has recently been introduced, adding to the 30W and 55W original versions.
Added intelligence
For greater efficiency and longer lifetimes, intelligent lighting control can provide lighting as needed in aisles, rooms, or larger zones in the facility. LED lighting also achieves 100% light output from the instant it is switched on, which is a particular asset in hazardous locations that use independent generators; these are prone to blackout or brownout and so the locations require emergency lighting.
Dialight exploits the instant-on feature of LED lighting, coupling fixtures with occupancy sensors to reduce energy and extend the lighting system's operating lifetime. The company believes it has produced the world's first hazardous area-rated LED fixture with integrated wireless control to take automated lighting further.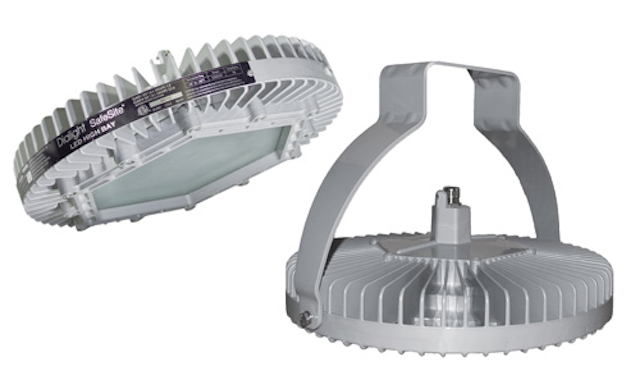 FIG. 2. The High Bay lamp is part of Dialight's SafeSite range designed to withstand harsh industrial environments.
The SafeSite High Bay downlight (Fig. 2) with wireless control combines a SafeSite white LED light engine in a gray, epoxy powder, cast aluminum, weather- and corrosion-resistant lamp assembly and housing. Further rugged protection is provided with the SLX polycarbonate lens, which has a UV stabilizer and enhanced abrasion resistance; a clear, anodized aluminum heat sink; and stainless-steel accessories. The low-profile lamp is lightweight and designed for high-bay and floodlighting areas.
The Class I, Div 2 LED luminaire works with a touchscreen management interface for operation. Up to 100 fixtures can be networked onto a single controller and banked to control zones for both on/off and dimming capabilities. As a result, lights do not have to be on 24/7, nor do the conventional fixtures suffer the wear and tear of typical operation. Integrated occupancy sensors can override scheduled off or dimmed states when someone enters the area. Ambient light sensors also harvest daylight to automatically dim the light fixtures when there is sufficient light coming through windows or skylights.
The remote access is achieved via any Wi-Fi-enabled device for management and monitoring. The wireless networking that connects the lighting is based on the 802.15.4 mesh-networking standard and operates at 2.4 GHz. For security, a 128-bit AES (Advanced Encryption Standard) algorithm for secure authentication protects access to the network. The system is also available in DALI (digital addressable lighting interface)-wired configurations.
Within the SafeSite range, which is the company's range of LED lighting for hazardous areas, there is also the SafeSite LED Linear, a stainless-steel LED linear luminaire available as 32W or 64W models. They replicate the light output of two 18W and two 36W fluorescent luminaires, respectively. A die-cast aluminum option is available. There is also the SafeSite LED Area Light, which are ATEX and IEC (International Electrotechnical Commission) Ex certified and consume at least 50% less energy than traditional HID floodlights or well glass fittings. Finally, the SafeSite LED Bulkhead is a low-maintenance luminaire for stairwells, platforms, exits, walkways, and gantries. There is a standard luminaire, which can be converted to a recessed fitting for use in accommodation areas, as well as an emergency model and a transportable model.
Local considerations
In 2010, Dialight replaced fluorescent T8s and metal halide fixtures with LED lighting at the Singapore facility of the chemical manufacturer Lanxess (Fig. 3). In addition to meeting certifications for hazardous area use, the lighting also had to meet the Singapore standard SS 531, which recommends lux levels for different areas in a facility. It also had to meet the Green Mark requirements in SS 530, which defines the power consumption per square meter that has to be achieved for the lighting to be considered energy efficient.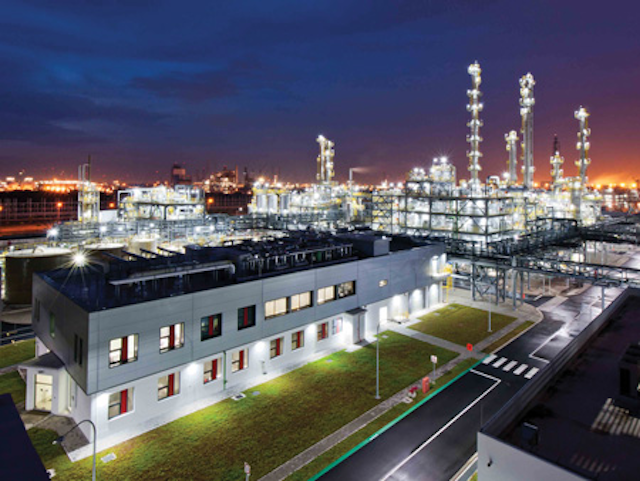 FIG. 3. Dialight LED-based fixtures light the Lanxess chemical facility in Singapore.
The project used Dialight's SafeSite LED High Bay DuroSite, LED Low Bay SafeSite Wall pack/Bulkhead, and StreetSense LED street light products. The company reports a 55% reduction in energy consumption and carbon emissions.
In addition to local regulations, the local climate has to be considered. For example, in Singapore, the rainy season is from October to December, characterized by tropical storms. Dialight's Head pointed out that the LEDs have built-in surge protection against lightning strikes, which can otherwise result in the burnout of unprotected fluorescent ballasts.
Other risks
Not all harsh areas are subjected to the extreme and hazardous conditions of offshore rigs and industrial plants, but they still require luminaires that are designed to operate safely where there are temperature extremes and/or gas, vapors, or dust in the atmosphere. A hazardous environment is created when dangerous substances are used in the workplace, and where temperatures, pressure, and ventilation must be considered for a safe operating environment.
There are environments that require protection from liquids for safe operation — in food manufacturing and parking areas, for example, which although milder than the hazardous explosive environments of offshore rigs, still require design considerations for safe lighting.
In food preparation and processing areas, the level of cleaning means that LED lights are housed in waterproof enclosures. This also applies to high humidity areas where the LED light has to be protected from moisture.
Material choices
The luminaires have to be waterproof to combat high humidity and cleaning operations. Weight is important, and plastics are used that are appropriate for different chemical environments. Zumtobel's Tralau said the company aims to use plastics in industry but appreciates that the selection has to be based on the application. "Polycarbonate is the main material; it is impact resistant to counter vibrations from heavy plants and machinery and also UV resistant. However, it does have a disadvantage, in that is not resistant to chemical oil or clean-up fluids. In this case, we use PMA [polymethyl acrylate] for chemical resistance; but it is not impact resistant. [Zumtobel also offers a] Chemo version, which has the advantages of polycarbonate and PMA, for high impact resistance and also for use in a chemical atmosphere."
Even then, not all environments and applications are covered. Tralau added that the Chemo products may be optimized with additives to meet the needs of particular applications such as alcohol applications. Similarly, the optics can be changed to meet the needs of the environment.
"Dialight uses copper-free aluminum for the housing of the units, as it does not spark," said Head. "The company also has stainless-steel units, which are suitable for humid/cold/wet/salty environments," he added.
Philips Lighting designs luminaires based on the Design for Six Sigma principle, where the requirement of the customer is checked at every step of the development process. The company is able to implement specific modifications to adapt the luminaire to the weather conditions, for instance. It also adds extra coating and resistant types of paint and uses robust raw materials when manufacturing to protect luminaires against corrosion, which can result from humidity in coastal areas and sand storms in a desert climate.
In addition to ATEX (covering gas and dust hazards), IEC, and EN (Euro Norms) standards, there are also local standards to meet in Japan, Canada, China, and Russia, for example. Zumtobel's Tralau added the Glow Wire Test to the list of protection codes for LED lighting in hazardous areas. This test is designed to ensure that the material in the luminaire does not inflame in typical surroundings. It tests the thickness of walls in housings and also the materials used.
Design trends
A general trend identified by Tralau is the shrinking size of LED luminaires. Each generation is smaller than the one before, she said, with the benefit of reduced materials. LED lighting also offers the benefit of being able to spread the light when leveraging specific optics.

FIG. 4. The Tecton continuous-row lighting system from Zumtobel enables flexible and scalable designs.
She cited the company's Tecton, which is a flexible linear LED lighting system allowing luminaires to be trunked or daisy-chained into long continuous runs (Fig. 4). It is used in areas where the workspace area may be modified, as walls and partitions are moved to accommodate changes in staff or machinery. "The latest Tecton is half the size of the fluorescent light that it replaces and the second generation will reduce again — by half — in height," noted Tralau.
The snap-in place system does not require assembly tools and is adaptable to meet the needs of the workspace; for example, the end caps and fittings are made of clear plastic, if required, allowing emergency lighting LEDs to be incorporated. Materials are selected according to the conditions of the environment, explained Tralau, with aluminum and plastics used to reduce the polycarbonate content. "For example, the polycarbonate clips are not resistant to oil and cleaners, so the PBT [polybutylene terephthalate] mounting clips and end caps are used instead."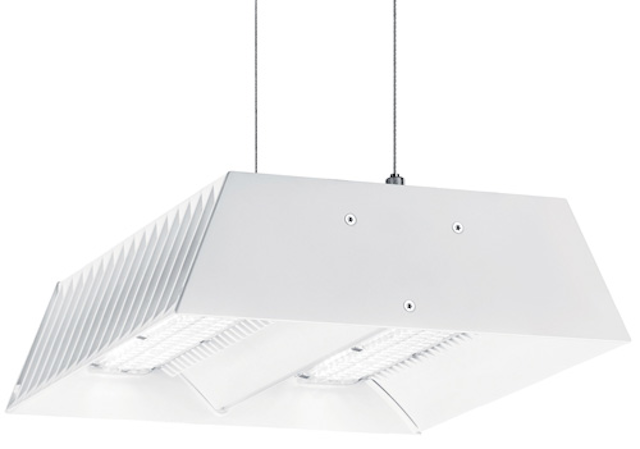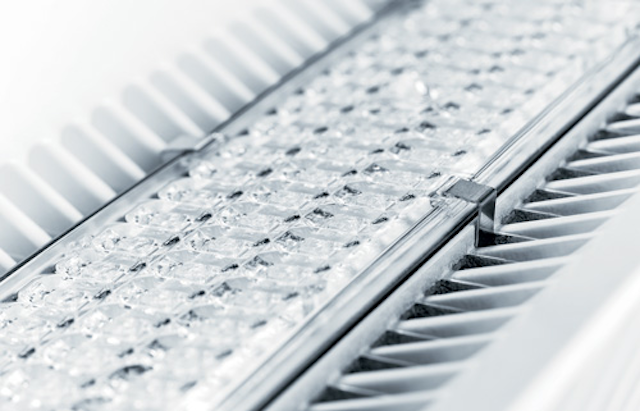 FIG. 5. Zumtobel Graft luminaires include slots designed to prevent dust buildup.
Practical concerns also influence the design of LED luminaires. Dust settling on the housing can create an insulation layer that may overheat the light fitting, causing failure or a fire hazard. The same applies for oil that may rest on a flat surface, also creating an insulation layer. Designs will have sloping surfaces so the dust cannot build up. Tralau explained that this is why Zumtobel's Graft range (Fig. 5) is designed with slots for the dust to fall through and not settle. She describes it as a chimney effect, where the dust can be blown away. It is particularly useful in high-ceiling areas, where dust may settle without being disturbed by daily activities as well as in dusty industrial environments.
The ventilation also allows for airflow through the luminaire to move dust and cool down the LED so it can achieve the highest efficiency, she added.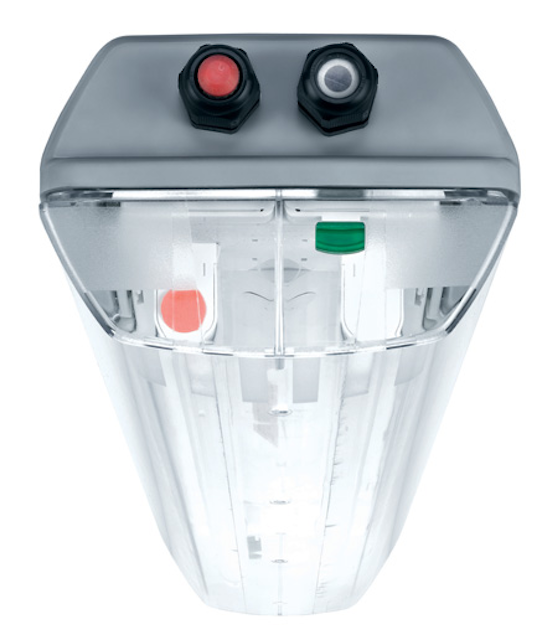 FIG. 6. The KXA fixture from Zumtobel is explosion-proof.
For explosive areas, the company also produces the KXA luminaire family (Fig. 6). This explosion-proof diffuser luminaire is certified for Zones 1 and 21 use, and has two 36W LEDs and a T26 high-frequency ballast. The body is glass-fiber reinforced polyester and the controller is injection-molded polycarbonate with an internal prism structure. It is wired with halogen-free leads.
---
CAROLINE HAYES is a contributing editor with LEDs Magazine.