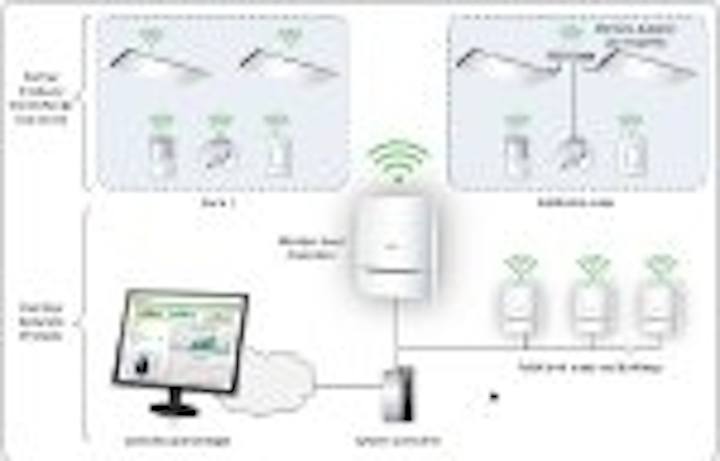 Daintree Networks will supply its ControlScope ZigBee-based software and Marvell will supply its LED driver ICs and ZigBee-enabled microcontrollers (MCUs) in a partnership focused on broader deployment of intelligent solid-state lighting (SSL) in the commercial sector. Startup manufacturer Orama will be the first to leverage the partnership in a new wireless-enabled, intelligent driver module. Marvell, meanwhile, announced that it is supplying the single-stage 88EM8183 driver IC to Samsung Electronics for a broad line of LED retrofit lamps headed to stores next month.
ZigBee partnership
Marvell and Daintree believe that they will eliminate one of the modular components present in most networked lighting installations today. Lance Zheng, Marvell senior manager of technical marketing, said most such installations require a driver that accepts 0-10V controls and a separate wireless adapter to provide that control signal in each luminaire.
Zheng of course is correct in general, although that current level of implementation is due more to immaturity of the ZigBee technology than to any technical limitation that would prevent the integration of the wireless support into the driver. But Marvell and Daintree believe that they can jumpstart that process. Moreover the partners say that integrating the driver IC and ZigBee functionality can save $100 in a single light fixture.
The partnership is focused on ZigBee standards for the wireless network and protocols that will be could become mainstream in commercial buildings. "Marvell shares our vision of directly integrating ZigBee wireless ICs to enable fixtures that work seamlessly with ControlScope," said Danny Yu, Daintree CEO. We are pleased to be teaming with Marvell to fully qualify Marvell's ZigBee IC platform on ControlScope and to be developing joint solutions for the market."
Driver with integrated ZigBee
And the first company to take advantage of the partnership will be Orama in its OCC20W-Z LED driver that includes Marvell's 88EM8801 LED driver and 88MZ100 wireless MCU. The single-stage driver IC was announced at Strategies in Light 2012 and Marvell has claimed that the Digital Signal Processor (DSP)-based design provides topping dim performance and compatibility with legacy dimmers while minimizing the bill of materials. Orama will demonstrate the new driver at Lightfair next week and ship it in volume by the end of the second quarter.
"I am excited to be working with Marvell and Daintree to deliver the industry's first integrated wireless driver control at the fixture level," says Jason Huang, general manager at Orama. "Lighting professionals can now easily and cost-effectively include wireless control in their lighting designs."
"We are excited that Orama is adopting our combined solution and taking a leading product position with its integrated wireless LED driver," added Daintree's Yu. "The lighting product community is rapidly realizing that open standards is the right way to go wireless. Open standards foster a large market that drives down cost and development time for vendors as well as improves product selection at lower prices for building managers."
Marvell and Orama have also joined Daintree's ControlScope Connected partner program. Daintree launched that program back in Feb 2011 with the aim of collaboration to drive lighting networks, but progress in terms of new products driven by the program has been slow for now, although Daintree says it has more than 25 members. Lightfair, however, will likely reveal much broader support for ZigBee wireless networks.
Samsung retrofit lamps
In the retrofit lamp space, meanwhile, Marvell claims that Samsung Electronics design win as a major validation of the features of its single-stage driver. Samsung will utilize the IC in A19, BR, and PAR lamps sold on a global basis that are due on shelves in May. Marvell said its dimming support was key to the win.
"With consumers increasingly adopting LED lighting in their homes, it is essential that OEMs address this demand by integrating advanced dimming capabilities into their most efficient bulbs," said Kishore Manghnani, vice president of green energy products at Marvell. "By leveraging Marvell's 88EM8183 driver, Samsung Electronics now produces high-performance, low-cost LED bulbs that offer deep dimming capability and are fully compatible with more than 150 different types of wall-box dimmers around the world. We believe there is no solution on the market that provides the same widespread dimmer compatibility and affordable price point that our LED driver IC provides."