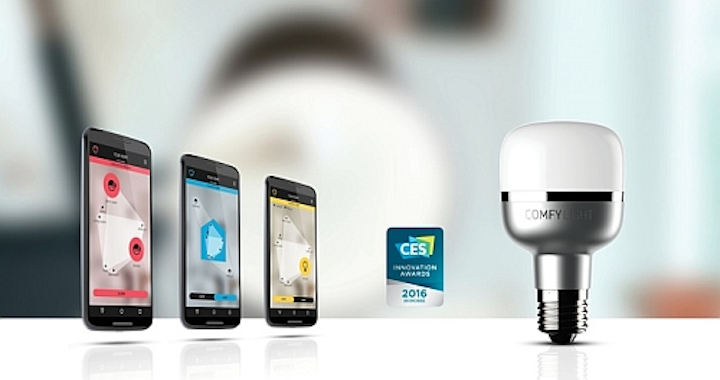 A small Swiss-German company has lighting's latest twist in the Internet of Things with a new functionality for smart LED lamps.
A Swiss-German start-up company hopes to soon give residential lighting a new role as a home security guard, as it develops LED lamps that memorize a person's room-by-room usage and subsequently switch themselves on and off in that pattern when the occupants leave home.
ComfyLight says that its system works as a burglar deterrent rather than simply as an alert once an intrusion occurs.
Whereas other smart lighting systems allow users to set up a lighting pattern or to turn lights on and off remotely from afar, the ComfyLight LED lamps automatically mimic an at-home lighting scheme throughout nighttime. If, for instance, a person normally keeps living room lights on until 11 p.m. and then switches on bedroom lights for an hour, ComfyLights would behave in that fashion.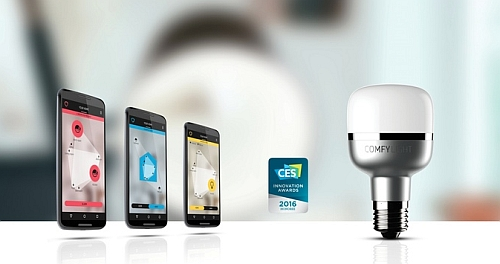 Burglar deterrent: LED bulbs know how and when to switch on as if you're at home
It's the latest lighting twist in the fledgling Internet of Things (IoT), in which billions of things and objects are expected to connect to the Internet for remote and automated control, and for data collection and sharing.
"ComfyLight is the first self-learning light bulb that's meant to prevent intrusion," co-founder Stefanie Turber says in a video on the Kickstarter crowdfunding website, where ComfyLight is currently hoping to raise €150,000 ($163,000) in a campaign ending around the third week of February. "ComfyLight memorizes how you turn on and off lights when you're at home, and it simulates your behavior in a very realistic way when you're not there."
The lights also turn on and off in response to motion when a user is at home.
The Zurich- and Munich-based company is pitching ease of use. The system requires a user to switch on a phone app after screwing in light bulbs to help note usage patterns. But it does not require the user to enter instructions to specifically turn on individual lamps at particular times, or to install any hubs or gateways. The app communicates with the LED lamps via Wi-Fi.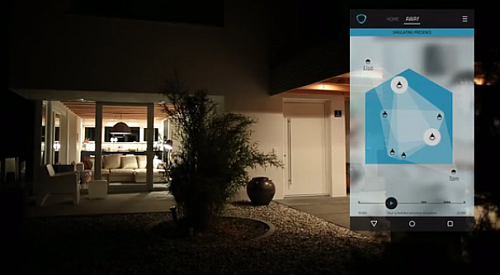 When the user leaves home, he or she switches on the app's security mode, which will turn the lights on and off in the typical at-home pattern. If an intruder enters, the lights will flash on and off to startle the burglar and alert neighbors, and the user's phone screen will turn red.
"You can start with however many ComfyLights you like and you can always add more," says co-founder Marcus Köhler, implying that the system will mimic an entire household pattern to the extent that the house is equipped with ComfyLight LED bulbs. The company has not disclosed the price of a bulb.
ComfyLight hopes to provide application programming interfaces (APIs) that will allow developers to make ComfyLight compatible with other systems, such as Philips Hue smart lamps, and "smart doorbells."
As of this writing, ComfyLight had raised about €88,000 ($95,000) on Kickstarter, surpassing its original goal of €50,000 ($54,000) which it has now "stretched" to €150,000 to fund the development of the APIs.
Kickstarter is a website on which the public can fund startup projects in exchange for perks such as early copies of the product, but not for equity. In Kickstarter parlance, a company can "stretch" its original funding goal, typically to back a specific aspect of a product — in ComfyLight's case, the APIs. Companies receive the pledged money if they meet their original target. Kickstarter does not require them to meet "stretched" goals.
ComfyLight's crowdfunding campaign echoes one run by smart lamp pioneer LIFX, the Bay Area company that famously came to market with the help of $1.3 million it raised on Kickstarter in 2012 after targeting $100,000 — although ComfyLight would have a long way to go to crack $1 million. The crowdfunding conduit reflects how smart, Internet-connected lighting is potentially as much the domain of innovative start-up companies as it is of venerable, establishing lighting outfits such as Philips, Osram, and GE Lighting.
ComfyLight hopes to ship product in Europe by March and in the US by May.
A ComfyLight lamp includes a motion sensor, a light sensor, and a 10W LED (80W equivalent) rated at 800 lm with a color temperature of 2700K and an Ra 80 color rendering. The motion sensor can differentiate between humans and pets, and works through a lampshade, the company said. With privacy in mind, ComfyLight does not build in cameras or voice recorders. The app works with both Android and iPhone handsets.
Turber and Köhler founded ComfyLight last year as a spin-off from two Swiss universities — the ETH Zurich (the Swiss Federal Institute of Technology in Zurich) and the University of St. Gallen in St. Gallen, where they conducted research at the Bosch Internet of Things and Services Lab. The lab is a collaboration between the university and the Bosch Group.
MARK HALPERis a contributing editor for LEDs Magazine, and an energy, technology, and business journalist (markhalper@aol.com).