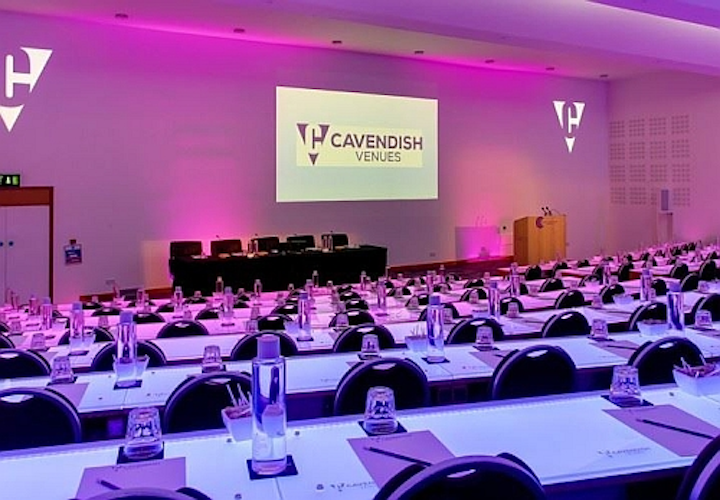 The 'Light-Scene Engine' supports a mix of 16 million colors for variable color schemes and features wireless controls.
A central London conference center has deployed a connected lighting system that allows companies to tailor and change the colors and brightness of a 250-seat tiered auditorium so that conference organizers can alter the ambience and schemes according to suit different sessions or events.
Interested in more articles & announcements on connected lighting, networks & controls?

The Cavendish Conference Centre is using an iPad-controlled wireless system from UK startup amBX, a software spinoff from Philips that has been involved in Power over Ethernet installations as we have covered in a recent LEDs Magazine feature. Cavendish has run LED strips along one edge of each of the long rows of existing ash wood tabletops, which it covered with frosted glass as part of the new lighting design.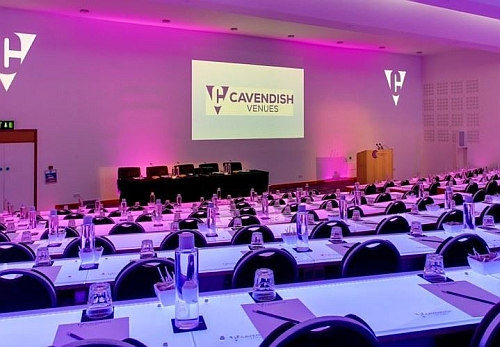 Connected lighting from UK startup amBX allows dynamic illumination at London conference center
An app on a central iPad allows conference administrators to specify pre-determined lighting patterns down to the individual desktop level, or to change them on the go, using Wi-Fi.
For instance, the lighting could wash the desktops in corporate colors and give the auditorium a specified hue. It could also vary to designate special seating areas, or could brighten during sessions that rely heavily on note taking. The amBX Light-Scene Engine allows a mix of 16 million colors.
"Rather than changing the room, we decided to use the desk space and try to enhance it more," Cavendish chief operating officer Dermot Waldron told LEDs Magazine. He described the system as "user friendly."
The £80,000 ($121,000) lighting overhaul, including the control software as well as the LEDs and the glass, anchored a £100,000 ($151,000) refurbishment that also included new carpets and furniture outside the auditorium.
Bookings have picked up 10% to 15% since the center reopened with the new system in September following a two-month installation period in July and August.
Cavendish also hopes the desktop LEDs will help save energy by cutting down on the use of more power-hungry halogen lamps and fluorescent lamps in the auditorium ceiling, Waldron said. They should also reduce maintenance requirements because the LEDs are expected to last for 50,000 hours, far longer than conventional lighting.
MARK HALPERis a contributing editor for LEDs Magazine, and an energy, technology, and business journalist (markhalper@aol.com).