At Strategies in Light, ams demonstrated a new IC with an integrated sensor for color-tuning applications, while startup Gooee used the Smart Lighting Controls conference in Europe to announce its connected lighting roadmap.
Connected and adaptive smart lighting systems are clearly the future of the solid-state lighting (SSL) space and the key to both better lighting and additional gains in energy efficiency beyond what LEDs afford. Recent activity at Strategies in Light (SIL) in Las Vegas, NV and Smart Lighting Controls Europe in London shows how two enabling-technology suppliers hope to assist lighting manufacturers with entering the smart lighting space. At SIL, ams demonstrated a new IC with an integrated sensor meant for intelligent tunable luminaires. Gooee is at an earlier stage but plans to offer ICs, sensors, and light engines — what it calls a platform for smart lighting.
Both ams and Gooee are using the increasingly popular Internet of Things (IoT) label to describe their effort to connect smart lighting to the Internet. Indeed, both companies intend to enable connection of other types of appliances as well as lighting. Moreover, both will include integrated sensing technology as a key element that can allow connected lighting to adapt autonomously as well as programmatically based on network communications. And sensors will also enable the lighting products to transfer data such as occupancy or temperature back to a management platform for analysis.
SIL ams demo
The ams demonstration at SIL was focused on a lighting management IC intended to support tunable lighting products. The demonstration allowed a user to set a desired CCT via a device such as a smartphone or tablet with the luminaire reference design reacting almost immediately. The sensor is critical for precise CCT settings with closed-loop control that ensures accuracy. And, of course, the intelligent system could also utilize programmatic control to enable a scenario with cooler CCTs in the morning for alertness and warmer CCTs at night to promote rest.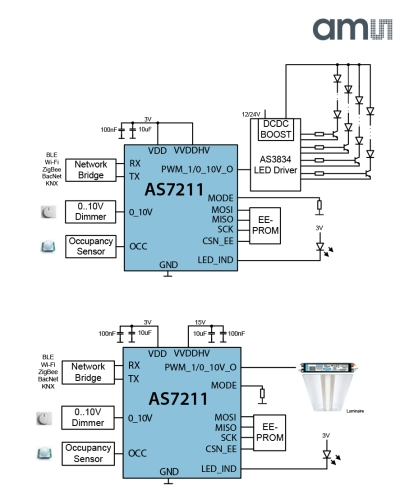 Gooee and ams drive sensor-based connected lighting technology
While ams hasn't formally announced the IC used in the SIL demo, it will likely share an architecture and some features with another recent product announcement — the AS721x Autonomous Daylighting Manager family of ICs. The AS721x products integrate a sensor meant for daylight sensing and include an interface that can connect directly to occupancy sensors.
The new IC will rely on the on-chip sensor to sense the CCT produced internally by the multi-channel light engine that's required in a tunable design. Other sensors for daylighting or occupancy could still be added externally to the IC. To get a better idea about the capabilities of the new ams products and how a lighting product might be designed, see our recent feature article contributed by ams.

Gooee business roadmap
The Gooee story, meanwhile, was broken by our sister publication Lux that is based in London. The company has been funded by Aurora founder Andrew Johnson. Aurora has signed a formal licensing agreement to use the Gooee platform including ICs, light engines, and control products, although Gooee's business plans make it clear that the control platform technology will also be sold to other lighting manufacturers on an OEM basis.
Gooee also struck a deal recently with a company called Evrythng that is focused on selling a management platform to control Internet-connected products and gather data on an industrial scale. The Platform-as-a-Service offering will be available to lighting manufacturers that adopt the Gooee platform.
Aurora, meanwhile, says that the Gooee technology will first come to market in its M10 spotlight product. For more details on the Gooee plans, see the link above.
Of course, the market for connected lighting is just taking off. But there are still roadblocks to widespread deployment such as standardization on networks and protocols that would allow products from different manufacturers to interoperate. Moreover, major players from the IC industry have their eyes of the prize including Intel and Qualcomm.