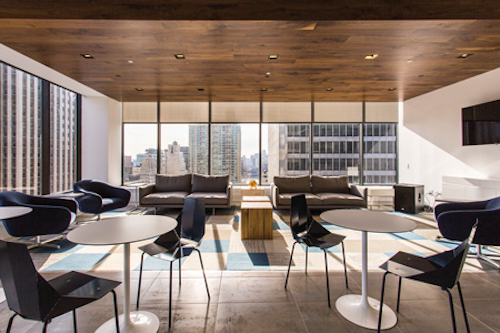 The LED lighting industry wants to become a vital part of the Internet of Things, but it can't get there alone. It knows illumination, not communications. MARK HALPER details five up-and-coming firms making it happen.
It sounds like a twist on one of those old jokes about changing a light bulb: How many companies does it take to make a light smart? The serious answer: Plenty!
As the traditional lighting industry fast-forwards into the era of intelligent, Internet-connected lighting, it knows it cannot get there without support. Its core expertise is illumination and light sources. It is not steeped in the technologies that will fulfill the promise of making LED lights a vital part of the Internet of Things (IoT): networking and wireless protocols, Ethernet gateways, Bluetooth beacons, cloud computing, data analytics, and so on.
Interested in articles & announcements on smart lighting?

Yet that's what it needs in order to ensure a future for an industry that can no longer survive by simply selling light bulbs, now that LED bulbs have gone mainstream and are expected to last for 20 years or more - all but obliterating the century-old business model of selling replacements.
Because of its ubiquity, lighting is clearly a prime candidate for the IoT. Smart lighting means that lights become nodes and backbones on information networks. It gives users far greater control over when and how to turn on their lighting systems. And that's just the opening act. As the play unfolds, luminaires combine with sensors and suddenly lighting also serves as a data collection system that gathers valuable information about traffic, parking, climate, air quality, room occupancy, crowds, noise, security, and many other things. Send that data to central control points, or off to a data analytics program in the cloud, and city managers can't live without smart lighting for traffic management; building operators will rely on it to run the heating system and to sound alarms; retailers will gain valuable insights on shopping trends, and use lights to engage customers.
Smart lighting technology could help pave the way for lighting companies to transform into service outfits that charge for monthly or yearly lighting and data offerings, rather than profiting from hardware per se. It's a transformation that many lighting companies are desperate to make. (See LEDs Magazine's recent recaps of the Strategies in Light and Light+Building events, where these themes were prominent.)
Intelligence would cement lighting's role in the IoT. The IoT, of course, is the mega movement to tie some 30 billion devices to the Internet over the next several years and create a world where anything that can be digitized will be, allowing diverse objects to talk to each other and collect and distribute information to the benefit of business and society. Consultant firm McKinsey says the IoT could add $6.25 trillion to the global economy by 2025.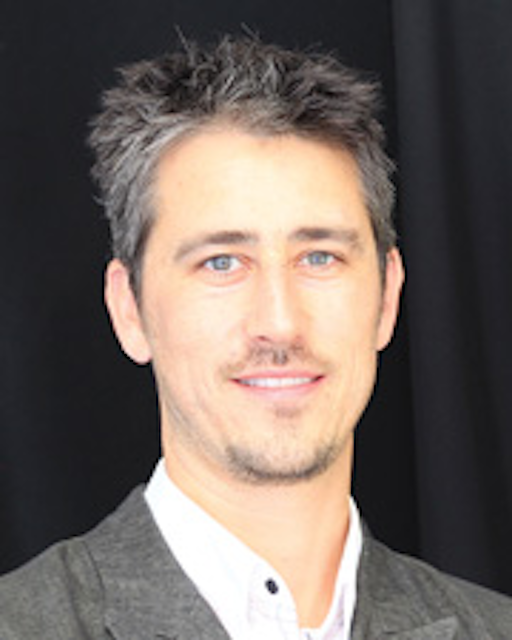 FIG. 1. Organic Response co-founder and CEO Chris Duffield wants to transform traditional lighting companies into Internet of Things companies.
Lighting companies must team with technology companies to make it happen. Plenty of well-known tech firms like Cisco, Google, Apple, Huawei, IBM, and others are making a strong bid. But as with any potentially high-growth tech movement, a healthy crop of startups and small behind-the-scenes companies is emerging to take lighting to the next level. Here are five that you might not have yet heard of. Consider this a starter kit. LEDs Magazine will be bringing you more...
Gooee: Grabbing intelligent land inside luminaires and automation systems
Startup Gooee made waves last year when it signed up no fewer than seven lighting companies to embed the Gooee Internet of Things engine inside luminaires.
Gooee is now rippling out further, signing additional OEM deals with more lighting companies and, in an impressive example of reach, with a couple of building automation firms. It now has more than 20 agreements in place.
"It's a little bit daunting, but it's a good problem to have," said chief technology officer Simon Coombes, who noted that the barely two-year-old Santa Clara, CA-based company will announce the names of the new partners later this year.
Gooee's overarching promise is that building operators and retailers can gain enormous advantages by using sensors to monitor building occupancy, lighting levels, and climatic conditions like temperature and humidity, especially if they collect that data and send it off for analysis in cloud computing systems, the way Gooee's self-proclaimed ecosystem does.
The benefits start with rudimentary energy savings and comfort as the sensors connect to controls and help trigger lighting, heating, and cooling levels automatically as required. Add in the analytics, and building operators can start noting things like occupancy trends, on the basis of which they can decide to get rid of certain spaces or reassign others.
One industry that Gooee is particularly targeting is the retail trade. Occupancy sensors in the Gooee system use heat-mapping technology to take note of human direction and velocity within a store. That means retail operators can gain insights into what attracts or repels customers to or from various displays and promotions. Analyze that over time, and retailers can start to fine-tune their marketing and merchandising strategies.
Gooee is also using Bluetooth beacons to communicate with shoppers via their smartphones and engage them with in-store promotions. While Gooee has demonstrated the Bluetooth technology with its own proprietary implementation, it is awaiting ratification of the Bluetooth Smart Mesh standard to offer that feature commercially - the same mesh technology which Gooee rival Organic Response is also eagerly anticipating, in order to expand the reach of Bluetooth signals beyond 30 ft.
Gooee comes from a lighting background; it was founded in March 2014 by chief executive officer Andrew Johnson, who is also CEO of Aurora Lighting. Aurora was a natural fit as its first OEM customer early last year, and Gooee has since signed up six others: John Cullen, Gerard Lighting, Architectural FX, Mosaic Eins, Interlight, and London-based Chinese provider Feilo Sylvania (formerly Havells Sylvania).
In a sign that Gooee faces a marketplace battle, Feilo Sylvania recently revealed that it is also using Organic Response's smart lighting engine. Other startups are onto it as well, as are large companies like Samsung.
Coombes welcomes the competition as a sign of legitimizing the IoT technology. "This market is way, way big enough for two, three, four, five players to be working in," he said. "There's going to be a big uptake in the next 20 years. Now's the time to be embedding this intelligence into LED technology, to really just get that land grab of deployment."
To help secure a place in the industry's future, Gooee is adding other features to its set of chips - for instance, ZigBee communications. "We feel very strongly that Bluetooth Smart Mesh is going to be a very, very dominant communications stack, but we want to have a certain degree of future-proofing in the hardware," Coombes noted. "The whole IoT space, particularly on the communications stack, is something like the Wild West right now. So we want to future-proof and be prepared for any sort of change in the market." (For more background on Bluetooth mesh networking, read our March feature.)
To help it widen its own turf, Gooee is working with technology partners such as Copenhagen's Delta Microelectronics on sensor design, with Norway's Nordic Semiconductor on Bluetooth mesh chips, and with London's EVRYTHNG on cloud computing.
It's even looking at tying intelligent lighting into other gadgets and systems, such as wearables and medical devices.
"We can add more functionality over time," noted Coombes. For now the company is focused on lights, buildings, and retail.
Organic Response: Turning lighting companies into IoT enterprises
Organic Response is a small company with a goal that is aimed at nothing less than the big wide-open scene.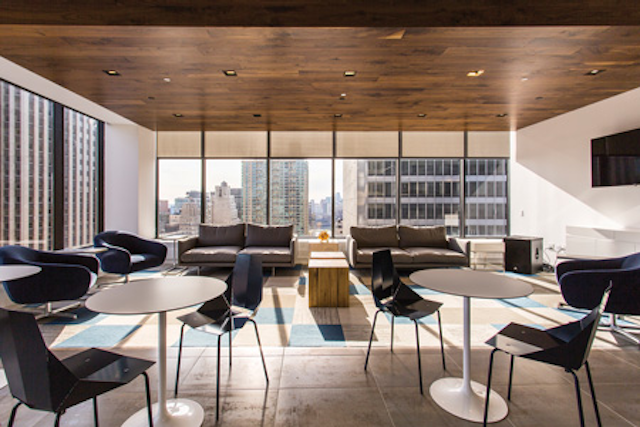 Behind-the-scenes companies usher in the smart lighting era (MAGAZINE)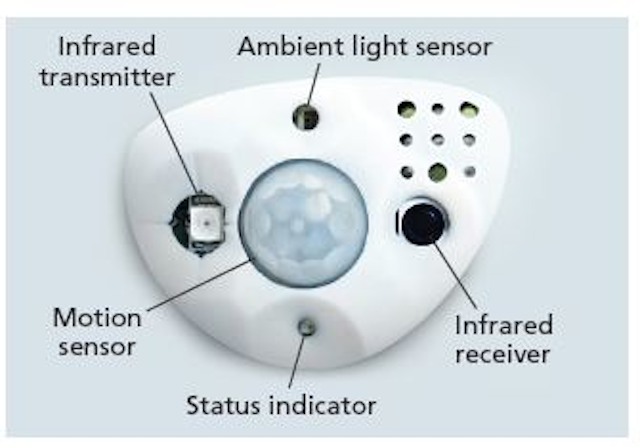 FIG. 2. Organic Response teamed with GE's Current energy and lighting unit on this connected lighting installation at Dixon Advisory, a real estate group in New York City. The inset shows a sample smart sensor that would be embedded in luminaires.
"Our mission is to provide the hardware and software platform to enable traditional lighting companies to transform into an Internet of Things company," said Chris Duffield, co-founder and CEO of the five-year-old Melbourne, Australia firm (Fig. 1).
To help convert office luminaires into IoT nodes, Organic Response is providing a kit of sensors on an OEM basis for vendors to embed in their luminaires. The startup already counts Current, powered by GE and Feilo Sylvania as customers.
The sensors allow end users to take note of room occupancy and lighting levels, and to thus control the lights on an intelligent basis in which luminaires switch on and off and brighten and dim as needed. The immediate benefits are energy savings of 20-40%, according to Duffield, as well as general improvements in light quality and in delivering the right light levels at the right time - something that Duffield claims Organic Response does better than others via use of algorithms that enable lights to be constantly aware of what other lights in the system are doing in response to building occupancy.
But energy savings and lighting comfort are just what Duffield calls Organic Response's "ticket to play" in the IoT lighting game. The big value that Organic Response offers will come from two other aspects of its hardware and software offering: cloud-based occupancy analytics and Bluetooth-based indoor location services.
Embedding occupancy sensors in luminaires "gives us the opportunity to collect vast amounts of information about what's happening in a building, which we can aggregate in the cloud and provide back to tenants and property owners as actionable insights," said Duffield. Those actions can include eliminating unused space, reassigning floors for different purposes, doubling up area functions, and all sorts of other moves that Duffield says will, like with energy reductions, bring another 20-40% savings. In the pricey world of office real estate - New York City rents averaged around $70/ft2 earlier this year, according to The Real Deal - and those savings could add up to much greater numbers than energy savings, Duffield reported.
Meanwhile, Organic Response hopes to soon embed Bluetooth beacons that would underpin location-based services in places like retail stores, hospitals, and other public buildings. In retail environments, luminaire-embedded beacons would ping shoppers' phones and offer special deals on nearby items; in hospitals, beacons could keep track of valuable assets such as medical equipment (nurses spend an inordinate amount of time looking for misplaced things).
Like its rival Gooee, Organic Response is waiting for the Bluetooth Special Interest Group to ratify a standard for a mesh version of Bluetooth that significantly broadens the physical reach of Bluetooth signals, which are currently limited to about 30 ft.
Organic Response is working with another startup - Bluetooth mesh specialist Silvair, based in San Francisco and in Krakow, Poland - to help deliver an indoor location-based offering.
The small Australian company is currently raising funds in an expansion effort, hoping to double its headcount to nearly 60 by the end of the year, from 28 today. It received financial backing last year from German energy utility E.ON and from US venture firm CTV. Its recent deal with GE's Current was cemented with an installation in the offices of Dixon Advisory (Duffield's former employer) in New York City (Fig. 2). Organic Response is not the only smart lighting play at Current. The GE unit recently acquired front-end controls company Daintree Networks, recently partnered with Honeywell's Tridium unit to help collect and analyze building data, and has worked in the past with visible light communications specialist ByteLight, now part of Acuity Brands.
If there's room for all of those players in just one vendor's IoT cast of characters, then things are indeed starting to get big behind the smart lighting scene.
Senzo IT: Better sensors, better buildings
Senzo IT has a two-pronged mission to optimize commercial workplaces. It wants to make them healthier and thus more productive, and it wants to eliminate the multifaceted and costly waste of empty and unused desks, rooms, and floors. What does that have to do with lighting? Plenty.
As the name of the two-year-old startup implies, it is deploying sensors and information technology in its crusade for better buildings. And as we have noted, LED luminaires can house or in other ways connect to the sensors that, when tied into intelligent control systems, can do so many things to improve the operation of office facilities.
To name just a few of the potential benefits, they can tune lighting levels to optimal brightness and wavelengths to facilitate worker morale and productivity; they can do the same with a building's climate control; they can note when rooms are empty and thus help managers reassign or even get rid of space; and they can turn lights and air conditioning off when not needed.
The Helsinki-based company is not necessarily looking to embed its sensors in LED luminaires. In fact, noted Senzo's Steve Corkin, Senzo's sensors can often work better when not mounted within the light. For example, sensors that measure light intensity are more reliable when mounted at ground level. When they're mounted in a luminaire in ceilings, they reflect a misleading brighter intensity than what's actually hitting the actual workplace.
Corkin, based in the UK and a member of Senzo's team of directors, said the company offers sensors that are more accurate and reliable than others. For example, whereas many occupancy sensors deliver an accuracy of around 80% or 85%, Senzo's products perform at over 95%, he claimed.
Given the common objective shared by Senzo and the lighting industry's push into smart, connected lighting and buildings, Senzo is looking for ways to team with lighting companies.
"Senzo is poised to work with various lighting companies to see how or if we can come up with a solution," said Corkin. "We're both aware of what we're trying to measure. Lighting at the moment isn't quite where the sensor guys are. And we're not in the lighting industry. But collectively, it could be a very powerful unit. Senzo is interested in working on OEM arrangements with lighting companies."
That's why Corkin appeared on a plenary discussion panel recently at the Smart Lighting and Smart Sensing 2016 conference (smartlighting.org) in Milan, surrounded by co-panelists from venerable lighting outfits including Philips, Osram, and Zumtobel.
Founded by Finnish entrepreneur Tomi Matilainen, Senzo brings another key element in addition to sensors to the partnership table. It takes the data collected by sensors and ties it into a Microsoft Azure cloud computing system for analysis to help facilities managers make decisions on everything from space utilization to how to create healthier work environments.
"We go beyond occupancy and utilization, to measure air quality, air temperature, and humidity, and we're adding light intensity," said Corkin. "That can all affect a person's ability to concentrate and work."
Senzo IT has funding from a Finnish government venture capital group called Tekes Venture Capital Ltd., private Finnish VC firm Jes Invest Oy, and a Middle Eastern private equity company, AMTC. It already has several thousand occupancy sensors installed in office buildings in the Middle East and in South Africa, with more to come soon in other parts of the world.
Mivune: Software for buildings
No behind-the-scenes smart lighting company has a more obvious buildings ethos than Switzerland's Mivune AG. That's because it has a direct link to real estate: Its owner, Balz Halter, runs Halter Unternehmungen AG, one of the country's largest property and construction firms.
Mivune makes software that modernizes the control of building systems, such as lighting, heating and cooling, and other systems. The so-called Mivune OS is not an operating system per se but is middleware written in the Java programming language. In principle, it can run on top of any operating system including Windows and Linux.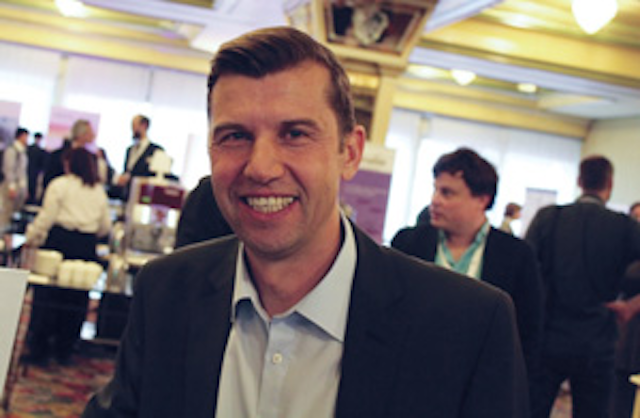 FIG. 3. You could call him the middleman, because Mivune CEO Andreas Manser provides middleware that helps smarten lighting controls.
The idea is to allow building operators to centrally control systems via a PC screen, and to also give them and individual users the ability to control systems via their smartphones. It provides a wealth of features to existing controls such as DALI and KNX, adding things like data, event logging, debugging, calendar, licensing, commissioning, configuration, and connection to web browsers and cloud computing systems - for lighting systems as well as building automation systems such as heating and cooling.
"It's like the ham in the sandwich," said CEO Andreas Manser (Fig. 3). "We are sliding middleware in between. We are able to plug in software drivers of all the protocols you want to have. It can be company-specific, but they can be standard like KNX, or EnOcean, or ZigBee, or whatever you want."
The technology comes originally from ETH, the renowned Swiss technology university, also known as the Swiss Federal Institute of Technology in Zurich.
Mivune provided the software that Zumtobel has been using in its Litecom smart control system since 2014. In that pairing, Zumtobel kept its own in-house applications for things like color mixing and daylight harvesting, while the Mivune system allows for more central and computerized control, and delivers the additional features. Litecom allows building managers to create, control, and monitor light scenes across different rooms and floors in a central system that also allows them to control and map out other connected building functions and sensors.
Zurich-based Mivune is now looking to partner with other lighting companies in its quest to improve the operation of commercial buildings.
"The company comes from the property management side," said Manser. "Our main shareholder is big in property management, and he wants to invest in technology as well. We provide software for buildings."
Mivune started with Halter's backing in 2008 as a smart home technology company but it is now targeting commercial offices, while a sister company, DigitalSTROM, has taken up the smart home cause, using power-line communications (PLC) similar to what enModus (included later in this profile) is doing in the industrial and commercial market.
Manser, who joined as CEO in 2010, has a strong IT and networking background, including stints at Nortel and Swisscom and at PC company Lenovo. At each of those stops, he was steeped in the convergence exercise of combining IT with communications technology. He is now hoping for a second act of convergence, as Mivune brings traditional lighting and building control systems into the Internet.
EnModus: Data travels via power lines
Sometimes the best innovations can be those that make much greater use of what you already have. That's what enModus wants to provide in smart lighting. It offers a technology that carries data to and from ceiling luminaires via one of the most common of all commercial building infrastructures: the conventional wiring system.
Its system, called Wattwave, can be a lot less expensive than another wired approach to smart lighting, Power over Ethernet (PoE). Like with PoE, the same cable carries both data and electricity to LED light fixtures. But unlike PoE, PLC systems such as Wattwave do not require costly new cabling, because electricity lines already feed lighting bays, whereas Ethernet cable does not.
FIG. 4. EnModus CEO and co-founder Andy Heaton comes from a rich IT background.
Wattwave can also trump a wireless approach to smart lighting in instances where the physical environment makes it difficult to propagate signals long distances through the air, such as in factories with high ceilings or in buildings full of structures that can block Wi-Fi and other radio waves.
Like so many startups entering the smart lighting field, Chepstow, Wales-based enModus does not come from a lighting heritage. Rather, its co-founders and management team are steeped in an information technology background, with over 100 years in combined IT experience.
"We portray ourselves as a technology company, and we're applying all of that technology experience now to solving the lighting control problem," explained CEO and co-founder Andy Heaton (Fig. 4). "We're not a traditional lighting company who has then turned its hands to lighting control. We founded the company because we saw a big need for a very long-range way of communicating at scale in buildings. We wanted to approach this as a communications problem that required a 21st century solution."
Heaton - who has worked in chip technology for companies including Plessey, Motorola, Philips Semiconductors (now NXP), and ON Semiconductor - co-founded enModus in 2010. The company spent about four years developing its technology, and originally had its eye on the smart home market. "A couple of years ago we realized that the technology is perfectly suited to LED lighting control in large facilities," Heaton said, noting that the technology is also suited for controlling and monitoring other systems powered by electricity (also referred to as the mains).
"Anything that's in the building plugged into the mains, we can monitor and control," Heaton said, adding that enModus will soon be able to tie a building's heating, cooling, security, fire alarm, and other systems into Wattwave. In one of many possible applications, Wattwave could transmit information via electricity lines from climate or occupancy sensors - possibly embedded in luminaires - to the HVAC system and turn the heating up, down, on, or off as required.
"We plan to link in with the whole ecosystem of sensors that are already out there and give the customer the best opportunity for gathering data and doing something about it," said Heaton.
The system also ties into cloud computing databases to help managers analyze building operations and make adjustments.
EnModus - "en" is short for "energy" and "modus" translates as "measure" - thinks it has found a sweet spot in the market for sizable retrofits.
"Where we see a complete gap in the market that no one else can fill other than us is the ability to go into very large buildings, multiple buildings, estates, and retrofit this type of smart control," said vice president of sales and marketing John Wanklyn, claiming that Wattwave can scale across thousands or even hundreds of thousands of lights.
FIG. 5. Terex Trucks, a division of Volvo Construction Equipment, sends data via conventional power lines to these high-bay ceiling lights at its plant in Motherwell, Scotland using enModus' Wattwave technology.
The power-line approach avoids the need for new wires, as technology such as Ethernet would require, and it also reaches lights in settings where wireless might struggle.
Those were both issues at a pilot enModus project at the Terex Trucks manufacturing plant in Motherwell, Scotland, where the ceilings rise to 40 ft and steel beams interfere with wireless frequencies (Fig. 5). Using a systems integrator, Carbon Reduction Technology (CRT), Terex installed a Wattwave lighting control system and 20 new LED lights in two high-bay areas as part of a broader effort to reduce energy consumption at the factory.
Terex, a division of Volvo Construction Equipment that makes massive mining and quarrying vehicles, says Wattwave and the new LED luminaires have cut lighting energy consumption by over 90% at the plant, and the system has improved energy monitoring.
EnModus expects to land more customers soon, working through systems integrators such as CRT and Britain's The A+ Group. Heaton says the 14-person company should double its headcount over the next 18 months and announce a new round of financing to go along with the £4.5 million ($6.4 million at the time of publication) it has raised from Finance Wales, Breed Reply, and Andromeda Capital.
As enModus scales up, onlookers will be keen to see whether it has cracked some of the engineering challenges that have plagued PLC, a technology that can claim rudimentary uses dating back to the 1920s but which has for a decade or two failed to live up to expectations to serve as a general broadband conduit.
Heaton says enModus has improved PLC with its patented technology that draws on communication techniques from cellular phones and GPS. If it works as advertised, then it should bring a measure of success to the company with the name that means energy measurement - all by taking advantage of what's already out there.
MARK HALPER is a contributing editor with LEDs Magazine (markhalper@aol.com).