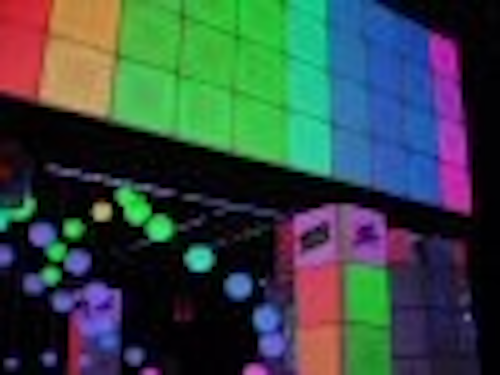 PLASA
, the annual show organized by the UK's Professional Lighting and Sound Association, is a major showcase for companies launching new products targeted at the entertainment industry. This year's event saw a profusion of LEDs, ranging from wall and floor panels to neon replacements to LED bulbs to sophisticated LED floodlights.
Color Kinetics unveiled a wide range of new systems and technologies, including Powercore™, a complete line-voltage power solution that as been incorporated into the company's iColor Cove and ColorCast product lines. Color Kinetics also introduced the iColor Module FX, a 6-inch square panel, and iColor MR g2, a color-changing lamp for use with standard MR16 fixtures and sockets.
* See Color Kinetics unveils range of products at PLASA
Schnick-Schnack-Systems showed its LED-Kachel, a DMX controlled colour-mixing tile consisting of RGB LED modules and control electronics mounted on a single PCB. The product is intended for backlighting translucent materials for trade shows or entertainment productions, although the possible applications are virtually limitless.
* See
The light behind the curtain: LED tile offers modular solution for backlighting
Multileds exhibited its new range of illuminated LED panels suitable for mounting on walls or floors, joining fellow Netherlands companies Lagoleds and Showtec, as well as others such as Traxon and Pulsar.
Flexible tubes containing LEDs, which are marketed as replacements for neon, were on show by a number of companies, including Lagoleds, Chauvet and Batmink.
iVision launched a rnage of products, and was showing a demo version of its Lumos Strip light incorporating LED arrays from Lamina Ceramics as the light source.
Floodlights
An increasing number of companies are now incorporating large numbers of high-power RGB LEDs into fixtures, often with moving heads, which are used to provide high-intensity floodlighting with color changing capability.
Tryka L.E.D. Ltd unveiled its Module 144 Power Flood (see photo), a color-changing floodlight with 144 LEDs and a variety of alternative optics. Meanwhile, Pulsar's new ChromaFlood features 91 LEDs and is fitted with a fully articulating mounting bracket to provide a high level of installation flexibility. ChromaFlood can also be recess mounted in surfaces, walls or ceilings, and its IP66 rating makes it ideal for indoor and outdoor use.
Coemar introduced the iWash LED, a new projector combining 37 high-power LEDs with a moving head. The fixture's software makes it possible to proportionally decrease light intensity independently of color selection.
* See Coemar's moving-head projector incorporates 37 LEDs
LDDE launched several new products in its SpectraLine range, including a specialized spotlight for professional stage productions that can be easily recessed into the stage floor.
* See LDDE turns LED lights on performers
James Thomas Engineering expanded its Pixel range with a series of products featuring enhanced control, which includes user-defined dimmer curves. For the first time, the higher-power JTE products now also feature 3 W blue and green LEDs together with 1 W red and amber emitters for improved colour control.
* See James Thomas uses amber with RGB in expanded Pixel range
AC Lighting unveiled the Chroma-Q Color Block DB4, a block of 4 DMX-controlled colour mixing LED lights with a modular design and a comprehensive range of fixing options, allowing users to create a complete LED system using one generic fixture type.
* See
Chroma-Q Color Block DB4 provides building blocks for intelligent LED lighting
SGM introduced the PALCO colour-changing LED projector, which can be precisely controlled and is suitable for illuminating large areas with a luminous flux of up to 2800 lumens.
* See PALCO projector utilizes 3 or 5 W LEDs for large-area illumination
Video displays
Although high-definition displays were not in evidence at PLASA, a number of companies showcased LED-based products that can be used to display messages or graphics with relatively low resolution. For example, the Versatile product from Element Labs can be used to display text or images (see Tiles from Element Labs provide backdrop for MTV awards), while Pixeline battens from James Thomas Engineering have been widely used in rock concerts to display video images.
Another approach is the lightweight and flexible product range from G-LEC; these are 60-mm pitch displays comprising LED strips housed inside polycarbonate tubes. Each tube contains 16 LED pixels separated by 60 mm, and the tubes are arranged 60 mm apart in a frame. The key to the displays is that the tubes are separated by air, meaning that they are largely transparent to light as well as sound and weather. Performers or objects behind the display can be made visible, while the display itself should not affect the acoustics of speaker stacks.
* See G-LEC adds to family of lightweight, transparent displays