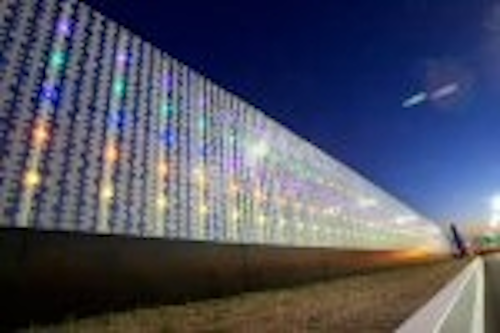 Supplied by veteran lighting projects company Lightmoves Pty Ltd, the LED Wall is one of the unique design features on the freeway extension that links Melbourne's Metropolitan Ring Road with the Hume Freeway. Part of the overall architectural and artistic design of the new roadway, the LED matrix is incorporated into an acoustic barrier wall of screen-printed acrylic panels.
Designed by landscape architects Taylor Cullity Lethlean and engineers Webb Australia in collaboration with local artist Robert Owen, the LED Wall is the main lighting feature of Stage One of the project which opened to the public on 21 December 2004. Lightmoves successfully tendered for this unique project designing a system that would deliver a matrix display of colour-changing LED fittings that could be individually controlled and regulated by transducers in the road.
Installed by contractors Alstom Australia, the LED Wall is one of the most ambitious feature lighting installations ever undertaken in Australia. "The magnitude of this project was quite large as a number of electrical connections were required to terminate nearly a thousand luminaries. Therefore good design, planning and documentation were paramount for this project to be on time and within budget," explains Lightmoves Project Manager, Joe Casamento.
The brief
The specification was predominantly performance-based, calling for a weatherproof luminaire that housed red, green and blue LEDs, and a control system that allowed individual control of every LED. The control system had to treat the wall as a low-resolution video screen that allowed artists to use the wall as a blank canvas.
Programming of sequences needed to include the ability to import images in the form of bitmap and video files. Transducers in the road were placed to monitor traffic levels and trigger the display of various lighting sequences.
The solution
The challenging part of this project was the need to manufacture a custom LED fitting. It needed to meet the performance specifications whilst fitting within the relatively tight 40mm diameter area of the acrylic screen fixings. Such a fitting also had to be designed to endure diverse weather conditions and high UV radiation that is present in Melbourne.
Lightmoves collaborated closely with Brisbane-based supplier Digilin to develop a suitable LED fitting. Although Digilin is renowned for their range of fibre-optic lighting products, they also manufacture an extensive range of LED strips and luminaires. Several prototypes were produced in the process of developing the LMCB40 for this project.
The finished product is an IP66 rated, stainless steel RGB LED fitting with a UV-stabilised lens. The light source is a series of RGB (red/green/blue) surface-mount LEDs that are designed to be directly driven from an 'off-the-shelf' Dynalite LED controller.
"We are always careful where we recommend the use of LED lighting," explains Casamento. "However they were perfect for this project as we used them as a point source rather than a light source. And the results are quite spectacular". The long predicted life for LED technology ensures that motorists can enjoy this unique feature lighting installation for years to come.
With nearly 3000 channels of lighting control to contend with, Lightmoves used Dynalite's 48-way constant current LED controllers as the basis of its control solution. DMX512 was the control protocol.
The innovative Colour Tramp system from Artistic Licence was chosen to provide the overall control of the LED Wall. Its ability to control large numbers of LED fittings with a user-friendly graphically-based screen made it a logical choice for this project. Its ability to easily import bitmaps and videos simplified an otherwise complex programming process.
Joe Casamento claimed, "Colour Tramp was a great tool for us. It easily enabled us to program the wall by importing the artist's computer bitmaps. And the ability to have a full on-screen representation of the wall meant that a lot of programming could be done off-site."
Colour Tramp uses the Art-Net DMX over Ethernet protocol as output for its multiple streams of DMX data. Datagate, a product recently developed in Melbourne by Enttec, was selected to translate the Art-Net data into standard DMX. The first Datagate off the production line was given a baptism by fire on this project, having to process seven streams of DMX information - a task it did with ease. Housed in a 1RU rack-mount enclosure, the Datagate has, amongst its wide variety DMX and Ethernet translation capabilities, the ability to convert Art-Net to eight streams (4096 channels) of DMX.
Finally, an AMX Netlinx NI-3000 was used to process information from the traffic counter system. Three induction loops in the road sense traffic flow across three lanes of traffic and pass this information via a traffic counter controller to the Netlinx using switch closures. The Netlinx then triggers Colour Tramp via its RS232 input, thus selecting certain sequences depending on the volume of traffic.
It is not easy to imagine a large video screen adorning a freeway wall. The result however is a very striking and successful demonstration of clever art and design using state-of-the-art lighting technology.
Equipment list
935 x LMCB40 Stainless Steel Outdoor RGB LED
63 x Dynalilte DLEDC48 Constant Current DMX LED Controller
1 x Enttec Datagate DME 8-way Ethernet to DMX Interface
1 x AMX Netlinx NI-3000 Integrator
1 x Artistic Licence Colour Tramp 4096 Software
Additional information
Contact Lightmoves' Project Manager Joe Casamento on +61 3 9701 2500, or email jcasamento@lightmoves.com.au.