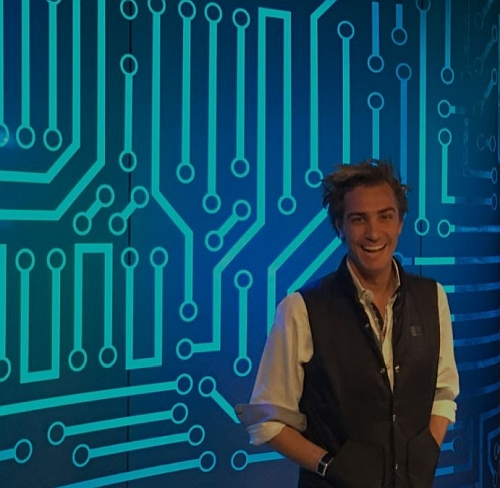 As we're closing in on the last week before the co-located Strategies in Light, The LED Show, and Lightspace California events, a more casual Q&A style is taking over this week. Talking about technology, creativity, collaboration, and the intersection of multiple industries at the Internet of Things (IoT) certainly isn't dull when you're chatting with Gray Bright. Currently director of business development at Left Field Labs, Bright has been taking things apart and experimenting with making them better since childhood. At Left Field Labs, he is responsible for driving a team of designers and developers that produce both internal and customer-facing applications, experiences, and more for some pretty big customers (anyone heard of Google?). He also has hosted a TV tech-talk show, performed stand-up comedy for NASA, and competed on a TBS network show called "America's Greatest Makers." Bright will be presenting during The LED Show track on Feb. 14 in Long Beach, CA, and in his own words, will be covering "crazy things that lights can do." He's not kidding! — CARRIE MEADOWS
LEDs: According to your online footprint, you've been curious about technology since childhood. What continues to drive your passion for progress?
Gray Bright: I dismantled all the electronics in the house! Unfortunately, I had no idea how to put them back together. My childhood electronics dream was ultra-annoying to my parents. I spent my entire childhood and youth building robots and watching Monty Python — and that's literally my childhood… I have actually performed with Monty Python. So basically, [my career is] just a continuation of my childhood.
LEDs Magazine will continue its coverage of Strategies in Light with more news and insights here at ledsmagazine.com. You can find details on the conference program, speakers, exhibitors, and more at strategiesinlight.com.
LEDs: Working in a fast-paced technology industry, there's a sense of constant need for innovation and to go on to the next thing; you don't really have any time to loosen up and approach it from a place of entertainment and creativity. How do you balance these two driving forces — technical innovation and creativity?
GB: I've performed standup at a rocket launch for NASA a year ago and that's a pretty hyper-focused audience. There's not that many rooms that I can throw aerodynamic jokes in. There and a couple other places. I thoroughly enjoy it. But it's about how to build electronics that make me laugh. That's my call.
I find a lot of passion in creating things that don't exist and I think that's naturally then what leads me to always be on the absolute cutting edge of technology. I found myself even last night tagged in a Facebook post about a device that sorts M&Ms into different colors… Now the reason I was tagged in it is because ten years ago, I built an exact duplicate device like that, and my friend was just pointing out, 'You're about ten years too early in nearly everything you create.' Stuff that I build for my own personal enjoyment is always fun and how that ties into my professional career is certainly around ideation and creation.
In my role now, I've progressed to where I look after all the new business, and so I'm often sitting down with CEOs, CTOs, and talking about business issues from the point of view of what's their biggest business dilemma? How do we then solve that problem? And if technology is part of it, then we'll use technology, but rarely in my professional career do I lead with the technology for technology's sake. I always solve the business problems first and foremost.
LEDs: In a kind of think-tank style of design and development operation like Left Field Labs, what is your process like?
GB: Doing brainstorming sessions with people who I consider some of the greatest professionals within their sector is a really interesting dynamic opportunity. There are some projects at the moment in augmented reality that we're going through brainstorming sessions, and it's literally like the ideas we're coming up with you're going to see [come to be] in ten years. They're not technically possible right now, they're not economically possible right now, so over time they will become [possible], but I absolutely love that notion of exploring the big picture. And this is what I've learned over the years, and this is one of the values that I have: It's quite easy to come up with the ideas but to be able to rationalize what's feasible at what cost and in what timeframe, that's where the experience [in development] comes in. So we come up with these amazing ideas but then someone [on our team] has to funnel them into 'solve the problem, can it be done on time and to the budget, and serve the greater good.'
LEDs: You have an academic background in robotics and engineering. What role do you see robotics playing in further developments that integrate lighting with the IoT?
GB: There's actually two areas that I'll speak about. First one: I am constantly fascinated by light — if you look at light and where it is cast from, about 99% of lighting is cast from a static location. A lightbulb or a fixture. There aren't that many installations that have movement to the light. When you do that, you create an entirely different experience. The way it's done at the moment is light fading in and out that causes almost a sense of movement in the lights. But if you have a mechanical installation of light sources on robotic arms, I think you'd actually create an entirely different light dynamic that we haven't really experienced. And one that I can think of is inside a restaurant or something, if the lights were actually in motion, it would create an entirely different mood.
The IoT side of things is certainly where it gets really fun. It was about three or four years ago I created a series of about 20 videos about how you could use the Philips Hue light bulbs in really novel ways. And these stretched everywhere from showing you how to very simply use the online platform called 'IFTTT,' which stands for 'if this then that,' and what you can do is make your lights flash red when a stock price reaches a certain point.
I'm still not happy that now we've got to the stage where a lot more people are starting to realize the ability to use voice to turn lights on, but we're not using our lights as notification centers yet. I'm sure in a couple of years it's going to one or two key apps or large brands that are going to work this out, and we're going to see large brands requesting access to your lights. [I]t's coming and that very much excites me, because then they'll start to realize what notifications can do.
LEDs: So having said that, what is your take on other IoT trend(s) that will emerge from lighting technology R&D — applications, products, services?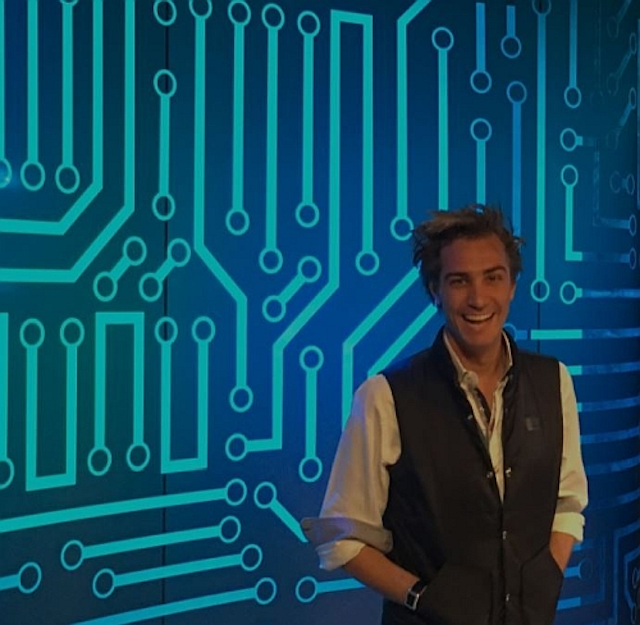 Strategies in Light speaker Gray Bright imbues IoT with a fresh perspective
GB: Our work with Google certainly involves a heavy amount of integration with Google Assistant and so on, so there's a couple of projects that I can speak to [at Strategies in Light] that I think people will find interesting as examples of how we go about thinking about technology en masse. The way that I'll be presenting it and thinking about it is along the lines of where do I fit right now, where do I see this going in a few years. An example of that is the SyFy Channel, owned by NBC, set up a little laboratory to work out interactions that people could have with their TV [viewing]. They programmed a few of their shows like Sharknado to control your home lighting. So when you watch Sharknado, which is a silly, silly film, basically your home lights interact at exactly the same time… That shouldn't just be like a one-off. The reason it's not being done because it's still at that early stage where people are finding it hard enough to plug these things in and get them running, let alone 'how do I now integrate a movie into it,' but that's not going to work for very long. In a few years' time, the premise of watching films in your house and your lights interacting with them, that should be a common thing if you want that. That certainly sets the compass for where this type of technology is heading.
LEDs: So do you see these applications for interactive lighting and IoT as being more oriented toward business serving the consumer (direct to consumer), or do you see a broader commercial application?
GB: I think there's a few sides to it. The consumer play is certainly there, but I also see the opportunity to be there for a real-life scenario — even in enterprise solutions. A friend of mind started a lighting company with a tiny LED that connected to the Internet. A little USB device, but you can make it go any color. He originally wanted to sell these to consumers, who would just plug them into their computers and it would flash, say, orange when you have an email. What happened was he sells them to enterprise companies, mainly datacenters, and these people are plugging these devices into every data rack and using them as visual notifications for data racks, notifications that are usually done on a screen — but then finding which hard drive is about to die or which one of these servers is having an issue. That was a novel approach to using just one LED but allowing people to program it to do whatever they needed.
LEDs: Maybe even safety or public information, in healthcare or schools? I hate to even bring up this serious example, but what about an active shooter situation in a building, using the notification lighting? I wonder if this is going to become more commonplace.
GB: Imagine if every school was equipped with these LED lights. And in that moment, each room's lights could change color depending on the location of the shooter. The police could see where the shooter was and then all the people who were in rooms 1, 2, and 3 — their lights [would turn] green and that meant they could direct people on how to escape. Red could mean stay hidden, don't leave.
LEDs: That's just one scenario that integrates several things — machine vision, facial recognition, lighting, sensors, and connectivity through IoT. I have this feeling that over time it's going to be deemed a necessity to ensure public safety, where a metal detector isn't going to cut it anymore. And the development will come faster, costs will come down as things get a bit simpler.
GB: Exactly! We think about the individual parts but all of those things can interact together in an application like that.
LEDs: You exude a joy about being involved in these developments. It's very inspiring, your unique perspective on technology, so I am sure your talk will be received with great enthusiasm!