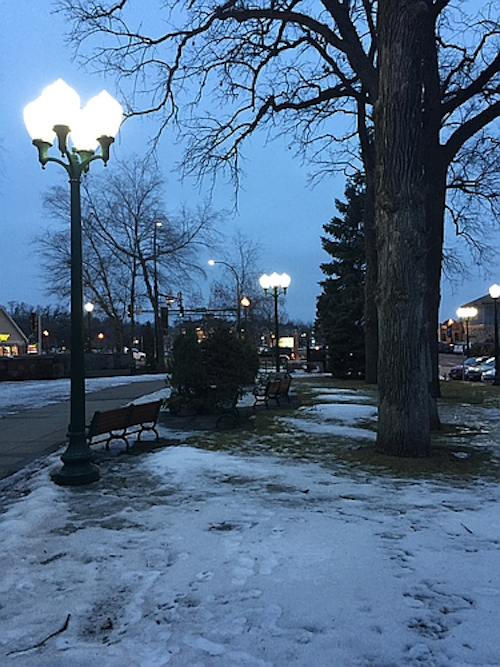 White Bear Lake in Minnesota now boasts a white-point-tunable solid-state lighting installation in its central Railroad Park based on Echelon Lumewave technology.
While we regularly cover white-point-tunable indoor lighting based on LED sources, tunable systems outdoors have largely been limited to façade lighting of architectural structures and most often has been dynamic colored lighting. Now, however, Echelon has announced an outdoor solid-state lighting (SSL) project in White Bear Lake, MN near St. Paul in which post-top luminaires can be tuned over the range of 2700K to 5500K in CCT. The lights are installed at the municipality's Railroad Park that measures about a typical city block and Echelon has supplied the tunable sources to retrofit the post tops along with the Lumewave adaptive control system.
Interested in articles & announcements on tunable white SSL?
An outdoor tunable system clearly could offer benefits. We reported several years ago from a DOE Workshop when neuroscientist Steven Lockley, associate professor of medicine at Harvard Medical School, called for the use of tunable technology outdoors. Lockley said warmer CCTs late at night would be beneficial for humans and the environment.
More recently, cooler CCTs outdoors have come under fire including in a position paper from the American Medical Association (AMA) recommending CCT of 3000K or warmer. Cooler, blue-rich lighting has clearly been shown to impact sleep patterns and cause other maladies. But there is also evidence that humans see better under cooler CCTs; therefore, cooler street lights could increase safety and even be operated at lower light levels without impacting safety.
White Bear Lake will get the best of both worlds in its downtown park. The city managers believe that during times of high activity, 4500K provides better visibility for a safer environment. Later at night as activity levels drop, the municipality will warm the lights to 2700K, a CCT generally preferred by many people.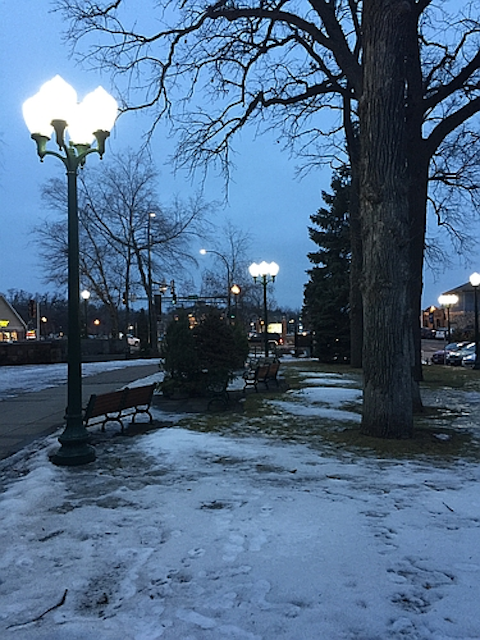 Echelon announces tunable-white outdoor LED lighting trial
The town of White Bear Lake, MN is now equipped with a tunable-white SSL system that relies on Echelon tunable sources and its Lumewave adaptive controls to produce light in the range of 2700-5500K CCT.
"There has been a lot of controversy in the industry regarding the color of light generated by outdoor lighting and the possible harmful effects it may cause to humans and the surrounding ecosystems," said Ken Taillon, manager of municipal lighting services at Short Elliott Hendrickson Inc, who led the project engineering. "This issue forces agencies to select the preferred color temperature before installation of a lighting system. With Echelon's innovative technology, agencies no longer have to choose the color temperature during the design process. Tuning the color of white light in conjunction with adjusting the brightness level provides opportunities we've never had before. Lighting systems can now respond to the dynamic needs associated with providing necessary public safety while rendering colors and light levels that are more appropriate for lighting the after-hour nighttime environment."
The tunable system also offers capabilities that can be used during special events or emergencies. "Municipalities now have the power to create the perfect environment at any given time," said Ron Sege, chairman and CEO of Echelon. "Imagine the improved public safety if all of the streetlights in an area were immediately whiter and brighter when a 911 call was responded to, but otherwise dimmer and more yellow at night for restful sleep. Cities need not compromise safety for comfort or vice versa. Our technology is paving the way for smart cities to improve quality of life, while still achieving energy efficiency and sustainability goals."
Echelon supplied a powerline communication scheme to network the street and park lights. Lumewave is the company's brand for a robust suite of SSL networking and control technologies including wired and wireless networking, lighting controllers, gateways, and a central management system.
Echelon has not to date been a supplier of lighting products, but instead has partnered with luminaire makers. The company has not revealed whether it worked with a partner to develop the tunable retrofit source or if it was developed internally. The company did say it plans to make the tunable technology more broadly available this year.
Meanwhile, White Bear Lake will work on pioneering the technology usage. "Being the first to try this new technology and see it in action was very rewarding," said Mark Burch, public works director and city engineer for White Bear Lake. "We could raise the brightness and select a more vivid hue during an evening event. With a scheduled scenario, we could shift the lights in that same area to a warmer hue at 2:00am when there are rarely park visitors, other than our nocturnal wildlife. We could also program sensors along with the lights to automatically respond to higher foot traffic or certain weather conditions for optimal visibility. The new technology could give us the power to elevate the level of public safety and quality of life across our entire community."
Of course, a tunable system will add cost over and above the cost of networking street lights. Municipalities are hoping to justify the expenses of networks through emerging applications that increase safety and convenience for citizens as we have chronicled previously. A tunable luminaire will require at least two LED channels with separate drivers for each. Moreover, LED utilization is not maximized when operating the channels at less than 100% to achieved the desired CCT, meaning you need more LEDs than in a non-tunable design.
Editor's note:At Strategies in Light (SIL) 2017,Rita Renner and George Denise of Oracle Corporation will present the results of outdoor smart lighting and controls projects, including the latest research on safety, on Mar. 2, 2017 at Strategies in Light.