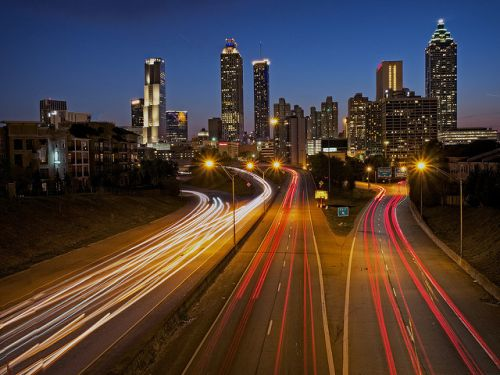 Following the Jacksonville flop, GE's Current division teams with the communications giant in Atlanta, starting a new tack.
General Electric's Current division has rejigged its business strategy on smart city projects so that it will now serve as a subcontractor to communications giant AT&T, such as on a new pilot program in Atlanta. The move follows the washout of Current's intelligent street lighting trial in Jacksonville.
Interested in articles & announcements on smart city technology & lighting?
AT&T announced in January that it is teaming with Current and with electric utility Georgia Power to outfit Atlanta with 1000 wirelessly controlled LED street lights that form the backbone of an Internet of Things (IoT) smart city trial in five areas of the city.
The scheme includes GE IoT sensors mounted on street lights to help note things like traffic, crowds, crime, and air quality. The idea is to disseminate the information via an AT&T wireless network to a GE cloud computing system, which can help the city figure out how to improve commuting, parking, public safety, and pollution. It also helps operate the lights more efficiently and even provide weather alerts.
GE's cloud, called Predix, gathers, analyzes, and helps act on data collected from across GE's many industrial products and activities such as jet engines, wind turbines, and locomotives.
GE formed Current — its full name is Current, powered by GE — in October 2015 to help commercial buildings and cities lower energy consumption by gathering information via sensors about lighting, solar panels, batteries, car chargers, and the like. It aims to use Current to sell LED lighting to commercial operations, as part of an overall energy and information service scheme, rather than by selling light sources and bulbs per se. Longstanding rumors that GE wants to sell its now separate conventional bulb business have resurfaced recently.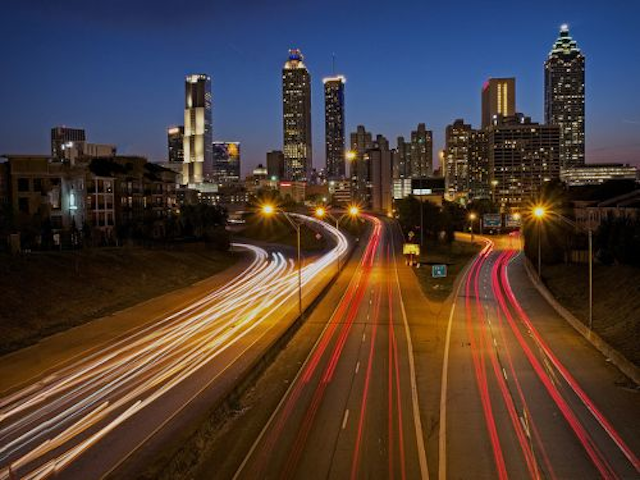 AT&T is calling on GE's Current to provide sensor nodes in Atlanta, an early example of how Current is working as a subcontractor on AT&T smart city projects
AT&T is calling on GE's Current to provide sensor nodes in Atlanta, an early example of how Current is working as a subcontractor on AT&T smart city projects. (Photo credit: Mike Boening via Flickr Creative Commons.)
Over the last year and a half, Current has honed its primary focus onto indoor lighting and networking applications. While it still also targets cities, it is settling for a subcontracting role through AT&T.
As part of its new subcontracting arrangement, GE has given AT&T exclusive rights to distribute GE's Intel-based CityIQ sensor nodes in the US and Mexico.
"Moving forward, the way it will work is AT&T will serve as the commercial lead on future smart cities projects, and per the exclusive reseller agreement, we'll be the technology provider behind it," a Current spokesperson told LEDs Magazine.
The alliance is an example of how lighting companies that are morphing into technology companies can work with dyed-in-the-wool technology and communications outfits as they both vie for the promising connected lighting business.
"AT&T, Georgia Power, and the city of Atlanta share our vision of creating a new type of digital infrastructure for all people in cities," said John Gordon, Current's chief digital officer. "Together we are looking forward to unleashing the creativity of the people of Atlanta to make it an even better place to live, work, and play."
"Under the leadership of Mayor Kasim Reed, the city of Atlanta's Departments of Public Works and Atlanta Information Management are working to transform Atlanta into a smart city," said William Johnson, interim commissioner for the city's Department of Public Works. Thanks to our collaboration with Georgia Power, AT&T, and GE, the city is now able to utilize intelligent lighting solutions to improve services for our residents and visitors."
Current and AT&T are also working together on a smart city installation in San Diego, where Current is the lead contractor in an alliance forged before Current decided to shift to a subcontracting strategy and its exclusive reselling through AT&T.
GE announced both San Diego and the aborted Jacksonville project in early 2015, before it formed Current. While San Diego is proceeding, Jacksonville told LEDs recently that back in January 2016 it decided to abandon the smart lighting rollout, explaining only that it "had other priorities that took precedence."
The Current spokesperson declined to elaborate on why Jacksonville did not proceed. "We appreciated the opportunity and will apply our learnings to future projects," he said.
Atlanta might be one of the beneficiaries of those learnings. The five areas of the trial include the North Avenue Corridor, Buckhead Loop, and the streets around Mercedes-Benz Stadium, the $1.5 billion professional football arena currently in the final stages of construction.
MARK HALPERis a contributing editor for LEDs Magazine, and an energy, technology, and business journalist (markhalper@aol.com).