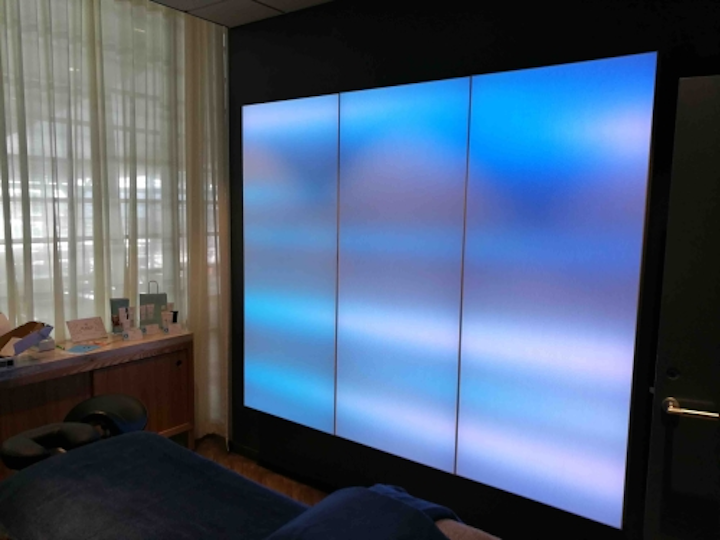 If you're an SAS premium passenger, the Philips-equipped "daylight booster" offers a wall of jolting Kelvin to wake you up. Or sample the relaxing Hue lights for rest.
There is probably no form of human circadian disruption more familiar to most of us than jet lag, that dreadful feeling of tiredness and discombobulation that comes after leaping across multiple time zones on a long flight.
Interested in articles & announcements on human-centric lighting applications?
So if, as LEDs Magazine has written many times, tunable LED lighting can help keep peoples' circadian clocks in check, why not enlist LEDs in the war against jet lag? Many efforts are underway. A number of groups are developing LED-equipped eyewear to do so. The glasses that Osram supplied to the BMW Motorsport team to help offset tiredness at the 24-hour Nürburgring race earlier this year have equal potential for weary air travelers, for instance.
Without diving into the science, blue frequencies can stimulate, and ambers can relax — it's a pattern established long ago by the Sun and one that gates our bodies' vital circadian rhythms. (There are many debatable aspects; see our most recent human-centric lighting feature and follow its links below for more in-depth explanations).
In one of the latest developments, Scandinavia's SAS has taken the battle into the airline lounge. It has outfitted its premium waiting area at Oslo Airport with a collection of tunable LED lights from Philips Lighting to help passengers dose up with stimulation or relaxation as they see fit.
"The concept of SAS' next-generation lounges is to create a unique experience and an environment that meets the needs and wishes of our guests while traveling," said Cilla Nordenberg, concept and development manager at Stockholm-based SAS Group. "The ability to impact or accentuate mood through ambience and physically energize people through light underlines our commitment to serve the needs of our travelers and make our lounges truly memorable."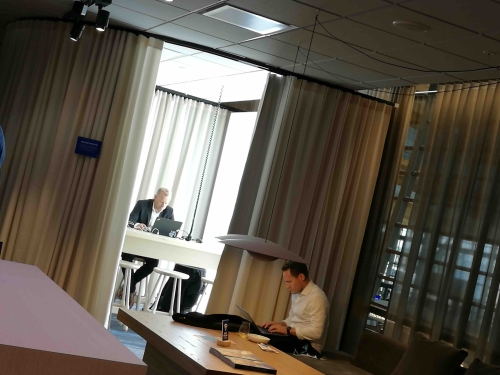 A big boost: The man in the background is in the "daylight booster" zone, bathed in 6500K LED light from the panel to his left. (Photo credit: All photos, Philips Lighting.)
The lounge has nine separately lit areas. If you're a traveler in desperate need of a daylight boost, then you can make a beeline for — where else — the "daylight booster" zone. It's a curtained off area (see nearby photo) where you can sit at a table with your laptop while a fabric-covered wall plies you with 6500K light. 6500K, in case you need reminding, ranks high on the icy blue scale, so it might jolt you awake just as well as a cup of coffee would. The light itself comes from LEDs hidden behind the translucent cloth. Users can dim the output, but the color temperature remains constant, so don't wander in if you're looking for some shuteye.
You'd have more options in one of three of the Hue rooms. These are smaller private areas where you can shut the door and adjust the Philips LED Hue lights to one of six settings, ranging from relaxing — such as the dimmed warm "Night" or a sunrise setting called "Savannah" — to an "Energize" setting of cold white/blue light. The choices also include "Read," "Concentrate," and for those who really know how to have a good time in the airline lounge, "Party," which delivers a yellow/pink/green scheme.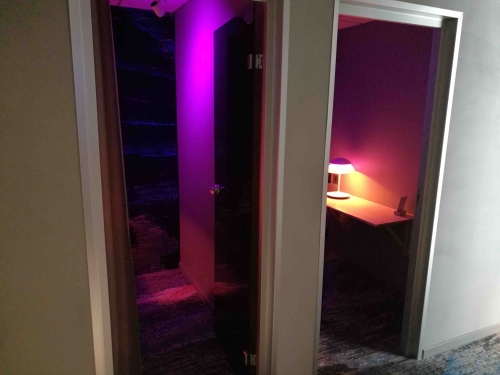 A Hue for you: The Hue rooms allow one of six settings, including relaxing, energizing, and partying, among others.
The human-centric lighting in the SAS lounge is not all about circadian entrainment. A lot of it is ambience and experience. For example, Philips' luminous textile panels in the ceiling of the lounge's "innovation hub" help create a soft relaxing environment. In case you're wondering what the heck an innovation hub is inside an airline lounge: It's a work area that shows off the technologies of sponsors Philips and HP.
In Philips' case, it includes the daylight booster zone (which is part of the innovation area) as well as the luminous textile panels, which can double as a low-resolution video screen fed wirelessly from a laptop. HP has supplied a scanner that allows you to create an avatar of yourself and it will send it to you via email. (It's just what the international traveler needs for a complete journey — and you thought champagne on take-off was special!)
The same Philips luminous textile panels also grace the walls of the lounge's wellness area, where the main activity consists of massages. Luminous textile panels use a cloth that Philips calls Kvadrat Soft Cells to soften the light emitted by diodes in the panels.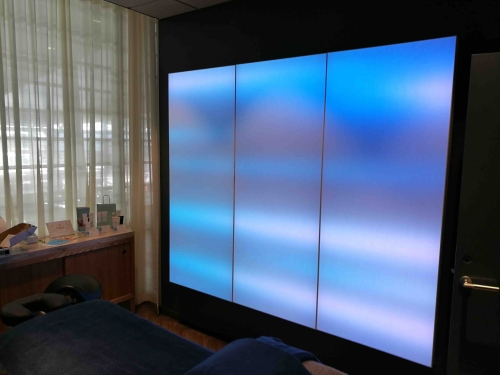 Jet-lagged? Stop by the circadian lighting lounge at Oslo Airport for a jolt of human-centric lighting
Well, well, well: Visit the wellness room for a massage, under the soft light of Philips' luminous textile panel.
And if that's not enough of a light show, there's more, like the Philips luminous pattern wall that greets you at the reception area, depicting the twinkling lights of a city as a plane lands, delivered through a specially cut metal sheet.
"Light plays an important role on how people actually feel," said Astrid Simonsen Joos, market leader for Philips Lighting Nordics. "We wanted to create a positive and memorable experience in the new lounge. Our lighting concept aims to energize guests before they travel or offer them a space to relax and recharge."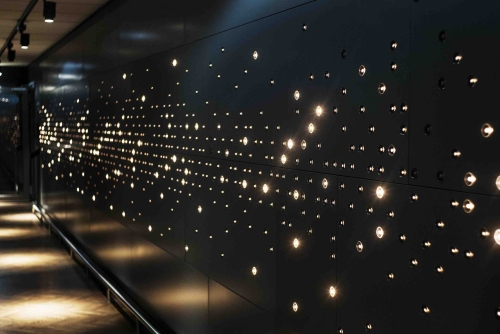 Twinkling lights, big city: The reception area greets you as if you're seeing city lights from a plane as it lands.
Philips has also outfitted a bar and dining area with its StyliD spots, and a reading and relaxing area with Philips LuxSpace Accent lights.
But it is the circadian applications that put the SAS lounge on the vanguard of the human-centric lighting movement, which aims to tailor light frequencies and brightness to support peoples' biorhythms, largely through LEDs and their tunability.
SAS might eventually equip some or all of its 18 other lounges in Europe and North America with similar installations. A maiden voyage in Oslo made sense, as Scandinavia is known for the SAD (seasonally affective disorder) affliction that depresses people in the winter months of little daylight. Oslo Airport is also the scene of new general LED lighting from Zumtobel; the illumination of the new Terminal 2 automatically adjusts color temperature depending on the conditions of natural light.
For some people in general, simply setting foot in an airport can set off a feeling of jet lag. For them, a lounge like SAS' would certainly be worth a try.
MARK HALPER is a contributing editor for LEDs Magazine, and an energy, technology, and business journalist (markhalper@aol.com).
*Updated Dec. 18, 2017 10:55am to specify product name.