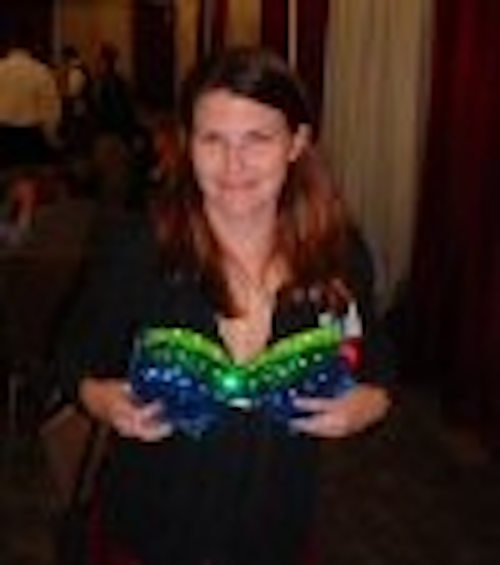 Ask anyone who attended the 2004 Intertech LEDs conference what they remember most about the event, and the most frequent answer is likely to be the moment when one of the speakers revealed she was wearing a bra decorated with LEDs.
Despite this titillation, Janet Hansen, president of Enlighted Designs Inc, had a serious purpose in describing her experiences as an early adopter of LEDs in lighted clothing, which has already proved popular with performers, promoters and clubwear enthusiasts. More mainstream consumers, having seen various novelty products, are hungry for real quality and style, said Hansen.
Although high-brightness LEDs are the most suitable form of lighting for clothing, there are a number of concerns. For example, consideration has to be given to how to connect the LEDs; fine stranded wire turns out to be the best option. "Broken wire failures are common if insufficient slack is provided to compensate for fabric stretch, or if heavy components such as batteries are allowed to swing freely," added Hansen. "Also, battery contacts can be shorted by keys or coins, or corroded by excessive sweating."
Lighted clothing was one of many applications for LEDs discussed at the conference, which commenced with a market overview from Jagdish Rebello of iSuppli Corporation, and also included updates from leading chip makers such as Cree, Nichia and Osram Opto Semiconductors.
LEDs for smart ceilings
Architects are constantly devising new ways to utilize the benefits of LEDs as a light source. Sheila Kennedy, design director of Kennedy & Violich Architecture, described the Purple Infrastructure project, run by Herman Miller, which incorporates LEDs into a reconfigurable ceiling system. The infrastructure system delivers data and power through a series of suspended tracks on the ceiling, and includes digitally-controlled LED lighting which is integrated into a light-diffusing fabric. The fabric is lightweight and is easy to ship due to its concertina-like structure.
The purpose of the infrastructure is to allow lighting and digital media equipment to be selected and assigned to different locations, enabling users to rapidly reconfigure the available space according to their requirements. After a working demo, containing over 20,000 LEDs, was assembled in a 7000 square foot space in Los Angeles, a prototype system has now been installed in Harvard University's Design School.
Kennedy said that the main drivers for using LEDs are energy efficiency, integration capability and digital control. She encouraged the LED industry to "get out of the bulb culture" by exploring ways to integrate LEDs with ceiling and wall surfaces.
Kennedy also highlighted some of the issues facing architects that want to utilize LEDs. "These include the lack of comprehensive LED packages that include power supplies and system controls, as well as building regulation, code and construction trade issues," she said. "Also, there is a clear need to define performance standards for LED systems in architecture."
Submarine retrofits
Although massive leaps forward have been made in the propulsion mechanisms of submarines, the same cannot be said of lighting, explained Michael Raymond, nuclear director of the Pearl Harbor Naval Shipyard. Raymond originated a program to develop retrofit lighting fixtures based on LEDs, and invited members of the audience to submit solutions for more than 60 different types of fixture currently found on US Navy ships.
One such lighting kit, developed by GELcore, was deployed on the USS Bremerton when the submarine entered dry dock for maintenance work. With the ship's electrical system turned off, around 400 fixtures using white LEDs were connected to a temporary low-voltage supply. The LED lamps replaced fluorescent or incandescent alternatives.
The LED fixtures use less power and require less maintenance than their predecessors, do not produce ultraviolet light and do not contain mercury. "If we're performing critical work in the nuclear reactor, this would have to be halted immediately if one of the fluorescent lights started to flicker," said Raymond.
The 2 rows of 30 LEDs per fixture consume 75 W and generate 25 foot candles at a distance of 5 feet, roughly equivalent to 3 fluorescent tubes consuming a total of 140 W.