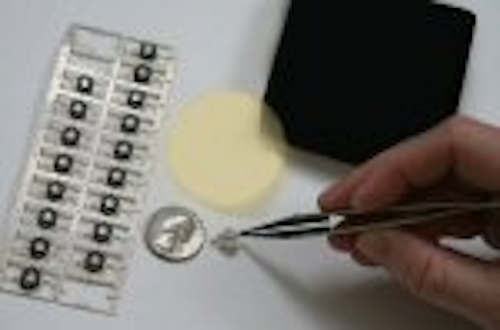 Crystal IS Inc., a developer of ultraviolet (UV) LEDs based in Green Island, NY, has been acquired by Japan-based Asahi Kasei, a large, diversified industrial company that manufactures a range of compound-semiconductor devices.
Crystal IS is a leading developer of deep-UV LEDs in the UVC (200-280-nm wavelength) range. It fabricates AlGaN (aluminum gallium nitride)-based LEDs on AlN (aluminum nitride) substrates. Applications for UVC devices include disinfection of water, air and surfaces.
As a wholly-owned subsidiary of Asahi Kasei, the deal will enable Crystal IS to "accelerate commercialization of its UVC LEDs by leveraging Asahi Kasei's strength's in product engineering and manufacturing excellence," said the press release.
The effective date of the merger was December 28, 2011. Financial details of the acquisition were not disclosed.
Masafumi Nakao, general manager of Asahi Kasei's Advanced Devices and Sensor Systems Development Center, said: "The advances in solid-state UVC technology accomplished by Crystal IS will allow for clean and safe disinfection to be introduced into water, air and surface applications in multiple markets."
Crystal IS has been working in a development mode for over ten years, with a history of early support from the Rensselaer Polytechnic Institute in Troy, NY, as well as continued support over the years from both regional and federal governments in the US.
Crystal IS received venture funding in 2004 and 2006 – from ARCH Venture Partners, Lux Capital, the Credit Suisse/New York State Common Retirement Fund and Harris & Harris Group – and has received recent collaborative and strategic support from Asahi Kasei Group and San'an Optoelectronics.
"I am pleased that this ground-breaking technology platform is moving forward into the next phase of growth," said Leo Schowalter, co-founder and CTO at Crystal IS.
Following the deal, R&D fundamentals and business development will be managed by Crystal IS, and product engineering and manufacturing will be led by Asahi Kasei.
"This is a major milestone for our company," said Steven Berger, CEO and President of Crystal IS. "Our record LED performance in development has brought interest from global customers and we are eager to create a high-quality product to meet their needs. We recognize Asahi Kasei Group's strength as a successful developer and manufacturer of compound-semiconductor devices and are confident that their support will ensure a timely and quality launch of our UVC LED business in the global marketplace."