LED wafer and automation standards are on the fast track, ready for more industry feedback (MAGAZINE)
Thanks to SEMI's HB-LED manufacturing standards program, the industry is taking the first steps towards agreement on basic issues such as wafer dimensions and equipment interfaces to enable low-cost automated production, explains PAULA DOE.
Oct 20th, 2011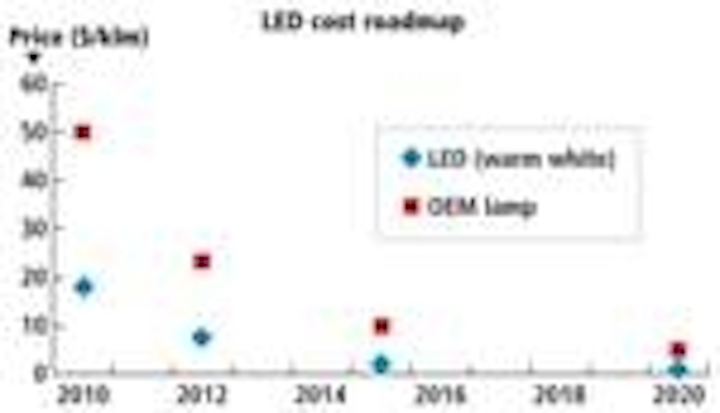 Big growth projections are often made for the general solid-state lighting market, but these depend on major cost reductions – perhaps as much as 20× improvement in $/klm at the packaged LED level (Fig. 1). That's only going to be possible by scaling to automated high-volume production with tightly-controlled processes for high yields. Luckily, some of the sector's manufacturing technology experts have been working together on the nitty-gritty details to help speed this transition.
Wafer and automation standards
Less than a year after the formation of the first committee for HB-LED manufacturing standards, industry experts have identified the critical issues for common wafer characteristics and common equipment hardware and software interfaces, to enable the industry to move to automated production.
"These kinds of standards are a long way from creating commodity production," notes Bill Quinn, Chief Technologist of Veeco Instrument's MOCVD business, and co-chair of the SEMI HB-LED standards committee. "They're just the basics for a volume industry."
The emerging consensus on the basic dimensions and marking for 6-inch wafers, the modeling of a wafer carrier for automated transfer between tools, and the software protocols for communication between equipment and the manufacturing execution system (MES) are now ready for wider industry review before drafting these first basic manufacturing standards.
"For some years, people were not interested in standards, they thought LEDs were different, but all of a sudden we've all realized that LEDs are more similar to other micro manufacturing industries than we thought, and we're going to need semiconductor-style production control," argues Rainer Beccard, Aixtron VP of marketing.
Though automation hasn't been particularly important to increase throughput in LED fabs, as faster handoffs between machines are less important when the key MOCVD process takes 6 hours, it is becoming vital to control yields. "Big producers running 6-inch production won't accept any manual wafer handling," notes Beccard. "They won't run without automation, period, to assure reproducibility without having to depend on the availability of enough highly-skilled operators."
Feedback requested
Much of the initial heavy lifting on the standards committees has as usual been done by the supplier community, whose expert technologists know the production issues, have a good window into what's going on at LED makers across the industry, and need to look ahead to develop what their customers will need next.
"Most users don't know, and don't want to know, about some of these inner details," notes Chris Moore, CEO of Semilab and another co-chair of the SEMI HB-LED standards committee, along with Quinn and Iain Black, VP worldwide manufacturing engineering, technology & innovation at Philips Lumileds. "But now at the end, when they can see how it impacts them, it's time for them to give their input."
"These standards are based on what works, decided by the people who know," notes Quinn. "Now that we're coming to understand the process better, users will be able to start with wafers that work with the process and can concentrate on optimizing their recipes, instead of having to also tweak the wafer to get it to work with the process."
But, says Quinn, "even the biggest players who already are ordering high volumes of wafers with their own established specifications will benefit, because standards will drive tighter tolerances at suppliers." Focusing production on higher volumes of fewer product variations will help suppliers achieve better control of key parameters and drive down costs. As a consequence, both manufacturers and suppliers will have more time and resources to focus on the key aspects of their business that genuinely add value to their products.
"The LED sector must transition from a research- and technology-driven industry to a manufacturing-engineering model with focus on equipment productivity to drive down unit costs and prepare for high volume," says Daniel Babbs, Brooks Automation senior director of engineering, strategic technology development, and co-chair of the HB-LED automation interface standards task force.
Babbs notes further how the semiconductor industry has benefited from industry groups like Sematech and the ITRS, who help establish a vision of the future factory and drive the supply chain in the direction major end-users will need. He also notes how the LED industry would benefit from having a similar solution to prepare its suppliers now for their automation needs into the next five, ten and twenty years.
The manufacturing experts on the wafer- and automation-standards task forces have done a tremendous amount of work to identify and specify almost 20 wafer parameters, including experimental tests of wafer-edge marks and the thermal impact of 3-µm markings, and to identify the key issues for hardware- and software-automation interfaces. They are now collecting wider user feedback on their proposals, and will soon start to share draft standards with industry stakeholders in a series of meetings in Asia for comment and input.
Wafer handling
Automated lines are clearly needed to scale to high-volume, low-cost production and improve yields, and that requires clear communication and smooth handling from cassettes to handlers to tools and back. The first basic requirement is a common carrier to move the wafers from tool to tool, so equipment from any manufacturer can be easily plugged into the production line, and automatic handlers and software can be designed to locate individual wafers in these boxes to move them in and out of each tool.
However, the thicker sapphire wafers, bowed from epitaxial layer growth, won't fit into the slots in the standard 25-wafer carriers used by the semiconductor industry.
The experienced manufacturing technologists on the SEMI HB-LED equipment automation task force have concluded that the most cost-efficient solution would be to keep the external dimensions of the semiconductor 25-wafer carriers to continue to use much of the existing semiconductor industry automation infrastructure, but to put the pockets at double pitch, to enable the existing IC automation software to pick every other pocket. That means dividing the wafers from one 25-wafer shipping cassette into two 13-pocket handling cassettes, and lowering the first slot to make room for 13 wafers and still provide enough clearance to pull out the first wafer.
A 12-pocket approach would also be an option, but the additional 13th slot allows higher throughput, and allows the 25-wafer lot to all be handled with two cassettes. More pockets would mean having to change the cassette box size and/or the robotic software.
Cassette maker Entegris is currently working on modeling the 13-slot concept to get feedback from a wider range of LED makers to make sure it won't cause any serious throughput issues, and that the slots will be large enough to allow the maximum amount of bow. "The more industry involvement we have, the better the standards will be," notes automation task force co-chair Jeff Felipe, Entegris' regional product specialist lead. "The more a company participates, the more it will benefit."
Communication software
Also key is the software that enables the tools to communicate with the MES system. Can the LED industry use the SEMI Equipment Communications Standard/Generic Equipment Model (SECS/GEM) standard protocols, used by semiconductor and solar manufacturing equipment, to interface with the host factory-automation systems? Or will it need to use the more sophisticated Interface A for at least the MOCVD tools for greater bandwidth and control flexibility? This would enable handling of the more-complex recipes and enable feeding data from in-situ metrology on the process tool to the host and making adjustments on the fly.
Another question is which data should be handled at the tool level and which in the central system? Semiconductor equipment for some of the more-complex new IC processes is starting to use Interface A for more-flexible control, but it requires more development resources from the tool makers.
"We need the guys who know about this to all discuss it in a group and decide what's needed, instead of all trying to figure out their own systems," argues Quinn, "so users can just buy the software on the tool or in the MES system and not worry about it. Although automation is important for high-volume production, automation interfaces are not core value-add."
"These committees are the only forum where the competing tool makers are talking together," notes Moore. "Suppliers want standardized load ports and software interfaces because it saves them – and their customers – money. Custom features have to be custom made – and custom supported. It may not actually [cost] that much more initially for the custom equipment, but my cost – and the customer's cost – to support these orphans or snowflakes is much higher, especially for custom parts repair and replacement."
Basic characteristics of 6-inch wafers
Though most large producers have qualified 6-inch production, few have yet to invest in new lines to ramp production, as some concern remains with substrate availability and cost. So the timing is right to think about how to specify the wafers from the start to improve yields and reduce costs.
"LG Innotek is the most advanced LED maker in term of volumes regarding the transition to 6-inch," says Eric Virey, LED analyst at Yole Développement. "Philips Lumileds is following closely but many other companies have started rolling out some 6-inch manufacturing capacity, including Osram, Lextar, and Sharp."
Much of the current capacity in China is on 2-inch wafers, keeping the 2-inch share of the market higher than initially expected. Most makers in Taiwan started converting from 2-inch to 4-inch in the second half of 2011. But within five years, nearly half of all production will likely be on 6-inch wafers, according to estimates from Yole Développement (Fig. 2).
Improving yields will require marking wafers to allow defect tracking and root-cause analysis. If the industry can agree on common content and placement for its wafer ID marks, automation and metrology equipment makers will be able to identify and track the wafers from tool to tool without extra expense.
Standard fiducials for orientation will help MOCVD tool makers better tune their processes to account for that common wafer cutout. Draft standards will specify size and placement for both a notch and a flat, but ultimately the industry will likely go to notches since they take up less wafer area and interfere less with wafer spin. The committee is also testing, but has not yet validated, edge marking.
The sector seems to be settling on thicknesses of 1000 µm and 1300 µm for 150-mm-diameter wafers. Tolerances are of course a more complex cost/performance tradeoff, but some experts suggest that reasonably-achievable targets are to control diameter within 0.1 mm or 0.2 mm (trading off MOCVD impact of gas-flow effects around the pocket vs. edge chipping), thickness within 25 µm, edge exclusion of 2 mm, impurities <1ppm (though those who remove the sapphire can perhaps tolerate more), and edge chipping <5 mm cumulative length and defined maximum radial penetration.
As the industry and its equipment matures and producers generally get more control over their processes, it's getting to the point where, for many producers, the cost and consistency advantages of buying wafers with some common basic properties outweigh the competitive advantage of production on custom specs. Users could order a wafer with the standard specs off the shelf from multiple suppliers, but could of course also order custom wafers with particular desired characteristics.
"We're trying to bring our machines to the point where there are no calibration runs, and all machines perform the same, but it only works if the wafers are the same too," notes Beccard. "If we could tune to a type of wafer with fixed mechanical specs it would save a lot of time and money."
Ongoing discussions
Wafer task-force members are presenting proposals for discussion at Semicon events in Taiwan and Germany this fall, and at the October SEMI standards meetings in San Jose, aiming for a first-draft standard on some of these basic wafer characteristics by November.
While plenty of industry expertise has gone into these initial working drafts, manufacturing technology experts at other HB-LED makers who take the time to give their input on these basic future automation and materials issues – such as the number of wafer slots in a cassette, the degree of sophistication needed in future automation software interfaces, or where to mark the wafer – can help direct the supply-chain's investment towards the solutions they need.