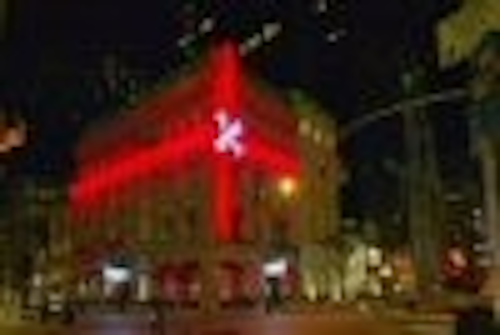 After LED snowflakes on the Saks store in New York City come ribbons, bows and tiaras on the outside of the Cartier store on the corner of 5th Avenue and 52nd Street.
Cartier's spectacular festive lighting scheme includes several bespoke LED features designed and specified by the London-based Metropolis Group of Companies, and manufactured in its facility in Wales, UK. Half way up the building, two pieces of red "ribbon" wrapping the entire building meet at a 14 ft wide LED bow, while two giant LED tiaras, measuring 5 by 16 feet and 5 by 16 feet, sit above the building's two public entrances on 5th Avenue and 52nd Street.
The entire display contains over 17,000 LEDs, including 2,340 red Luxeon LEDs from Lumileds in the ribbon, and 1000 white Luxeons in each tiara, with the remainder being a mixture of red and white 5mm LEDs from Plus Opto.
The tiaras - modeled of course on famous authentic Cartier tiaras - and the bow were built by Met3, Metropolis's LED manufacturing operation in Swansea, Wales.
Each tiara features 19 large "diamonds" fabricated from multi-faceted acrylic layers to give the pieces depth and body. By day, these jewels - the largest measures 250 mm - enhance the aesthetics of the tiaras and ensure people don't stare into LED "holes" where the lights would normally be. At night, they come alive and diffuse the light just like diamonds.
The red "ribbon", fabricated from a special polycarbonate awning material, is rear-lit by 65 meter-square aluminum matrix panels, each containing 36 1-watt red Luxeon LEDs. The Met3 matrixes are bolted on to a special aluminum framework, in turn attached to the sides of the building by catinery wires, avoiding contact with the building fascia.
For control, Met3 built a series of custom modulator boxes that are factory pre-programmed with a twinkling effect. These boxes also have DMX capability, but it's not used in this installation. The modulator boxes sit between the power supplies and the display, taking mains in and supplying low voltage to the set pieces.
Additionally, Metropolis supplied Cartier with a fiber-optic display backdrop effect for five of their feature windows - three on two on 52nd Street - involving 250 points of light driven by 9-watt LED light sources (Met3 custom), complete with bespoke variable speed twinkle effect.
The display was constructed in an 8-week period prior to the switch-on in mid-November.