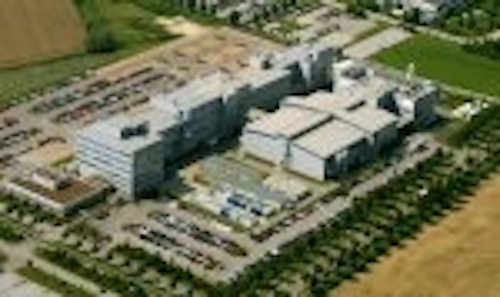 Osram is significantly expanding its production capacity for LEDs with new faciliites in Regensburg, Germany and Penang, Malaysia.
The company is to build a brand new LED chip fab in Penang, providing a second production site for chips. Currently, chips are manufactured at the Osram facility in Regensburg, and assembly and packaging is carried out in Penang.
The Penang wafer production line will be put into operation in 2008, providing capacity to meet the growing demand from high-volume lighting and consumer applications. Total investment in the new plant will ultimately be in high double figures of millions of euros.
Osram is also starting to expand the existing LED assembly facilities in Penang. When work is completed, capacity will be 50 percent higher.
At the same time, a further construction phase will be completed by the end of 2007 at Osram's plant in Regensburg. When LEDs Magazine visited the Regensburg plant in early 2006, the facility appeared as shown in the photo. Work is proceeding to construct a second chip fab in the area circled.
The new construction phase in Regensburg is approaching completion, with investment in fairly high double figures of millions of euros. In addition to production, Regensburg also accommodates the central research and development department of Osram Opto Semiconductors.
Ruediger Müller, CEO at Osram Opto Semiconductors, commented: "The expansion of our production sites is our response to increased demand for LEDs throughout the world. At Osram Opto Semiconductors we now have the broadest portfolio of patents on the market. Our successful bases in Regensburg and Penang will enable us to strengthen our market position still further with technologically and economically impressive products."
Osram describes itself as Europe's leading manufacturer of LEDs and number two on the world LED market.
Osram CEO Martin Goetzeler said "Osram's life-blood is its innovations, and opto-semiconductor products are central to our growth strategy. LEDs are the light sources of the future as they offer so many benefits including compact dimensions and enormous potential for energy savings. The expansion of our production capacity in Penang and Regensburg is a clear sign that we are on course for sustained growth."