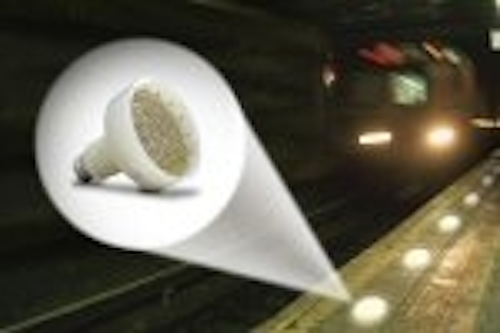 DDP, a developer of engineered LED solutions based in El Segundo, California, has developed LED lamp assemblies specifically designed for retrofitting and replacing traditional incandescent lamps.
DDP has already delivered such lamps to the Washington Metro Area Transit Authority (WMATA) to replace the 40-watt Edison-based lamps embedded in train station platform floors.
DDP's engineered LED solution works with the existing flashing circuitry to signal impending train arrivals by increasing the light output and flashing the lamps.
In an effort to save maintenance costs, WMATA engineers looked to replace incandescent lamps used in the subway station platforms with solid-state lighting.
Boarding station platforms require a specific color and brightness level. In addition, the LED lamps are required to hold up under the constant change in voltage used to vary the light intensities and the never-ending 2Hz flashing.
The LED lamps are embedded in the station platform floors and illuminate the platforms through glass lenses which are 9-inch in diameter and 3 inches thick. The assemblies are also an easy field retrofit for WMATA's maintenance staff.
For WMATA, DDP's engineered solution is a large circular array of warm-white 5mm LEDs designed in a dense pattern to replace the light output of the 40W bulb while creating a color close enough to incandescent to be aesthetically acceptable.
In addition, a long extended sleeve with the Edison screw base allowed the maintenance staff to use the existing mechanical fixtures embedded in the platform floor and still get the lamp close enough to the lens to make the light output acceptable.
"Given the unique parameters of the application we were able to develop an LED assembly that met all the requirements of the WMATA," said Tony Toniolo, DDP President. "This application is a perfect example of our expertise in refreshing standard applications with reliable engineered LED solutions that decrease maintenance costs while meeting or even elevating the desired lighting effects."