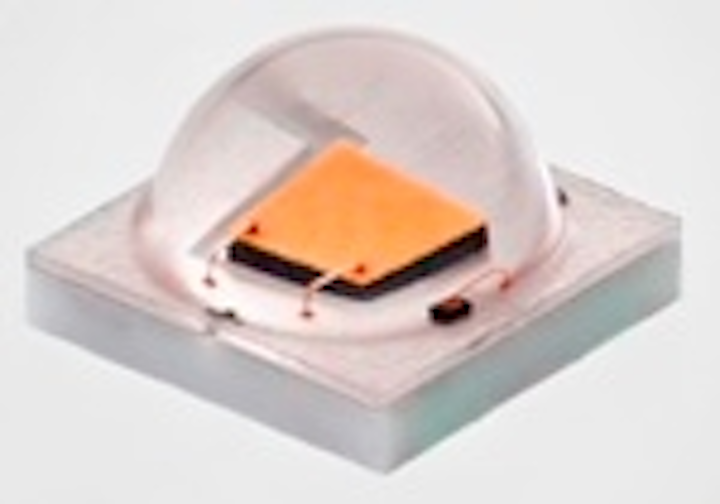 Cree has leveraged its third generation LED manufacturing platform that it calls SC3 (silicon carbide 3) to produce a new version of the XLamp XP-E LED family called XP-E2 offering a 20% jump in efficacy. Cree Lighting announced that it would now offer a ten-year warranty on solid-state lighting (SSL) products that are sold into commercial applications.
Cree XP-E2 LED family
The new Cree XLamp XP-E2 LEDs are 3.45×3.45-mm, footprint compatible with all XP LED families including the XP-E and XP-G. Moreover, the products can use the same optics such as total internal reflection (TIR) lenses that fits snugly over the LED dome. The new products allow luminaire and lamp makers to easily upgrade products based on the existing LED families delivering more light output and/or lower power consumption.
"The price to performance ratio is an important consideration for our design process," said Erik Milz, vice president of marketing at Terralux. "Since many of our products are based on Cree XP-E LEDs, the new XP-E2 LED is a significant upgrade in performance, helping to keep design costs down and speeding time-to-market for our solutions."
The XP-E2 announcement mirrors the announcement of the XP-G2 family in July. Product developers can either deliver more light output with the same number of LEDs, or reduce the number of LEDs in a product making minor changes to the design.
Based on Cree's third-generation silicon-carbide platform, a cool-white, 6000K family member can deliver 128 lm/W at 350 MA of drive current operating at 85° C. That number jumps to 143 lm/W at 25° C. Cree offers the products over a range of 2700K to 7000K color temperatures.
By refreshing an existing product line, Cree again takes advantage of the Energy Star guideline that reduces the amount of LED testing needed for product approval. Normally, LED manufacturers must have 6000 hours of LM-80 data before a product that uses the LEDs can gain Energy Star approval. The number drops to 3000 hours for a new version of an existing product, so SSL manufacturers that use the XP-E2 LEDs can gain Energy Star ratings sooner.
Cree Lighting extends warranty
Meanwhile, Cree lighting is extending its warranty to ten years on what it classifies as "nearly all" new commercial lighting products for indoor and outdoor applications. The company is clearly gaining confidence in all aspects of SSL product design and lifetime, because the warranty in an LED-based lighting product ultimately covers many elements beyond the LEDs, including the driver electronics.
"Added to the energy savings LEDs offer over traditional technologies, this warranty is a win-win for everyone," said Ty Mitchell, executive vice president of lighting. "With leading LED research and development, a strong financial balance sheet and some of the industry's longest-running field LED lighting installations, the new 10-year limited warranty underscores Cree's commitment to the long-term performance and reliability of our products."
The warranty will clearly benefit the commercial customers. Doug Knisely, director of building and petroleum construction at Sheetz said, "The new warranty further validates our decision to use Cree LED lighting. Industry leading energy efficiency, lifetime performance and quality make Cree LED lighting a smart choice."