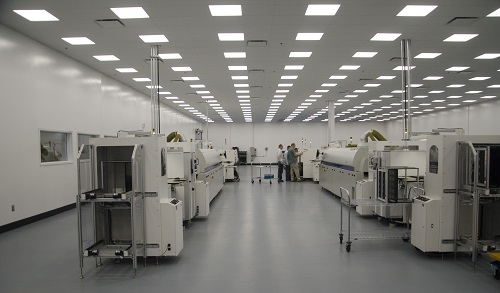 GE Lighting has completed a $40 million manufacturing expansion; Aixtron has demonstrated its newest MOCVD reactor; and Rubicon Technology reports disappointing results.
PennWell acquires interest in publishers of Lux Magazine and Lux ReviewGE Lighting has announced the completion of a three-year, $40 million dollar expansion of its solid-state lighting (SSL)-centric manufacturing facility in Hendersonville, NC. Aixtron is showcasing its next-generation LED manufacturing tools, while Rubicon Technology has released quarterly financial results.
GE Lighting expansion
GE lighting held a ceremony at the Hendersonville plant to celebrate the completed expansion and revealed a new production area for LED-based printed circuit boards (PCBs). The company has previously outsourced such production to overseas vendors but now has the ability to make more advanced designs and deliver faster response to customers.
The company said it could take up to eight weeks to get a new board from an overseas vendor whereas new equipment in the plant expansion can deliver a prototype board in 15 minutes. Moreover, GE said customers will get orders shipped in an average of six days or less as opposed to four to six weeks.
"With the evolution and growing adoption of LEDs, the lighting industry is in the midst of unprecedented transformation," says Ron Wilson, global supply chain general manager. "The employees of this plant are helping us bring the latest LED innovations to market, and the transformation here is one that is truly serving both our business and our customers well."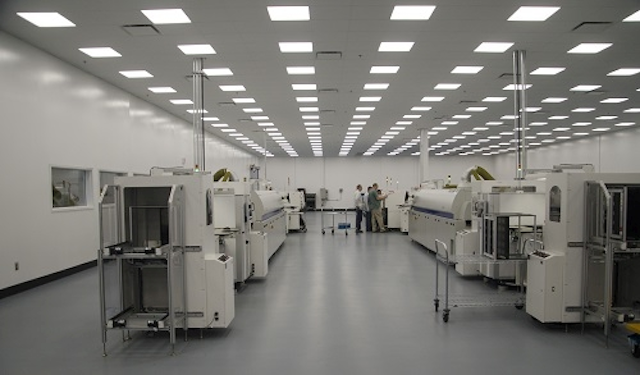 LED business news: GE ups SSL capacity, Aixtron adds reactor, Rubicon results dip down
About 500 employees and contract workers are based at the plant. The expansion resulted in an added 120 new positions. Products made at the plant will supply a global market. GE said that 30% of the output will go to markets including Saudi Arabia, Hungary, Brazil, and Canada.
Aixtron MOCVD system
In the LED manufacturing sector, Aixtron has demonstrated its next-generation MOCVD (metal organic chemical vapor deposition) tool at the China SSL trade fair. The shower-head-based tool can be delivered in 12×6-, 31×4-, and 121×2-in. wafer configurations.
"Our new AIX R6 addresses the most important challenges which LED manufacturers face today: highly competitive markets with consistently decreasing device prices driving the need for production equipment with lower cost of ownership," said Martin Goetzeler, CEO and president of Aixtron. "The AIX R6 is designed to fulfill our customers' needs for highly efficient production, enabling them to optimize their cost of manufacturing."
The new tool is designed to lower operational cost and to simplify usability and process control for LED makers, and those benefits should drive down component cost. The company cites a 120% improvement in throughput for the new tool. Moreover, the new reactor is the product for which San'an recently placed a major order.

Aixtron has also received the Award of Outstanding Achievement for Global SSL development from the International SSL Alliance. The company was recognized at China SSL for its effort in helping create and grow the SSL sector.
Financial results
Moving to public markets, Rubicon Technology (NASDAQ:RBCN) released quarterly financial results. Rubicon's quarterly revenue was $8 million and at the low end of guidance. The company is struggling with a reduction in 2-in. sapphire core sales, although the company has long sought to enable the use of large-diameter substrates. Future growth could come from the sale of wafers based on patterned sapphire substrate (PSS) technology. But that technology is just being qualified by customers.