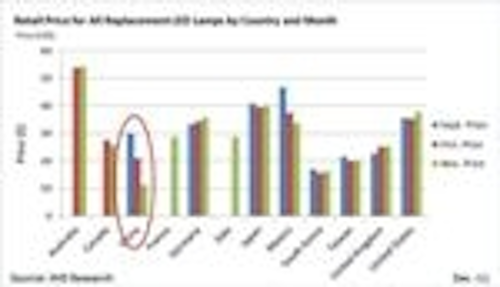 IMS reports fastest discounts on LED lamps in China
The latest analysis of
global retail prices for LED lamps
and luminaires from IMS Research of Austin, TX, has indicated that the most significant decline in LED lamp prices has occurred in China, with prices falling on average 62% (from $30 to $11) from September to November.
IMS is tracking the sales of 420 LED lamps in 12 countries. Worldwide, it reported no 100W replacements on the market and only 32 lamps (7%) designed as 60W and 75W incandescent replacements.
In South Korea, 26 of the 31 lamps tracked were mislabeled with regard to their wattage equivalency. In Japan, the average price of a 40W LED lamp is over $30.
India LED lighting market to enjoy rapid growth
LED lighting is considered the key emerging lighting segment in the Indian market, driven by the move towards energy efficiency. Local issues include those of energy deficiency in remote rural regions and strong interest in energy sustainability.
According to Frost & Sullivan Research, the LED lighting market in India was $73.3 million in 2010 and is forecast to grow at a CAGR 45.53% through 2014. The anticipated market growth will be mainly due to street lighting and railway lighting applications, which could account for over 60% of total demand next year.
The research firm has warned that the penetration of LED lighting in India largely depends on standardization, government support, awareness and affordability. India's Bureau of Energy Efficiency (BEE) is working to address standards issues and limited awareness of energy-efficient options.
Osram managing board meets Chinese minister Wan Gang
The Chinese Minister of Science and Technology, Wan Gang, met with the managing board of Osram AG recently. Discussions focused on future areas of cooperation in the LED sector.
This meeting followed an inspection of a test installation of LED applications in an art collection in Munich. Osram employs more than 10,000 staff in the Chinese market.
Rubicon marks anniversary of Batavia sapphire-growth facility
Rubicon Technology, based in Bensenville, IL, has celebrated the
first anniversary of its sapphire crystal growth facility in Batavia, IL
. The company produced its first sapphire boule at the facility last November.
The 135,000-square-foot manufacturing plant produces sapphire crystals that are in turn processed into sapphire boules and then large-diameter sapphire wafers used in LED manufacturing.
Rubicon's sapphire crystals are grown from raw materials in custom-built proprietary furnaces. To date, the company has shipped more than 200,000 six-inch sapphire wafers to the LED manufacturing and RFIC industries.