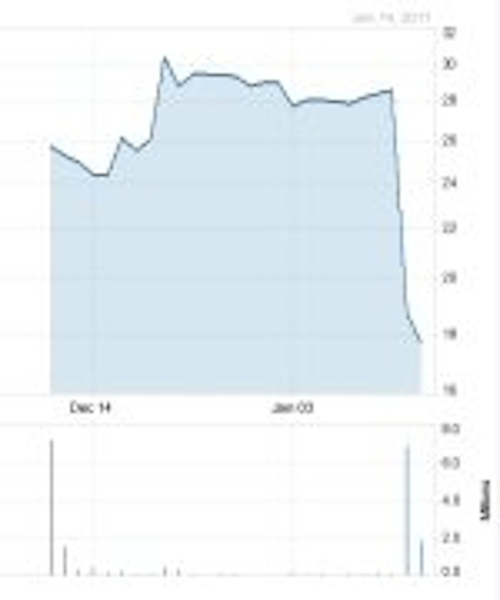 SemiLEDs Corporation (NASDAQ:LEDS), a US-based developer and manufacturer of LED chips and LED components which recently went public, was hit badly on the stock market after estimating that its revenue and income would decrease sequentially in its current fiscal quarter. The share price fell by more than one third last week after the company's financial results were announced.
SemiLEDs' shares commenced trading on the NASDAQ on December 9, 2010 after an initial public offering (IPO) of 5,250,000 shares of its common stock at $17.00 per share. The IPO generated net proceeds of $95.5 million, before deducting expenses of the offering estimated at $4.0 million.
SemiLEDs' shares were trading above $28.00 on January 12, 2011 prior to the earnings announcement, but closed at $17.72 on Friday January 14.
The company's revenue for the first quarter of its fiscal year, ended November 30, 2010, was $13.0 million, a 94.1% increase compared to $6.7 million in the same quarter in the previous year. GAAP net income was $3.8 million, or $0.11 per diluted share.
Compared with the previous quarter, there was a 27% increase in LED component revenue and a slight increase in LED chip revenue, resulting from an increase in volumes sold, but offset by declining average selling prices (ASPs).
However, for the current quarter ending February 28, 2011, SemiLEDs said that it expects revenue in the range of $10.5 million to $12.5 million, with GAAP net income of $1.6 million to $2.6 million, or $0.06 to $0.09 per diluted share. The company said that its second-quarter guidance "reflects pricing pressure being experienced by the company during the quarter."
In the company's conference call, Trung Doan, Chairman and CEO of SemiLEDs, said that the guidance figure was primarily due to "a particular customer going to a high-performance competitor based solely on price. The magnitude of the pricing pressure was so large we chose not to pursue this business."
Patent litigation with Cree also seems to be a concern with fiancial analysts. As described in LEDs Magazine in November 2010, Cree has filed a patent-infringement lawsuit against SemiLEDs in Delaware District Court. The complaint cites 3 US patents owned by Cree - numbers US 7,737,459 B2; US 7,211,833 B2; and US 7,611,915 – which relate principally to LED chip architectures. When questioned, Trung Doan said that SemiLEDs has now received a total of six patent complaints. "We still believe very strongly that we are going to vigorously defend ourselves," he said.
Over 80% of SemiLEDs' sales are in Asia, said Doan, the majority being in China, Hong Kong and Taiwan. US sales comprise less than 3.4% of sales. "Our primary focus is on general lighting, not backlighting," he said. The company broke ground on its China SemiLEDs joint venture in February 2010.
Doan said that SemiLEDs has three main objectives for the current quarter, the first being to roll out high-performance products. "We are on track to release a new brighter chip product in March of this year. This product is called I-DO and can produce between 120 and 135 lumens per watt," he said.
The second objective is to increase capacity in Taiwan by continuing to improve manufacturing processes and adding MOCVD reactors. "Upon full completion of the expansion of production capacity in our Taiwan facility, we estimate that we will be able to produce approximately 10 million additional LED chips per month, which would approximately double our existing production capacity," said Doan.
The third objective is for China SemiLEDs. "Our goal is to successfully transfer 4-inch production technology and ramp China SemiLEDs, which we expect to start pilot production and qualification," said Doan.