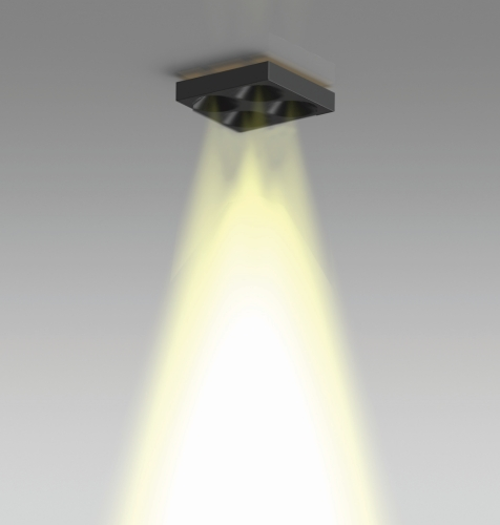 Lumileds has announced its CSP-based FlipChip White LED intended for general illumination applications, while Plessey has developed a way to customize primary optics on a CSP LED in the manufacturing process.
Lumileds has announced the Luxeon FlipChip White LED in a chip-scale package (CSP) and is targeting the new line at general lighting applications. Gallium-nitride-on-silicon (GaN-on-Si) LED specialist Plessey, meanwhile, has said that it can manipulate the silicon substrate in the back end of its LED manufacturing process to create what it is calling Chip Scale Optics (CSO) that can deliver beam-control features, which solid-state lighting (SSL) product developers may find saves steps in terms of adding optics in the end product.
Interested in more articles & announcements about LEDs & sources?

As we discussed in a feature article from the September issue, much of the LED industry is attempting to transition to CSP technology as a way to lower LED manufacturing cost and increase performance. http://www.ledsmagazine.com/articles/print/volume-12/issue-8/features/csp-leds/csp-leds-crawl-toward-delivering-on-ssl-promise.html Thus far, however, no company has supplied CSP LEDs in commercial volumes into general lighting applications. But the recent announcements are all focused on lighting products.
Lumileds FlipChip White
Lumileds was the first manufacturer to announce a CSP LED back in early 2013 at Strategies in Light (SIL) when it launched blue-pump LEDs with no phosphor. At SIL this year, the company said that it shipped more than a quarter-billion CSP LEDs during 2014, but those LEDs were supplied into backlighting, automotive, and camera flash applications.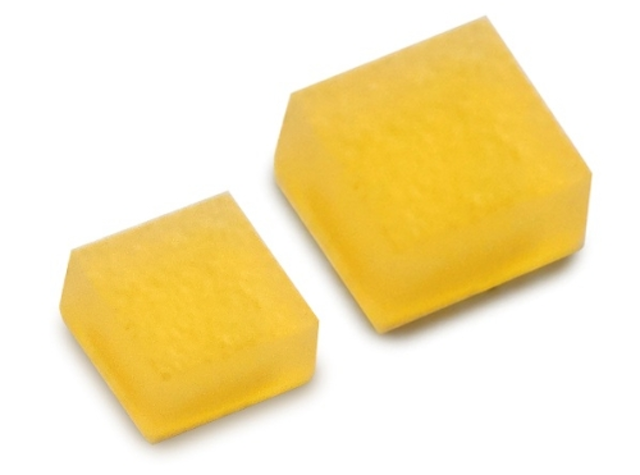 Now Lumileds appears ready to supply CSP LEDs to the lighting sector. Luxeon FlipChip White LEDs will come in 1.4×1.4- and 1.1×1.1-mm footprints. That footprint is essentially the same size as the emitting die — a characteristic of CSP technology.
At launch, the LEDs are available over a color temperature range of 2700K–4000K CCT. Lumileds will offer the LEDs in a choice of 70 or 80 CRI. Efficacy is as high as 124 lm/W when driven at 175 mA for the smaller LEDs and 139 lm/W when driven at 350 mA for the larger LEDs, both at 85°C.
The Lumileds LEDs will not integrate a primary optic for now. As we covered in the aforementioned feature article, the LEDs will emit on five sides and deliver a wide beam angle that's ideally targeted for products such as low- and high-bay luminaires. Lumileds said that the LEDs will also find use in downlights and outdoor lighting products. Lumileds has said that primary optics will be a part of its second-generation CSP offering.
The new CSP LEDs will also be available on Matrix LED light engines in printed-circuit board (PCB) form for customers who lack the manufacturing equipment to install the CSP LEDs. That family includes both linear and flexible models and optionally can include other elements needed in a luminaire design such as optics and electronics.
Plessey CSP optics
While the new Lumileds LEDs include no optical control, optics is exactly where Plessey is focused with its latest CSP LED news. In a typical flip-chip LED manufacturing process, the epitaxial layers are grown on a silicon substrate. Subsequently, that substrate is removed from the structure because the growth silicon is on the emitting side of the LED and silicon is opaque. But Plessey said it can selectively shape that silicon substrate, using technique similar to those used in MEMS (microelectromechanical systems) chip-level processes, to create reflector-like optics.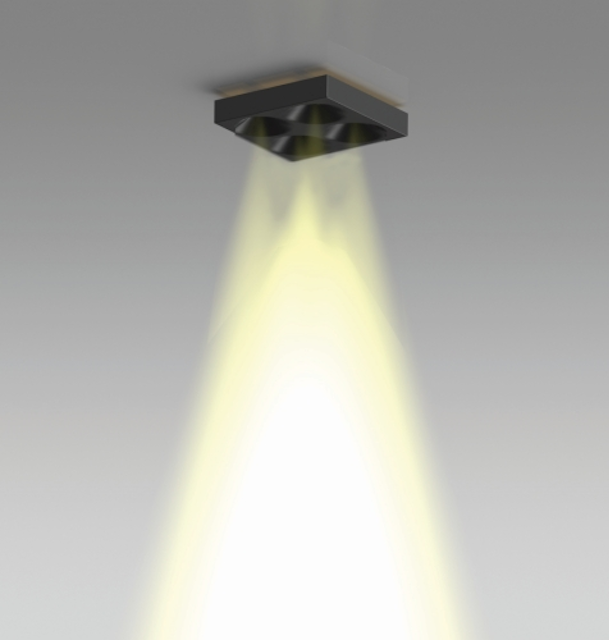 Chip scale packages: Lumileds debuts new LED, Plessey integrates optics into CSP LED
"The CSO technology was originally designed as an on-chip phosphor dam," said Plessey CTO Keith Strickland. "We realized that the original growth silicon, normally sacrificed during LED production, could be shaped and used to form mechanically robust, MEMS-type features on the emitting surface of a vertical LED. The degree of collimation is controlled in part by the mechanical dimensions of these on chip structures and we have demonstrated emission angles as low as 10°. The IC industry has used silicon for over 60 years and can be readily fashioned into many shapes and patterns. We have created silicon MEMS features in a variety of other applications and can manage to incorporate a complex primary optical design on the chip."
Plessey first revealed its CSP LED technology at the LuxLive event in London last November. The CSO technology will be demonstrated at LuxLive this year, which is being co-located November 18 and 19 with Strategies in Light Europe in London.

Plessey expects that the beam control hit will create a pull-through-demand effect from lighting designers who want the feature in the products that they specify. "High-end lighting designers do not count lumens per watt as the primary figure of merit for LEDs," said Samir Mezouari, principal optical designer at Plessey. "A lighting designer aims to illuminate a particular surface area. Chip Scale Optics can significantly simplify luminaire designs by forming symmetrically collimated beams with narrow angles or asymmetric beams to form elongated far field light profiles." He added, "Schemes to collimate monochromatic light at the LED level have been developed before but no one has previously collimated white light at the LED level."