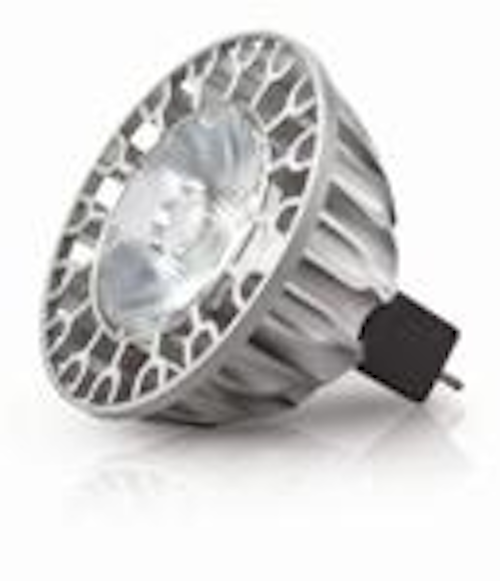 +++++
This article was published in the March 2012 issue of LEDs Magazine.
View the Table of Contents and download the PDF file of the complete March 2012 issue, or view the E-zine version in your browser.
+++++
As usual, Strategies in Light opened with a review of the HB-LED market and a forecast for the years to come, provided by market-research company Strategies Unlimited. This year's presentation by Ella Shum, LED practice director and conference co-chair, provided the biggest talking point of the whole three-day event, when it was revealed that the overall market for packaged LED components is likely to stay roughly flat from 2012 through 2016. The strong growth in lighting applications for LEDs will be offset by the decline in revenue from the backlighting segment, said Shum. Further details can be found on page 21. Shum's talk opened the plenary session of the HB-LED Markets track, one of three parallel tracks at Strategies in Light. The LEDs in Lighting track is discussed on page 39, while the LED Manufacturing track (new this year) is covered on page 27.
GaN-on-GaN LEDs
Soraa, a stealthy start-up, chose Strategies in Light to make its first public appearance. CEO Eric Kim revealed the company's first products: a series of MR16 LED lamps designed to replace 40W or 50W halogens (Fig. 1). However, the company's core innovation is to develop GaN-on-GaN LEDs, and Kim said that Soraa's fab in Fremont, California, is in "full production mode."
Because the LED material has a 1000-fold reduction in dislocation density, the GaN-on-GaN LEDs can be driven much harder (250 A/cm
2
) than traditional LEDs, while suffering much less relative droop (the drop-off in efficiency at higher current densities). There are a whole range of ways in which the GaN-on-GaN LEDs are different from more conventional devices, not least the triangular chip-shape that Soraa is using. But a number of observers were skeptical that the MR16 lamps could be offered at a competitive price, due to the high cost of the GaN starting material.
China's LED industry
Following Shum's talk, the HB-LED Market track continued with presentations on the LED industry in China and in Korea. Wu Ling, general secretary of the China Solid-State Lighting Alliance (CSA), spoke about the continued development and expansion of China's SSL industry, which she said had revenues of RMB156 billion ($24.8 bn) in 2011, and grew by 30% year-on-year. This was split into RMB6.5 bn ($1 bn) for epitaxial wafers and chips, RMB28.5 bn ($4.5 bn) for packaged LEDs, and RMB121 bn ($19 bn) for end products. General lighting and landscape lighting were the biggest application areas, at 25% and 24% of the total respectively, followed by backlighting (18%) and display screens (14%).
As is often the case with China, many of the numbers quoted by Wu were vast: for example, she said that newly-built residential areas will create demand for 1.2-1.5 million street lights every year for the next 20-30 years.
China has set various targets for 2015, by when it aims to be "one of the leading nations for SSL," said Wu. These targets include LED efficiency of 150 lm/W in mass production and 200 lm/W in R&D, with a price of 30 RMB/klm (under $5/klm). The Chinese government is investing heavily to develop and strengthen the SSL supply chain, enhance public awareness of SSL, and launch a national SSL standards committee. Also, the "10 cities, 10,000 LED products" demonstration project will be extended to 37 cities.
Wu said that the Chinese LED industry is maturing rapidly, and there is plenty of work being done to build a portfolio of standards, improve the intellectual-property situation, and stimulate international cooperation.
A view from Seoul
Chung Hoon Lee, the CEO of Korea-based LED maker Seoul Semiconductor, spoke about the factors that saw his company join Samsung LED and LG Innotek in the top five of LED suppliers for 2011 (page 22). "This was driven by backlight-unit (BLU) demand; a strong local semiconductor infrastructure with secure supply-chain management; and the geopolitical advantage of a strong BLU market in countries around Korea, namely Japan, Taiwan and Korea," he said. Now, LED makers must react rapidly, targeting the lighting market. Seoul already has a much larger proportion of its revenue from the lighting market than its Korean rivals, said Lee.
He also discussed Acrich, the company's AC-LED product, saying that this could allow LED-lamp makers to eliminate a lot of the "junk" inside the lamp needed to drive the LED (particularly the AC-DC converter). For more, see page 9.
Lee spoke about cost and efficiency, and said he believed that progress will be much more rapid than predicted in the US DOE roadmap. This forecasts that LED package pricing will hit $1/klm around 2020, when efficacy exceeds 200 lm/W. However, Lee said he expected this pricing level to be reached in 3-5 years' time. "Lighting companies haven't driven costs down, because volumes are not high enough," he said. However, he said that for retrofit LED lamps, pricing in the $10 range could drive mass adoption within 2 years.
In the future, Lee said that LED lighting will evolve from a functional role to providing light-quality improvements, and then additional and intelligent functionality. "If light can give us happiness and pleasure, that's fantastic," he said. Lee ended with a dig at some of Seoul Semioconductor's more vertically-integrated rivals. He said that customers should ask: "Who is your competitor now, and who will be your competitor in the future?"
Off-grid lighting
Globally, 1.6 billion people do not have access to electricity, said Ned Tozun, president of d.light Design, a company that is using LED-based lighting to help such people who live at "the bottom of the pyramid." Tozun said that "solar and LED technologies can be used to…radically improve the lives of off-grid families." The goal is to replace technologies such as lead-acid batteries, battery-powered LEDs and in particular kerosene, which is very expensive and creates huge health issues. "We can make kerosene lamps history," said Tozun.
However, there are challenges, which include marketing and distribution in areas with poorly-developed infrastructure, and the ability to pay the upfront cost of the solar-LED product or system (even though the ongoing cost is then effectively zero). Also, some governments distort the market with significant subsidies for kerosene.
But the potential benefits are vast, said Tozun. "Children can live in a kerosene-free home and increase their study time," he said. "Rural health clinics can give better care, and people can save money and increase their income" because their businesses can be more productive (Fig. 2).
Phosphors
A session on phosphors included a presentation by Seth Coe-Sullivan of QD Vision, on quantum-dot technology. Recent results show significant improvements in reliability, in terms of flux and temperature tolerances. However, Coe-Sullivan acknowledged that quantum dots for down-conversion of LEDs can only be used in a remote configuration. On-chip coating of the LED would result in a temperature and flux that was far too high for the quantum dots to tolerate.
Rene Wegh of Philips Lighting further discussed remote-phosphor (RP) configurations, stating that the main benefit is enhanced system efficacy. For warm-white LEDs at 2700K, the benefit can easily amount to a 30% enhancement. Also, the LEDs are not affected by the heat energy generated within the phosphor when down-conversion takes place, so they remain cooler, and can be driven harder. Philips has made extensive use of remote phosphors in its LED lamps and also its Fortimo modules. Another advantage of the RP approach is flexibility; for example, modules can be built in which the RP component can be exchanged but everything else is the same, so that a range of color temperatures and/or CRIs can be realized.
Automotive headlights
A small numbers of car and even motorbikes now have full-LED headlamps (Fig. 3), but Dirk Vanderhaeghen of Philips Lumileds predicted that penetration will increase in the next few years. He said that 2013 would see the first headlights requiring a single LED module per headlight for a low-beam solution. This will reduce both cost and system complexity, and will open the way for penetration of LED headlights in mainstream, rather than just high-end, vehicles. He predicted that the number of cars with LED headlights would grow from 1.5 million in 2013 to 5.0 million in 2015, and the value of the LED components used in this application would grow from $130 million to $300 million. The market value will not continue to grow as rapidly as the number of vehicles adopting LED headlights, since the number of LEDs per headlight unit will fall.
So why use LEDs in headlights? "LEDs use less fuel," said Vanderhaeghen, "but can also be used to express a strong brand identity." There are design advantages of using LED systems that typically have a depth of about 5 cm, compared with 10-15 cm for halogen projectors. And then there is the smart functionality aspect of using an LED matrix to implement intelligent lighting that can illuminate around corners, for example.
The target for LED lighting is to be able to match the performance of xenon lamps and provide about 1000 lm on the road, which for LEDs translates to about 2000 "hot source lumens" (i.e. an LED-module output of 2000 lm with a case temperature of 85°C). But there is also the need to move towards cost-effective, single-LED sources to enable mass adoption. "Most systems today use fans for cooling," said Vanderhaeghen. "But this is not sustainable for OEMs to translate into mass-market vehicles." He pointed out that LEDs rated at a maximum case temperature of 130°C, rather than 110°C, would allow the use of much smaller heatsinks for the same output.
Backlighting
Paul Semenza of DisplaySearch, a market-research company, said that LCD-TV backlights will dominate LED demand through 2013, but lighting will take over in 2014. While LED chip and package prices have fallen dramatically, they still represent a large proportion of the bill-of-materials cost for displays. However, the cost structure for displays is less dependent on the LED cost than is the case for lighting. LEDs represent about 25% of the cost of an LED-backlit unit (BLU) – obviously this varies by TV size and the backlight design – but less than 5% of the whole TV cost. For LED lamps, the LED cost can easily exceed 50% of the total.
DisplaySearch estimates that the total global LED chip capacity, normalized for 500×500-μm devices, will reach almost 95 bn units in 2012, compared with around 82 bn in 2011. Taiwan is now slightly ahead of Korea in terms of unit volume, with these two countries accounting for 74% of the total. The top three LED-chip suppliers by volume – Samsung LED, LG Innotek and Epistar – are all very close to LCD backlight makers, said Semenza, and obviously the first two are vertically integrated with major TV makers.
The share of LEDs in backlights is above 50% for all large-area LCD applications (mobile PCs, desktop monitors and LCD TVs, with screen sizes of 9-in and above). Mobile PCs are essentially saturated, but the other categories lag behind. "LED penetration in LCD TVs has been slower than expected, but is continuing" said Semenza. While the number of LCDs with LED backlights will increase through 2013, the average number of LEDs per backlight will peak in 2012 at 12 (Fig. 4), and will then fall due to efficacy improvements and new designs such as low-cost direct backlights. In the LCD-TV segment, chip demand will also peak in 2012 at around 24 bn units (normalized for 500×500-μm chips) and then will start to fall.
The low-cost, direct backlight schemes use fewer LEDs than conventional direct backlighting, but the LEDs are larger and have lenses to direct the light. This helps to eliminate certain optical films within the backlight, but means that thin panels cannot be built. "This trend towards so-called chubby TVs is ironic given the association in recent years of LEDs with thin TVs," said Semenza. Also, he said, as LED unit pricing decreases, the driving force gets weaker for reducing the number of LEDs per unit.
Driving SSL adoption
Cree's Mike Watson was refreshingly controversial for the first talk on Thursday morning. He described Zhaga as "an SSL version of the old model," i.e. the lamp-ballast-socket paradigm, and asked: "Why are we wasting time with A-lamps?" His discussion was entitled "Beyond the LED" and looked at why the industry needs to focus on new business models to deliver SSL value.
Drawing parallels with transitions to solid-state technology in other industries, Watson said that such changes always improved core function and value, and provided well-defined benefits. However, the transitions also involved hardware changes, and this was feared by consumers. To overcome this roadblock, said Watson, "new adoption models became as important as technology to drive market acceptance."
According to Watson, the lighting industry likes the modular approach (e.g. replacement lamps, or modules based on Zhaga specifications) because "it's what they know and what they can do." But, he said, the lamp-ballast-socket approach always compromises total system cost compared with a bottom-up LED-based design that makes the most of the core benefits provided by SSL.
The industry has hit a chasm between product development and mass adoption, said Watson, and the challenge for 2012 is to cross that gap (Fig. 5). Rather than using a "landfill of replacement lamps and Zhaga products" to cross the chasm, Watson said that the industry should use adoption factors based on performance, cost/optimization, quality/acceptance, and scale. All these focus on delivering core SSL value. In conclusion, Watson said that "parts of the ecosystem resist even slow change" and added "if you're SSL only, the world looks different."
Addressing challenges
The LED industry faces a number of challenges, said Ulrich Steegmueller, chief technology officer of Osram Opto Semiconductors, among which are LED price erosion, and the fact that economical limits for efficacy will be reached within this decade. To address such challenges, Osram Opto is focusing on innovation, cost, quality and fit (i.e. using the characteristics of LEDs to enable completely new applications). Steegmueller said that Osram Opto's "leading market position" is underpinned by "deep customer relationships and technical know-how."
As examples of new applications and approaches, Steegmueller mentioned automotive headlights as well as biolight systems, i.e. the use of LEDs in horticultural applications. Addressing cost, he discussed Osram Opto's recent results for GaN-on-silicon LEDs (www.ledsmagazine.com/news/9/1/19). On the subject of quality, he said it is important to leverage lessons from demanding applications, such as automotive; for example, it can be important to conduct accelerated testing against humidity, temperature cycling and corrosive gases.
LED package options
Although it has a relatively low profile, Japan-based Nichia is easily the world's largest LED maker, according to Strategies Unlimited, and is also the world's largest phosphor manufacturer (although it does not just serve the LED market). Dan Doxsee of Nichia America Corporation said that cool-white, power LEDs have reached 150 lm/W in production, and LED lighting technology is ready for mass adoption. "No application is out of reach for LEDs," he said. And, with rapid cost reductions, "the cost of light is becoming ever-more affordable," he added.
One feature of the LED lighting market is that there are multiple package solutions for every application. A lamp might utilize a single large chip-on-board array, or several single-die packages, or multiple smaller die. "There is no one-size-fits-all," said Doxsee. In general, the single-large-die approach is best suited where there are specific optical requirements, for example directional luminaires or outdoor lighting. But, said Doxsee, "the multi-small-chip approach is usually better if optics allow." Also, the different-sized chips have the same manufacturing process, but small die have better yield. The multi-small-die approach also provides better thermals due to distributed heat dissipation; the same droop as large single die; better color consistency; and the flexibility to build high-voltage arrays.
LED manufacturing capacity
Jed Dorsheimer of Canaccord Genuity, an investment bank, discussed the economics of LED manufacturing. He said that the recent "second cycle" of the LED market, driven by backlighting demand, resulted in a 4× increase in global LED manufacturing capacity. However, this massive capacity is being used inefficiently.
Although LED unit demand will continue to increase, as lighting becomes the dominant application, Dorsheimer does not expect to see a similar "third cycle" of manufacturing where the focus is on scale. Instead, he said that a change in the "yield vs. scale debate" may be anticipated, as manufacturers devote more of their capital expenditure into increasing the productivity and yield of their existing manufacturing equipment, in order to increase their return on investment.
In conclusion, Dorsheimer said that "LED will be the hidden gem of the cleantech/sustainability movement." Because upstream investments have already been made, this should allow for costs to come down "exponentially," he said. "LEDs will begin as an energy-efficiency story, but will become more about utility: users can do more."