DELO LED lamps for UV curing reach intensity of 600 mW per sq. centimeter
Mar 10th, 2015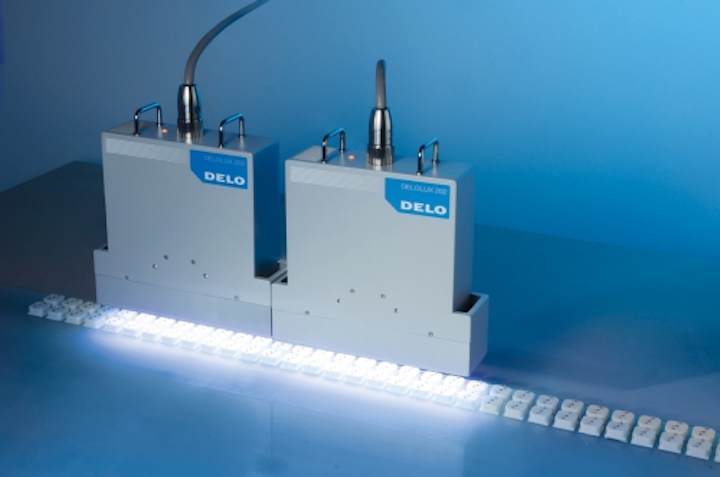 Enhanced LED lamps from DELO feature high efficiency and nearly double the intensity

DELOLUX 20 and DELOLUX 202 can now reach an intensity up to 600 mW/cm2

Windach, Germany – DELO, one of the world's leading manufacturers of industrial adhesives for automotive, consumer and industrial electronics applications, has nearly doubled the intensity of its 400 nm LED area UV curing lamps. The DELOLUX 20 and DELOLUX 202 can now reach an intensity up to 600 mW/cm2.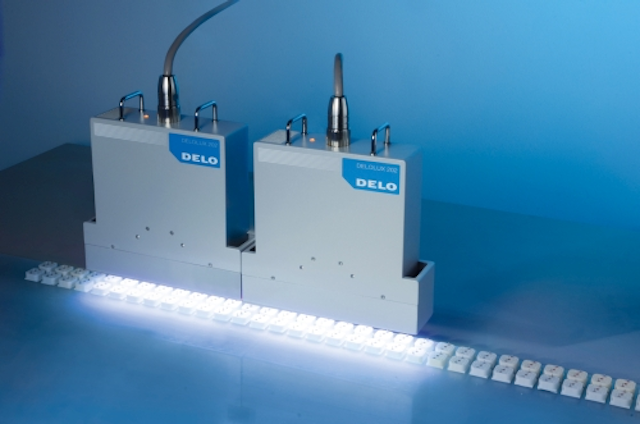 With the increased intensity, the 400 nm area lamps allow for much faster UV curing of many different adhesives. The higher intensity also allows for easier bonding of components made of certain opaque plastics as they can now be reached and cured properly.

The DELOLUX 20 and DELOLUX 202 can be arrayed seamlessly both vertically and horizontally, evenly irradiating areas of nearly any shape and size. The UV curing lamps' higher output intensity enables greater working distances for irradiating bonding areas in sleeves or deep holes.

The compact LED heads on both models are ideal for use on fully automated systems and can be easily integrated into production lines. The new lamp heads operate with existing control units.

Robert Saller, director of international sales at DELO said, "An increased intensity has numerous advantages. We have developed these lamps to irradiate bonding areas evenly, an aspect often neglected even though it's necessary for reliable adhesive curing."

The DELOLUX 20 and DELOLUX 202 are dependable and more energy efficient than traditional discharge lamps. The lifespan of the lamps can exceed 20,000 hours. Lower energy consumption paired with minimal maintenance allow for a cost-efficient production process.

Technical Specifications
• Wavelength of 400 nm
• Lifespan of lamp exceeds 20,000 hours
• Intensity up to 600 mW/cm2

Read our news: http://www.simongroup.com/PressRoom/feeds/DELO.xml
Watch the latest videos: https://www.youtube.com/user/DELOadhesives
Get our updates: https://www.linkedin.com/company/delo-industrial-adhesives
Follow us: https://twitter.com/DELOadhesives

Contact:
Matthias Stollberg - DELO Industrial Adhesives
+49-8193-9900-212