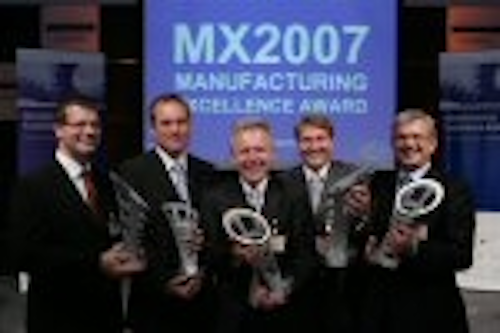 LEDdynamics has been awarded the "Best of 2007 Innovation Award" by Popular Science, a US magazine, for its
EverLED-TR
product line, an LED-based fluorescent tube replacement. The EverLED-TR utilizes existing fluorescent ballasts while achieving the equivalent light output of the tube it replaces.
The EverLED-TR was one of eight winners in the Green Tech category. The Popular Science awards recognize innovations, in 10 separate categories, that make a positive impact on life today and change our views of the future.
"While the LEDdynamics team is honored to win this award, we feel that it is really a victory for the entire LED industry." said William McGrath, president and CTO of LEDdynamics. "Popular Science has recognized the environmental cost of disposing of 680 million mercury-filled fluorescent tubes each year, and found a better, cleaner, greener way to generate light with LEDs, and specifically, the EverLED-TR."
"It's the EverLED-TR's ability to work with existing fluorescent ballasts and the quality of the light produced, which were deciding factors for PopSci's evaluation team," said Jonathan Wish, LEDdynamics' chief strategic officer. "They understand the need for LED solutions which do not require costly removal or modification of existing systems, and will work better than the light sources they are replacing. Because the end-user can simply 'drop-in' the EverLED-TR, switching to LED technology has never been easier."
CeramCool ceramic heat-sink recognized as most innovative product
CeramTec AG has received the Manufacturing Excellence Award for product innovation for CeramCool, its ceramic heat-sink for high-power electronics. The Manufacturing Excellence Award is presented in Germany by a panel of representatives from science and industry. Prizes are awarded in categories such as customer orientation, product innovation and best small and medium-sized businesses.
Alexander Dohn, Manager of the Electronics Division for CeramTec AG, said "CeramCool® has revolutionized thermal management for high-power electronics systems by dissipating the resulting heat from the critical component quickly and without barriers. The basis for this solution is a simplified overall construction with the direct connection between the heat-sink and the high-performance LED, for example."
In addition to optimizing thermal conductivity this means that the systems are smaller and their construction is less complex, while at the same time ensuring optimized operating conditions and simultaneous weight and cost savings.