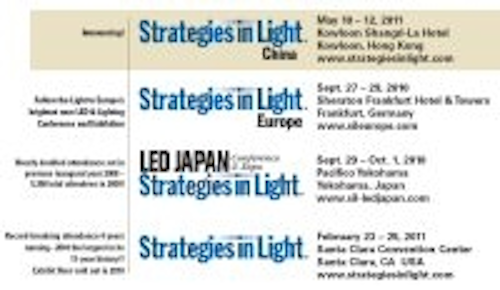 Strategies in Light China will take place at the Kowloon Shangri-La Hotel in Kowloon, Hong Kong on May 10-12, 2011.
The event is the latest in the Strategies in Light franchise of conferences and exhibitions covering the global LED and lighting industry (see banner, right).
The event is organized by PennWell's LED & Lighting Media Group, which includes market research firm Strategies Unlimited and the LEDs Magazine group of publications, as well as the Strategies in Light events.
Strategies in Light China will focus on the LED industry supply chain, which results in products such as LED lighting fixtures (luminaires) and replacement lamps; automotive lighting; LED outdoor displays; backlighting for screens in TVs, monitors and laptops; and mobile devices, among others.
Discussions will cover LED systems and end products, LED light-engines and modules, and the LEDs themselves, as well as critical system components such as drivers and controllers, optics, thermal management and test and measurement.
Speakers will focus n issues such as critical challenges and barriers to LED lighting adoption; regulatory issues and standards; government support and funding; technology updates and roadmaps; financing; intellectual property; trade issues, and the international competitive landscape.
China has a robust LED device manufacturing environment, ranging from conventional and high-brightness chips to a wide variety of packaging types. On the applications side, there are thousands of companies supplying systems ranging from outdoor signage to display backlights to solid-state lighting. oreover, all elements of the HB LED vertical supply chain are represented in China, ranging from substrates, to process materials and chemicals, to manufacturing equipment. Moreover, the government has become a key player in the development of China's LED industry.