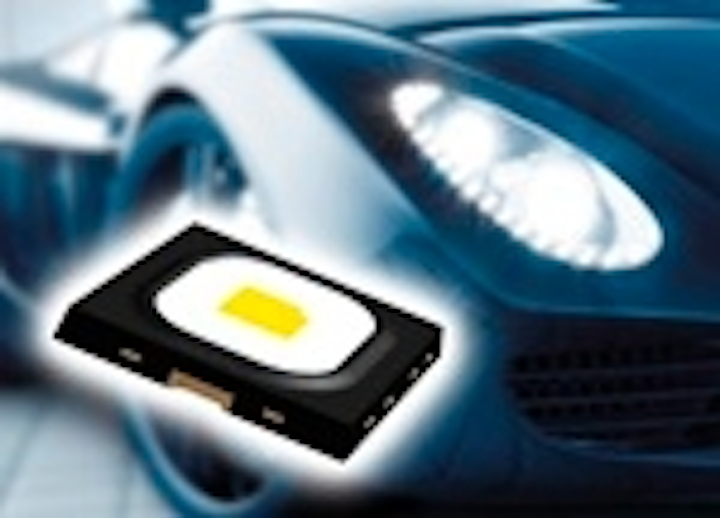 The new Oslon Black Flat LED from Osram Opto Semiconductors for automotive front lighting has been designed to provide high light output at high drive current, uniform light distribution, and high contrast for visibility. The LED component combines advanced chip and packaging technology including ceramic converters to deliver higher brightness and greater temperature stability. The LED was
originally introduced as a prototype in September 2011
and is now commercially available.
The Oslon Black Flat LED has been designed to meet all front-lighting requirements. The LED can be used to illuminate the road in all weather conditions while functioning in different capacities as high-beam headlights, daytime running lights, cornering lights, or fog lights.
The LED uses the company's new UX:3 chip technology to deliver 200 lm (at 25°C) at 700 mA drive currents and 2.3W, or up to 270 lm at 1.2A. It can handle application temperature up to 100°C.
Thermal management has been improved by reducing the component's thermal resistance to 4 K/W. The QFN (quad flat no leads) package material matches the coefficient of thermal expansion of the metal-core board. The Oslon Black Flat is AECQ101 automotive qualified, with a rated life of 100,000 hours at 700 mA and a case temperature of 60°C or 10,000 hours at 1.2 A and 120°C.
The LED has been designed with a low profile and no lens to maximize optical incoupling by placing the chip very close to the light guide or lens in the headlight. This design enables a luminance of 70-100 Mcd/m2, 2-5X higher than comparable LEDs. "This is particularly important in automotive front lighting solutions based on projection systems," said Michael Martens, product marketing manager for automotive LEDs at Osram Opto Semiconductors. "The greater the luminance of the LED, the smaller the external lens and the smaller the space needed. Headlights can therefore be made much more compact, giving designers much more freedom."