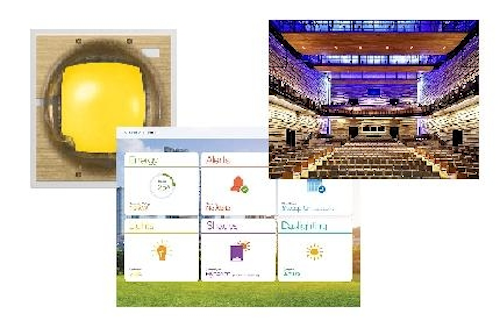 As LightFair International (LFI; June 3-5, 2014) opens its tradeshow floor on day 1 of the exhibition at the Las Vegas Convention Center, we continue our round-up of LED component and lighting manufacturer announcements. The annual architectural and commercial lighting trade show and conference is sponsored by the International Association of Lighting Designers (IALD) and the Illuminating Engineering Society (IES). The event is produced and managed by AMC, Inc.
The LFI 2014 product mix includes more than 40 categories with integrated design, alternative energy and solar power, OLEDs, healthcare, hospitality, digital signage and software showing significant growth from 2013, reports LFI.
LEDs, SSL components, and lighting design
Seoul Semiconductor's high-power Acrich MJT 5050 LED package optimized for street and outdoor area lighting
Seoul Semiconductor has announced the release of a new generation of Acrich MJT 5050 LEDs, with high lumen output, reliability, and cost performance optimized for the outdoor lighting market.
Eastman Spectar Stratus copolyester material offers high-transmission light diffusion for solid-state lighting
Spectar Stratus can be extruded or injection molded to diffuse the light emitted from LEDs without significantly decreasing the light intensity. Depending on the selected gauge of the final product, Spectar Stratus boasts light-transmission levels between 80 and 85 percent.
Samsung exhibits new COB LEDs and LED modules with improved color rendering at LightFair
Samsung's LED modules enhanced with 90 CRI include the LT-A302 module comprised of mid-power LED packages, and the SLE series, which uses COB-type packages.
Bayer MaterialScience presents light- and thermal-management materials at LightFair
Bayer will highlight its selection of light- and thermal-managing polycarbonate plastics, films, and sheet materials at its booth (#7936) during the LightFair International trade show and conference June 3-5, in Las Vegas.

Controls/power and networks
Lutron's Quantum Vue web-based software provides lighting control from any mobile device
The Quantum Vue software helps users manage lighting throughout a facility by monitoring and reporting all of the lighting energy used in a space. Building owners and facility managers can easily optimize lighting energy performance while reducing maintenance and operating costs.
Sensity Systems displays NetSense Live end-to-end lighting network system at LightFair
Sensity Systems is showcasing its NetSense Live comprehensive management service, which ensures that NetSense end-to-end solutions are always connected, available, and secure. NetSense Live includes real-time 24x7 management of the entire NetSense Light Sensory Network platform, including the LED luminaires, sensors, wireless network and data backhaul, and all applications.
Acuity Brands connects smart lighting with shoppers' mobile phones via Qualcomm visible-light communications technology
Using Lumicast technology from Qualcomm Technologies, a subsidiary of Qualcomm Incorporated, Acuity Brands' smart LED lighting technology will allow retailers to engage with customers on mobile devices based on their location in the store.

Lighting products
TCP showcases color-changing and additional LED lighting products at LightFair
Technical Consumer Products, Inc. (TCP) will feature its production and prototype models of new LED technology including luminaires, color-tuning bulbs, wireless color bulbs, plus a broad array of LED options that provide lighting solutions for a wide variety of applications.
Lumenpulse launches 15 new solid-state lighting products at LighFair
Complementing the company's existing product families and technologies, the newest Lumenpulse LED lighting solutions will be showcased at booth 6408 from June 3rd to the conference's close on June 5th. Launched in the weeks prior to Lightfair, the Lumencove Nano and the Lumenfacade Inground will be officially unveiled at the conference.
Terralux D Series LED downlights have efficacy above 85 lm/W
The D Series downlights are rated for 24x7 installations, achieve L70 beyond 60,000 hours, and are backed by a 5 year warranty. LEDSense thermal management in the patented driver design protects the LED fixture even in the warmest conditions.
PolyBrite debuts Borealis T8 LED tube with airflow and heat-sink thermal management system at LightFair
PolyBrite's Borealis T8 tube has been designed with a patented air flow and heat sink combined thermal management system, creating a more thermally efficient heat transfer and highly reliable cooling. This eliminates potential failures as is the case with conventional thermal management systems.
For more pre-show announcements, see our Part I LFI round-up.

Check back this week for more updates on the latest LightFair announcements at ledsmagazine.com. Follow @ledsmagazine on Twitter for news and viewpoints from the exhibition, and join the conversation in our LinkedIn group (search: LEDs & Lighting).