Osram LEDs target headlamps, displays and flash
In time for the electronica show in Germany, Osram Opto Semiconductors has introduced updated versions of some its LED packages targeting specific applications.
Nov 11th, 2008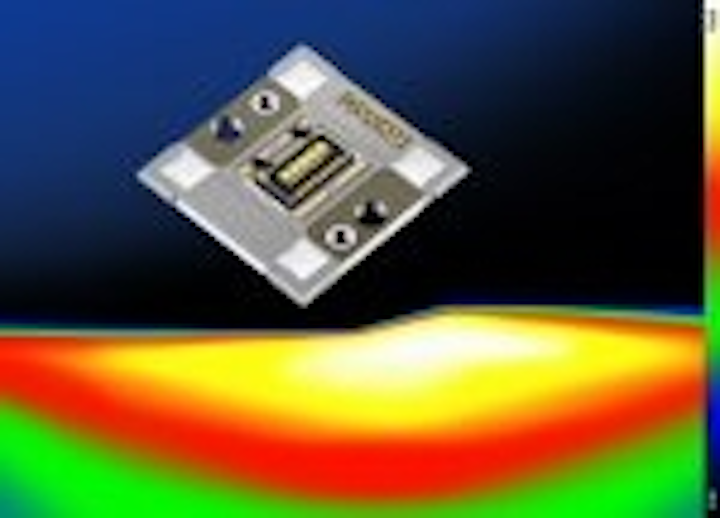 Ostar Headlamp LED with new brightness data and accurate cut-off-line
The new version of the Ostar Headlamp LED from Osram Opto Semiconductors has a number of features that improve the accuracy of the light pattern. The LED can be equipped with between one and five chips. Instead of the usual silicone encapsulation, a glass cover bonded to the frame protects the chips, and also prevents scatter losses.
A high-precision shutter integrated in the glass provides a clearly defined beam pattern on the road without losing light, as was the case previously with mechanical shutters. Compared with conventional solutions the mounting depth is also significantly reduced. Also, the glass cover itself makes the LED more robust.
With a color temperature of 6000 K, the light color is very close to that of natural daylight. This makes driving safer because drivers do not get tired so quickly. What's more, oncoming drivers are not dazzled because headlight manufacturers can design the bright/dark transition areas with great precision. Different lighting scenarios can be created, such as high beam, low beam and cornering beam, by combining different chip configurations on which lenses can be mounted.
Depending on the number of chips arranged in series, the Ostar Headlamp LED produces between 125 lm at 700 mA (one chip) and 1000 lm at 1 A (five chips). With a power rating of 12 W, as in the previous version, the enhanced brightness results from improvements in the chips themselves, as well as in the converter (phosphor) and the package. Thermal resistance for the five-chip version is around 3 K/W.
Peter Knittl, Head of Automotive Marketing LED at Osram Opto, says that development work is continuing. "We expect there to be a continual reduction in thermal resistance to a much lower level than at present," says Knittl, who is also convinced that over the next few years there will be further drastic increases in brightness.
Black for more contrast, white for greater brightness
Osram Opto has also launched two new MultiLED RGB packages for different LED video displays; a jet black package for high-resolution displays that provides high contrast and depth of color, and a white package offering very high brightness.
With its black-package MultiLED, Osram is targeting the professional entertainment industry, including theater shows and trade fairs. The LED offers high contrast in video displays with a typical luminance of 2000 cd/m
2
and a pixel spacing of 5 to 7 mm. The new LEDs enable very deep blacks, giving pictures greater depth and creating 3D effects. "Achieving a consistent black level has been the greatest hurdle so far in presenting the color black properly. Pictures will now have much more intensive depth to them," said Volker Härle, LED Marketing Director.
The white point for the MultiLED in the black package is at 750 mcd; the white point for the MultiLED in the white package is at 2000 mcd. They are supplied in very narrow tolerances in terms of brightness and color location to ensure homogeneous display results. The 6-lead multichip package ensures good heat removal and enables currents of 15 mA per color to be achieved even at an ambient temperature of 85°C.
New generation of LEDs for flash photography
The new generation of Ceramos and Oslux LED flash products from Osram Opto are twice as bright as their predecessors. They now meet even the high brightness requirements imposed by the higher resolutions that can be achieved by modern digital cameras. The brightest LED without a lens for flash photography is the Ceramos. With its clear encapsulation it produces very bright light; it is also available with a diffused encapsulation for a neutral white appearance. Oslux with its special lens is ideal for use without external optics in cell phones or digital cameras.
Ceramos produces 90 lm from an operating current of 500 mA and is therefore one of the brightest LEDs without a lens for flash photography currently available on the market. Both Ceramos versions are fully encapsulated. The version with the diffused encapsulation appears radiant white even when not in use, and can also be used as a design element. The LED with the transparent encapsulation appears slightly yellow. When used in cell phones, both versions help create excellent photos even in darkness or difficult lighting conditions.
The new Oslux LED benefits from an optimized chip and lens design that results in greater brightness. It produces 100 lx from an operating current of 500 mA; higher brightness values can be achieved with higher operating currents. Oslux is therefore ideal for cell phones and high-quality digital cameras. "A sizeable proportion of modern cell phones equipped with LED flash units use our high-flux LEDs", said Härle. He is confident that this proportion will increase still further with the new LED flash products. Its uptake will be greatly assisted by the fact that the new brighter products have the same connections so they can be easily used as direct replacements for the previous generation of LED flash units.