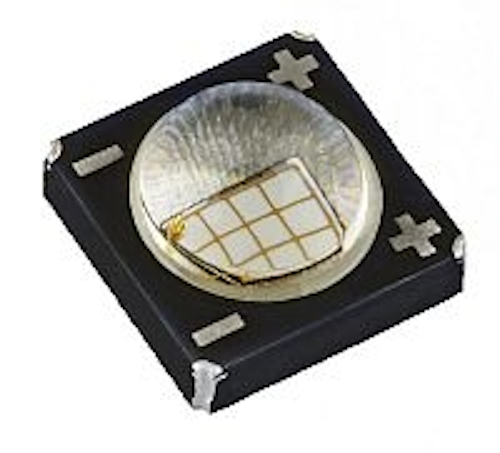 LED Engin has announced the Gen 2 family of ultraviolet (UV) LEDs that radiate in the 365-nm band and that target curing applications for industrial, life science, and other uses. The company asserts that the LEDs deliver four times the power density of competing UV LEDs.
"Our latest high flux density emitter will deliver new capabilities to UV curing applications, particularly in areas where it is vital to produce and maintain maximum levels of performance," said David Tahmassebi, CEO of LED Engin. "Those customers that have been waiting for dramatic progress in flux density will be very pleased with what LED Engin can offer."
The 4.4×4.4-mm LEDs output 1000 mW of radiometric power from an input electrical power of 2.8W. LED Engin said that level of flux output is the highest in the industry for a single-emitter, UV packaged LED.
For high power density, it's also critical for such an LED to have a relatively narrow beam pattern. The package design and optics for the Gen 2 LEDs project a 70° beam.
One key to high-power operation is an efficient thermal design that can remove heat from the diode junction. The LED Engin design has a thermal resistance of 4.2°C/W to allow for efficient heat flow away from the junction.
At 80% of max output, the Gen 2 has a case temperature of 100°C. The thermal design allows the LEDs to be driven at levels to 700 mA with a maximum junction temperature of 130°C. The efficient thermal design and flexibility in drive current mean that in many applications a passive heat sink will suffice for cooling needs.