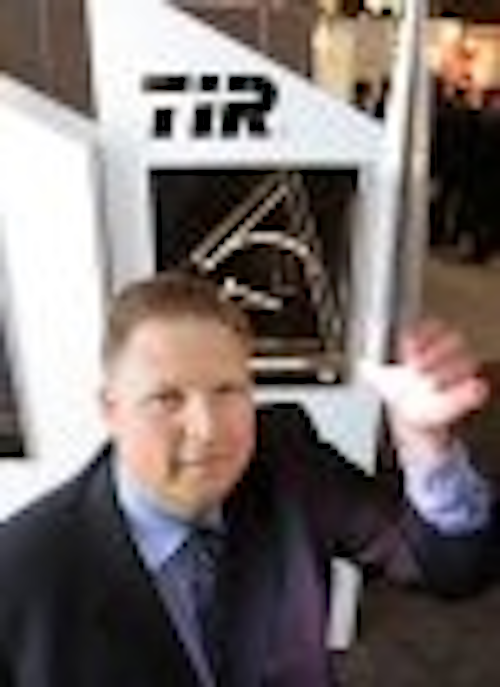 TIR Systems Ltd. has unveiled its universal platform for LED-based lighting at Lightfair International, the lighting industry's largest annual tradeshow.
Designated LEXEL™, the platform incorporates the key components - thermal management, optics, energy-efficient drivers - to provide controllable and high quality solid-state illumination.
The potential benefits of LEDs in lighting have yet to be fully realized, because the devices are an incomplete lighting system on their own and the industry has been struggling with several technology barriers that prevented LEDs from being utilized for general lighting purposes.
TIR claims that LEXEL overcomes these technology hurdles and that the company has the first and only fully integrated, seamless SSL source that can be used cost-effectively for general lighting purposes.
A key feature of LEXEL is closed-circuit optical feedback system that ensures precise color temperatures to be selected for white light, and maintained over the life of the system.
LEXEL also has an advanced optical system providing "superior" light density, light mixing and directionality, a driver system providing 95% energy efficiency, and a "breakthrough" approach to thermal management.
Brent York, TIR's Chief Technology Officer said that, "by combining a leapfrog improvement in thermal management with more than 95% drive efficiency, an inexpensive but extremely accurate feedback system, and the most advanced optical system for SSL to date, LEXEL™ will finally deliver the light output, color temperature control, extremely long life, and energy efficiency that the lighting industry has been promised."
York told LEDs Magazine that LEXEL had been developed over the last 2 years, and was a result of a complete rethink of how to use LEDs. Rather than building a system around existing packages, TIR has incorporated chips into a system where the thermal, optical, mechanical and electrical aspects are all optimized to achieve the desired light characteristics. These include control of color temperature, being able to dim without changing color temperature, and an absence of fringing effects.
At LightFair, TIR demonstrated several light fixtures that provide 1000 lumens of light - approximately equivalent to a 75W incandescent lamp. Products are expected to be commercially available and compete with conventional lighting in 12-18 months.
Building on its recently announced patent for using SSL in grid ceilings found in general illumination applications, TIR is rapidly expanding its portfolio of intellectual property which currently includes 44 patent applications in the field of SSL. The majority of these current patent applications along with those that will result from continued research will allow TIR to further develop and protect the LEXEL.