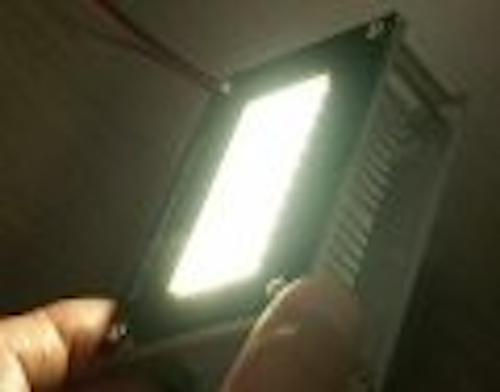 Japanese LED manufacturer Citizen Electronics Co. has created a multi-chip white LED light source with a luminous efficacy of 70 lm/W and a total luminous flux of 245 lumens.
The CL-L100 series package contains 24 blue LED chips supplied by Nichia, and measures 4mm wide and 40mm long. The device operates at 3.5 W.
The efficacy value of 70 lm/W is 40% higher than the company's existing products* and is claimed to be the highest level in the world for a mass-produced product of this type. Fluorescent lights typically operate in the 60-100 lumens per watt range.
The company plans to boost the luminous efficacy to 90 lm/W by the end of 2006, bringing it to the level of high-performance fluorescent bulbs and HID lamps.
If ten of the new light sources are connected and operated at 12 V, a total luminous flux of 2450 lm can be generated at 35 W. This represents 60% of the power consumption and 1.6 times the luminous flux of an automotive halogen lamp.
The company says that the lifetime is around 40,000 hours. A copper substrate has been used in the package to achieve a high thermal conductivity. The thermal resistance of the package including the chips is 6 °C/W.
Citizen plans to ship samples within the year at a price of around 5,000 yen. The product is expected to find wide use in such applications as automobile headlights and general lighting, and it will also be marketed for use in hospitals and to illuminate food displays in retail environments.
*In September 2004, Citizen announced the CL-652S series of white LEDs, including one device with a luminous flux of 60 lm at a driving current of 350 mA and another with a luminous flux of 35 lm at a driving current of 200 mA – both devices have a luminous efficiency of 50 lm/W.
Stanley develops 180 lm white LEDs
Another Japanese LED maker, Stanley Electric Co., Ltd., has developed a high-power white LED which produces a luminous flux of 180 lumens at 6 W, according to a report on the Tech-On website.
The company plans to start volume production in December 2006, and its target applications include automotive headlamps, lighting products and LCD monitor backlights.
At a tradeshow in Yokohama, Stanley exhibited a module combining the white LED and a lens, a prototype streetlight and a headlamp based on this module as well as other products.
Stanley has used a ceramic package containing 4 high-power white LEDs. The thermal resistance between the area where LED chips are bonded and the bottom part of the package is only 3 °C/W.
A reflector plate has been installed in the package, so that light from the LED chips can be efficiently emitted to the exterior. The package measures 5.9 x 11.5 x 1.1 mm, while the light-emitting part measures 2.4 x 5.6 mm.
The Tech-On report says that Stanley has procured blue LED chips from outside sources. In May 2005, Cree announced that Stanley was one of several companiesd to have licensed Cree's white LED patent (see Cree licenses white LED patent to Stanley, Rohm, Cotco).