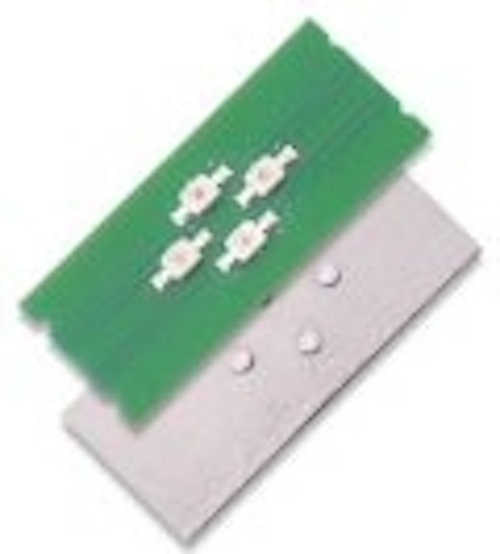 Download this article as a PDF file (144 MB)
Headquartered in Lakewood, OH, USA, the company specializes in developing custom thermal solutions that leverage the unique thermal properties of natural graphite.
Under the eGRAF® product line, GrafTech manufactures a wide range of natural graphite thermal solutions, including heat spreaders, thermal interface materials, and heat sinks. Committed to the development of new thermal management technology, eGRAF® products have earned broad recognition in the market, winning R&D 100 awards in 2003 and 2004, and Frost and Sullivan's Excellence in Technology Award in 2005.
Backed by over a dozen U.S. and global patents, eGRAF® product technology is driven by a world-class team of over 20 scientists, engineers and researchers.
GrafTech's highly skilled team of thermal engineers offers an unrivaled expertise in creative thermal solutions. The company provides consultative services throughout the entire thermal design cycle, from planning, testing and modeling, to prototyping and high-volume production runs.
Every day, eGRAF® products answer thermal design questions from industry-leading companies around the world:
• What challenges do you face in designing next-generation products?
• Are you constrained by weight limitations, space limitations or temperature limitations?
• Do your customers demand better performance, extended product life expectancy and increased product reliability?
• What thermal issues are you constantly trying to overcome?
eGRAF® products have differentiated product designs and secured competitive advantage. Each design has been proven to have thermal benefits that outperform other materials:
• Reduce screen temperature in plasma display panel televisions
• Reduce touch temperature in cell phones
• Provide much needed weight savings in the world's lightest laptop computers
• Eliminate the need for cooling fans
• Shield temperature-sensitive components from excessive heat
As market demands change and evolve, eGRAF® products continue to exceed expectations. In a few short years, award-winning eGRAF® SPREADERSHIELD™ products have driven natural graphite's in-plane thermal conductivity from 200 to 500 W/mK—even as market adoption is in the early growth stages.
With a knowledge base of over 100 years in bringing innovative carbon and graphite-based products to market, GrafTech provides solutions within the consumer and industrial electronics, military, telecommunications and transportation industries.
eGRAF® SPREADERSHIELD™ Products
SPREADERSHIELD™ products function as both a passive heat spreader and heat shield – combined together as "SPREADERSHIELD." GrafTech has designed over 200 application-specific parts, all of which improved thermal performance within a limited space, reliable up to 400°C. 80 percent lighter than copper and 30 percent lighter than aluminum, SPREADERSHIELD™ products provide a valuable alternative to traditional heat spreaders that limit design options. Often, SPREADERSHIELD™ designs eliminate the need for, or work in conjunction with active thermal solutions, such as heat pipes and fans.
SPREADERSHIELD™ material can be die-cut, laminated with plastics, metals or adhesives, and is flexible enough to conform to product contours. Many consumer and automotive electronic devices have utilized SPREADERSHIELD products, such as cell phones, laptop and ruggedized computers, handheld gaming devices, batteries, projectors and set-top boxes.
eGRAF® zSPREADER™ Products
zSPREADER™ products are the newest addition to the eGRAF® portfolio. By combining copper or aluminum rivets with a 500 W/mK SPREADERSHIELD™ product, zSPREADER™ solutions are ideal for discrete heat source cooling -- ideal for LED applications.
High-power LEDs are increasingly being used in flat panel displays, mini-projectors, general illumination, automotive, traffic signals and architectural lighting. Although high-power LEDs are rapidly becoming the industry standard, current options for heat dissipation have fallen behind this new technology. As a result, users of high-power LEDs face a range of problems, including:
• Insufficient light output
• Poor reliability
• Undesirable lumen maintenance
• Excessive power consumption
• High lifetime cost.
All of these heat-related issues hinder the ability to develop reliable, marketable products. As LED power and brightness demands increase, zSPREADER™ designs can avoid traditional solutions with large heat sinks, heat pipes and fans that result in high-cost, less reliable, bulky designs.
zSPREADER™ products are manufactured through a unique riveting process, where each metal via is inserted through SPREADERSHIELD™ natural graphite at a 90-degree angle, creating a 3-dimensional heat spreading solution. Each metal via is in direct contact with a heat source, conducting heat rapidly into the SPREADERSHIELD™ material.
With a lower thermal resistance and lighter weight than aluminum or copper, zSPREADER™ designs are quickly becoming the newest alternative technology to cooling high-power LEDs.
We'd welcome the opportunity to understand your toughest thermal issues and lend a consultative expertise. Visit www.egraf.com today!