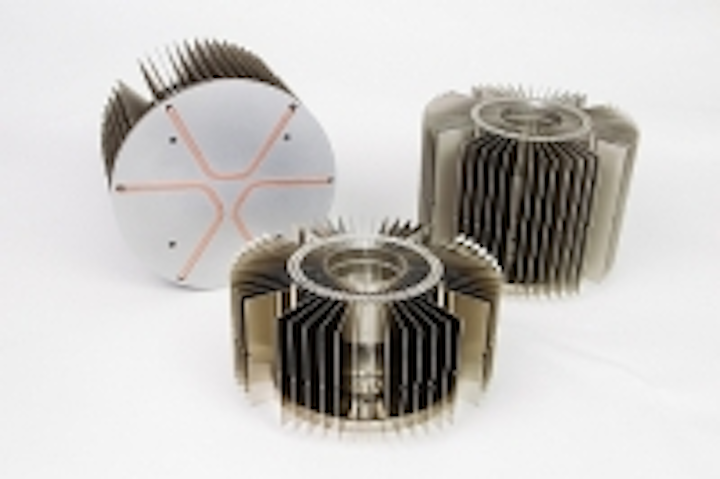 (Warwick Rhode Island): Cooliance Inc. is pleased to announce the introduction of its' new High Power Passive thermal management solutions for LED lighting.
Presented in conjunction with Strategies in Light, the new CHP thermal management series has an initial product offering covering 150 watts, 200 watts, and 250 watts. The CHP product designs feature a compact size with a footprint of 200mm (<8 inches) in diameter and a low profile height of 100mm (<4 inches) for the 150 watt units and a height of 150mm (<6 inches) for the 200 watt and 250 watt units.
Interested in more articles & announcements on thermal management?

These three initial products for LED lighting design will be followed by additional products, currently under development, reaching upwards to 500 watts. The new thermal management products are based on proven bonded fin aluminum designs which offer excellent thermal attributes while also offering light weight (under 3lbs) construction and feature a nickel plated finish. The units feature a standard 10mm thick base for excellent heat dispersion with industry standard hole patterns being available or customer specific requirements can be met.
The CHP series has been developed to meet the high thermal requirements of LED engine providers such as Bridgelux, Citizen, Cree, Luminous Devices and Tridonics, as well as other manufacturers, along with custom chip on board designs. The new CHP series can be seen at Strategies in Light Booth #731 with evaluation units being available directly after the show.

Cooliance Inc. is a leading LED Lighting thermal solutions provider, with 10+ years of experience in solving complex thermal challenges. Along with a broad family of standard product offerings, Cooliance offers design assistance for its customers supported by thermal analysis. Corporate headquarters are based in Warwick Rhode Island, with design/production centers in Asia; along with a Customer Support Center located in Ettlingen Germany for the EMEA region.
Contact:
Steven T. Cobb - Cooliance Inc.
+1-401-921-6500
E-mail:

Web site:

Locate more thermal management product vendors in the LEDs Magazine Online Suppliers Directory

Submit new products, case studies/projects, and other press releases at http://www.ledsmagazine.com/content/leds/en/addcontent.html.