Covestro marketing exec discusses polycarbonates for LED lighting that will premiere at Light+Building
Mar 7th, 2016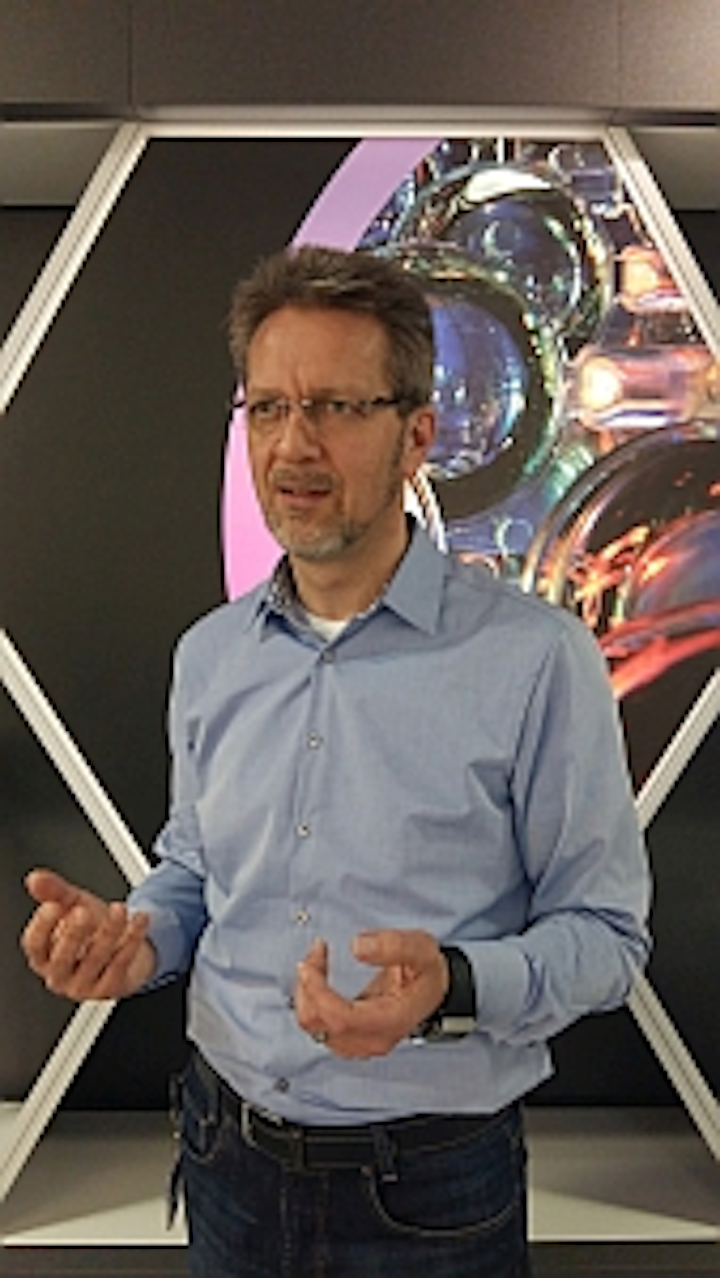 Numerous material solutions for a variety of requirements

Covestro, formerly Bayer MaterialScience, is appearing under its new name for the first time at light+building, the world's leading trade fair for lighting and building technology. From March 13 to 18, 2016, the company will be showcasing polycarbonate-based material solutions for energy-efficient LED lighting at Stand E47 in Hall 4.0. Axel Wetzchewald, head of marketing for LED applications in the Europe, Middle East, Africa and Latin America regions, discusses the benefits of high-performance plastic and presents current developments.
Interested in more articles & announcements on SSL design materials?

Which materials do manufacturers of LED lamps want?
In general, they are looking for lightweight materials that are easily shaped and cost-effective to process. Other characteristics are dependent on the application. Lenses should be as transparent as possible, so that the LED light can be used to its full extent. Light-diffusing materials are often required for indoor applications such as lamp covers, so that nobody is blinded by glare from the point light sources. For cooling elements, on the other hand, thermal conductivity has a higher priority. This is where plastics have a good chance of replacing existing materials.

How does Covestro respond to such different requirements?
Covestro has been actively involved in developing energy-efficient and resource-friendly LED lighting for years. We have developed a whole range of material solutions to meet these requirements, all of them based on polycarbonate. These include Makrolon® granules and sheets made from them, as well as Makrofol® films.

Polycarbonate has qualities that are key for this. The plastic is crystal-clear, extremely robust and can withstand high temperatures. It is also easy to shape and can be processed effectively using extrusion and injection molding. We can also use special additives to give it light-diffusing or thermally conductive characteristics.

Are there specific customer requirements that go beyond that?
Yes, very individual requirements often arise when collaborating on a specific project. Take the Futurix lights from the Belgian manufacturer VLUX, for example. These are used both outdoors and in the damp and dusty environments of factory halls and parking garages.

In these settings, our product's low tendency to warp and low shrinkage is a real advantage. Lamp covers made from it ensure the structure is sealed and prevent the penetration of dust and water. The Makrolon® grade used in outdoor applications is also designed to be weather resistant. The diffuse material disperses the light very evenly and creates glare-free lighting.

What advantages does polycarbonate have over aluminum for cooling elements?
We developed Makrolon® TC8030 for this application. This highly filled grade has outstanding thermal conductivity and can be processed just as effectively as our other polycarbonates. It is either impossible or extremely difficult to manufacture cooling elements with complex shapes using aluminum. The die-casting method most commonly used in this process is also not as cost-effective as manufacturing using injection molding.

We were able to prove the suitability of our polycarbonate in a joint project with Karelia University in Finland and the Finnish injection molding company Vesuto Oy. This project also confirmed the advantages over aluminum. As part of his degree thesis, designer Nikolai Ylimys used the material to create a cooling element for LED lights that was then manufactured by Vesuto Oy.

Are there trends in plastics for LED applications?
One current trend is to manufacture parts with multiple optical functions. Clear solid Makrolon® SX Shark sheets, for example, are finished with a curved microprism look on one side and a glossy surface on the other. As a result, they combine the properties of high light permeability and excellent light guidance – perfect for achieving glare-free light. When you also consider the high impact resistance and outstanding fire performance, there are clear advantages over similar products made from other thermoplastics or glass.

About Covestro:
With 2014 sales of EUR 11.8 billion, Covestro is among the world's largest polymer companies. Business activities are focused on the manufacture of high-tech polymer materials and the development of innovative solutions for products used in many areas of daily life. The main segments served are the automotive, electrical and electronics, construction and the sports and leisure industries. Covestro, formerly Bayer MaterialScience, has 30 production sites around the globe and as of September 2015 employed approximately 15,700 people (full-time equivalents).

Forward-Looking Statements
This release may contain forward-looking statements based on current assumptions and forecasts made by Covestro AG. Various known and unknown risks, uncertainties and other factors could lead to material differences between the actual future results, financial situation, development or performance of the company and the estimates given here. These factors include those discussed in Covestro's and Bayer's public reports which are available on the Covestro website at www.covestro.com as well as on the Bayer website at www.bayer.com. Covestro and Bayer assume no liability whatsoever to update these forward-looking statements or to conform them to future events or developments.


Contact:

Covestro

Web site:

www.covestro.com

Locate more packaging & optics materials vendors in the LEDs Magazine Suppliers Directory

Submit new products, case studies/projects, and other press releases at http://www.ledsmagazine.com/content/leds/en/addcontent.html.

More from Covestro (formerly Bayer MaterialScience):
Bayer MaterialScience displays SSL design materials at LFI 2015
Bayer polycarbonate sheet available in new opto-mechanical software library for lighting system design