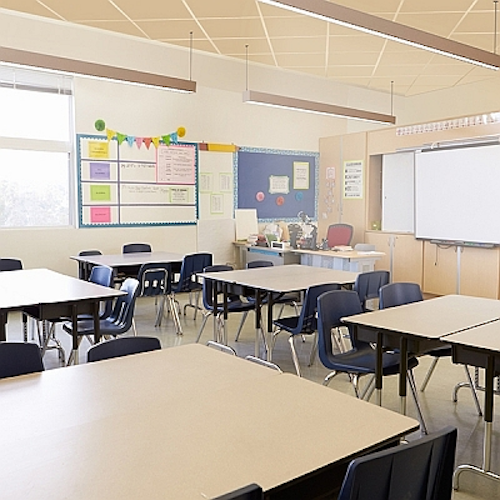 The Vital Vio-based continuous disinfection technology licensed by Visa Lighting is said by the parties to not infringe on IP originating with the University of Strathclyde and licensed in the US by Kenall Manufacturing.
Visa Lighting has announced that it will defend its White Light Disinfection LED luminaires from a suit brought recently by Kenall Manufacturing. Visa is deploying continuous disinfection technology from Vital Vio in solid-state lighting (SSL) products such as the Linesse linear slot fixtures and says that it will continue to sell the products as the intellectual property (IP)-centric legal skirmish progresses (the Linesse is shown in a pendant luminaire installation below).
Kenall filed the legal action on Aug. 31, 2018 in the United States District Court for the Eastern District of Wisconsin. Kenall sells similar continuous-disinfection SSL products under the Indigo-Clean brand. Kenall licensed the underlying technology from the University of Strathclyde in Glasgow, Scotland. Both the Strathclyde and Vital Vio technologies kill pathogens through continuous emission of violet spectral energy.
Visa Lighting and Vital Vio, however, clearly see the former's patents as proof of a non-infringing technology platform. "Visa Lighting believes in a fair and competitive marketplace," said Ryan Oldenburg, executive vice president at Visa. "We are confident in our case and believe that we will prevail in court. We will continue to develop, market, sell, and support this technology across our product lines while this matter is resolved."
After we posted the above-linked story, we learned more about the past history between Kenall and Vital Vio. The University of Strathclyde and Kenall had previously sued Vital Vio back in 2016 for technology that infringed two Strathclyde patents. The Albany Times Union reported in May 2016 that the patent lawsuit was settled in a manner that was "painless" to all parties, and that Vital Vio had transitioned to a new non-infringing technology platform.
In the Times Union article, a Vital Vio executive asserted that the new technology Vital Vio had developed differed from the older technology based on the size of the implementation. The article reported that the new implementation could be realized in a footprint the size of a "thumbtack."
It's worth noting that back in April of this year Vital Vio announced a patent win for a "Single Diode Disinfection" technology. Presumably, the simpler way to implement continuous disinfection technology would be through two LED channels — one with violet LEDs and one with phosphor-converted white LEDs. The violet energy would get unnoticeably mixed into the white light.
A single-diode approach might be less costly and it fits with the comment about thumbtack size. But the single-diode approach might change a use case that Vital Vio has espoused, such as in a presentation founder Colleen Costello made at Strategies in Light 2017. A two-channel approach allows a disinfecting luminaire to only emit violet when no people are present to save energy and even the level of violet output could be intensified. We asked Vital Vio for more insight into its latest technology but have yet to receive a response. We will update this article if a clarification becomes available.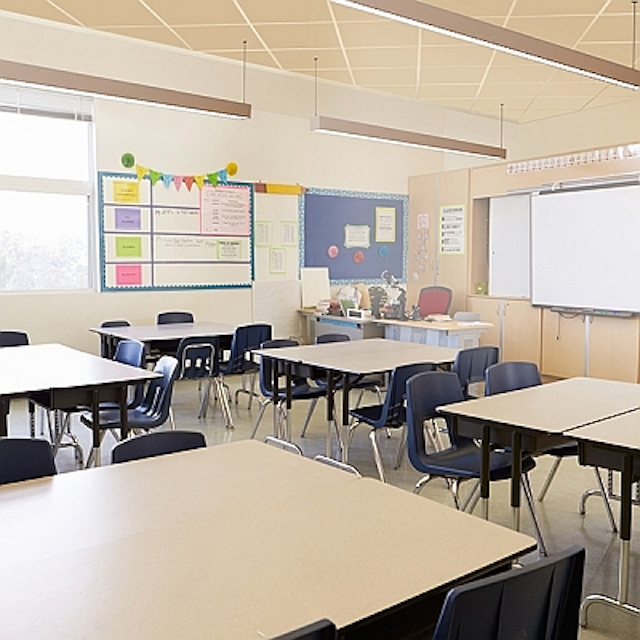 Visa Lighting disinfecting LED luminaires like the Linesse shown here incorporate violet-based continuous disinfection technology from Vital Vio.
Meanwhile, Vital Vio did counter some of what we reported last week. The company asserts that it was first to market with a continuous disinfection product and installation at a customer site in 2014, after the founding of the company in 2012. And while Vital Vio had not participated in lighting-industry events prior to Strategies in Light 2017, the company had been present at some technology and biotech events and participated in publicly-disclosed funding programs prior to 2017.
Back to the Visa Lighting response to the Kenall suit, the company included a corporate statement from Vital Vio on the IP skirmish:
"Vital Vio is a leader in clinical research demonstrating the germ-killing power and potential of White Light Disinfection technologies and related innovations in continuous disinfection. The company began R&D and testing in 2012 and was first-to-market in the U.S. with its initial continuous disinfection product installations in 2014. As a result of its multi-year investment in R&D, the company has a broad product portfolio. Vital Vio technology is powering a range of commercial and retail disinfection products globally. The Vital Vio team remains intently focused on the critical mission of working with its partners and customers to expand the use of its VioSafe disinfecting technology to protect public health and save lives by reducing the risk of infections.
"Vital Vio has been awarded four U.S. Patents for its innovative White Light Disinfection technologies, platforms, and products, with numerous additional patents pending. Vital Vio is the sole owner of its intellectual property portfolio.
"Vital Vio is continuously innovating and growing its intellectual property portfolio, delivering to the market the most advanced continuous disinfection products. The fact is, the company and its licensing partners operate under Vital Vio's next-generation and most commercially relevant proprietary technology, which is distinct and unrelated to the patents asserted in Kenall's recent complaint. Kenall is fully aware of this distinction, having previously dismissed a complaint between itself and Vital Vio over the same patents. Kenall's claim that it is 'the exclusive licensee for markets in North America' and that it 'has successfully defended this intellectual property as recently as May 2018' ring hollow, are without merit, and the asserted patents have yet to be properly challenged."
Recognizing the ramp-up in activity in human-centric lighting research and commercialization in the sector, our colleagues at Strategies Unlimited will be releasing their first report on lighting for health and wellbeing, which covers both circadian lighting and lighting for disinfection. The report will provide insights into the most likely markets for circadian and disinfection products and the features that would support such applications; data on the size of the market, with regional prospects; and a forecast on the installed bases, unit shipments, and revenues through 2023.