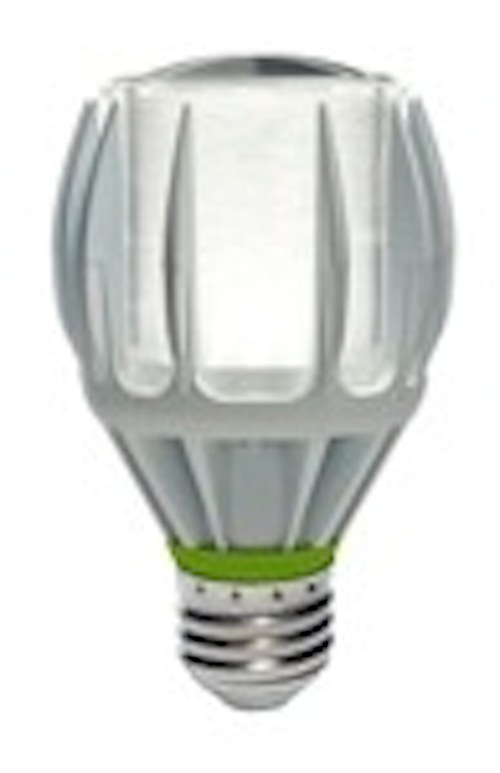 The annual Consumer Electronics Show (CES) took over most of Las Vegas, NV for its January 8-11 run and both LED and OLEDs were prevalent on the exhibit floor. We saw a new retrofit lamp, improved dim-to-warm lighting, and a host of entertainment-oriented uses for solid-state lighting (SSL) technology. Moreover, home automation was a major theme of the show and lighting control is part of that story.
The spectacle that is CES is hard to describe. The exhibits from large companies such as LG, Samsung, Intel and others were the size of a football field. The similarly big, rectangular Sony exhibit had an oval screen suspended from the ceiling roughly around the perimeter of its booth. The company used the video screen for many things but standing in the booth and watching the cars of Gran Turismo circling the huge oval was amazing and we suspect used LED-based projectors.
CES 2013: Sony Booth Tour from SonyElectronics on Vimeo.
Lighting at CES
Back down to earth, LED-based lighting played a minor role at the show. Rambus, for instance, used CES to launch an LED retrofit lamp family that used the company's MicroLens technology. MicroLens is a light guide that has integrated optical elements formed inside the guide that deflect light creating a naturally diffuse light.
The primary usage for MicroLens has been in planar lighting such as in a recent GE Lighting product that resulted from GE licensing MicroLens technology from Rambus. But Rambus developed a cylindrical light guide to create an omnidirectional beam distribution for the retrofit lamp application. The lamp design uses three cylindrically-shaped, light-guide segments that in total comprise a complete cylinder that can deliver a 360° omnidirectional beam pattern (see nearby photo).
The LEDs are mounted in a circular pattern around the base of the lamp under the light-guide segments. The light guide carries rays vertically up the guide with the embedded element deflecting light outward.
While the design will surely deliver light evenly around the radius of the cylinder, it may not perform so well in terms of vertical beam distribution. Energy Star, for example, requires uniform luminous intensity over a range of 0° to 135° with 0° being the top of the lamp. Rambus has not said whether the lamp will meet Energy Star requirements.
Rambus says that design results in a reduction in the bill of materials and simpler manufacturing. "Our unique design has all the benefits of the best LED technology available and offers a significant bill of materials cost savings," said Jeffery Parker, president of the Rambus Lighting and Display Technology division.
The product design does appear to have a very effective thermal design. There are open channels that allow airflow through the lamp between the three segments of the lamp.
Rambus, however, doesn't typically manufacture products but rather licenses the technology that it develops, and that appears to be the case with the retrofit lamp as the company says that it will bring the product to market with partners. Elite Group will be the initial source for the retrofit lamps and the first product will be a 60W equivalent lamp due in the second quarter. There are more details on the announcement in an article on our Illumination in Focus website.
The use of a light guide is relatively unique in the LED retrofit lamp space. To date, only the 3M lamp has used a light guide. That design also mounts LEDs in a circular fashion but the guide is spherically shaped.
NXP dimming technology
NXP Semiconductor, meanwhile, demonstrated a dim-to-warm SSL technology that the company says will more closely mimic the operation of incandescent lamps. Dim-to-warm products came on the market last year and typically mix a red or amber LED into a lamp or luminaire, allowing the color temperature to become warmer as the light is dimmed. An LED-based product that uses only white LEDs will maintain the same color temperature as it is dimmed.
To date, many available dim-to-warm products end up looking almost red at low light levels. NXP says that the problem is that the junction temperature of the LED drops as the drive current drops and that causes a shift in the color properties of the LEDs. NXP says that it has developed a way to monitor junction temperature to keep the color temperature on the blackbody curve as the light level drops.
NXP calls the new technology "sensorless sensing" because presumably they have a way to monitor the LED performance without using a dedicated optical or thermal sensor. The company has not disclosed exactly how the technique works but they apparently monitor the LED junction temperature using the electrical connection that carries current to the LED. NXP hasn't said when or how it will commercialize the technology.
OLED technology
If there was OLED lighting technology at CES, we missed it. But OLED-centric display demonstrations could be indicative of future developments in the lighting space. One thing that has hampered OLED proliferation is the limitation on panel size limited by the ability to evenly distribute drive current across a panel (See a recent article on OLED technology from our Illumination in Focus website for more details).
You never know for sure if the latest products on exhibit will actually come to market. But there were large OLED TVs on display. LG Electronics launched a 55-in OLED TV that it says it will deliver to Korean customers beginning next month and later to the US market. The TV, however, comes at a steep price of $12,000.
Of course more people will pay a premium price for a TV than will for lighting, especially for a compelling video experience. "When customers see our razor-thin OLED TV for the first time, they're left speechless," said Havis Kwon, global president of the LG Home Entertainment Company. "That's a clear indicator as any that OLED TV is much more than just an incremental improvement to current television technology." Still, it's hard to speculate how progress in the TV space will translate to lighting.
Another potential benefit of OLEDs in both entertainment and lighting is flexible panels. Such products may be further from commercialization, but there were a couple of interesting CES demonstrations.
Back in the large TV space, Samsung showed a curved OLED TV that the company said adds depth to the viewing experience. The gentle curve means that your eyes are equal distance from all portions of the display – assuming you are sitting centered in front of the TV.
Samsung took display flexibility to a greater level in a small OLED display for a mobile phone. The company has a new technology called Youm that isn't ready for the market, but demonstrations show that the display can be bent double. We're not sure how that might be applied to lighting, but surely someone will have an idea in the area.
LED-backlighting
Of course LED-based backlights remain in the news. LG announced at CES that it was moving exclusively to LEDs for backlighting in its LCD-based TVs. The TV makers have found it tough going to convince mainstream customers to pay more for LED backlighting. But now LEDs are winning based purely on energy efficiency and reliability.
Most analyst have already factored 100% penetration for LEDs into backlighting, so the LG news may not impact packaged LED sales projection other than to possibly accelerate the market transition a bit.
But the major TV news at CES just might move the needle for LED components. Arguably the biggest news at CES were the so called 4k or ultra HD TVs that generally feature resolution on the order of 4000 by 2000 pixels – four times better than current HD TVs.
LG among many others demonstrated such products including an 84-in set. These high-end TVs will use substantially more LEDs because they will generally use local-dimming technology. Alas, the market for such sets is a year or more away because there is no content for such sets and in fact no way to stream content to them at this point.
Networks and controls
Home automation was a major theme at CES, and managing residential lighting is part of that story. Moreover, as we've written before, LED-based lighting is inherently suited for controls.
The ZigBee Alliance had a large exhibit at CES with a number of its alliance members showing lighting-centric products. The biggest crowd was gathered around an exhibit for the Philips Lighting Hue lamp that was announced a few months back.
Centralite had a demonstration of lighting controls based on the ZigBee Home Automation (HA) standard. The company's Azela family includes both lighting controls and energy-management elements for other home devices. You can control Azela devices with smartphones.
MMB Networks demonstrated its ZigBee-based development tools that companies can use to accelerate product-development cycles for lighting and other automated devices. The RapidConnect product family includes software and hardware building blocks along with tools.
While ZigBee is the only open standard we have for lighting control in the home right now, not everyone is convinced that it will prevail. NXP, for example, is supporting both ZigBee and its proprietary JenNet-IP platform.
Both ZigBee and JenNet-IP utilize the same IEEE 802.15.4 physical layer. At CES, NXP demonstrated evaluation kits and microcontroller technology that can support either platform.
The controls space is surely accelerating. It will be interesting to see how many lighting products have integrated ZigBee support at upcoming shows such as Strategies in Light in February and Lightfair in April.