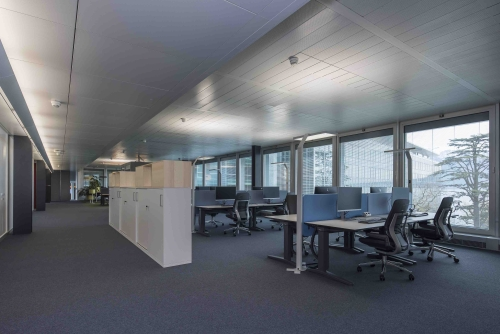 The Swiss food giant tries an appetizer connecting floor lamps to heating and other systems. Will it move on to the next course?
One of the world's largest food companies has completed one of its smallest smart lighting trials, as Nestlé has wrapped up a three-month taster of fifteen intelligent LED floor lamps connected to heating, cooling, and facilities management at its Swiss headquarters, where the company is deciding whether to move onto a bigger meal.
The freestanding lamps from Austrian LED lighting vendor Zumtobel contained sensors and wireless communication chips capable of monitoring and transmitting information to a central dashboard about temperature, humidity, air quality, air pressure, noise, and occupancy.
Zumtobel Services Group (ZGS) said the system showed the potential to reduce energy costs by 20% at the building in Vevey, Switzerland. It also noted that the intelligence could provide information on how facilities are being used and thus equip managers with insights on whether to redesign or reassign space within the building.
The occupancy data can also populate apps used by office users to help them locate co-workers or available desks. While other smart office trials and implementations have typically involved smart ceiling luminaires, the Nestlé deployment involved freestanding floor lights.
Nestlé trialed the lights from February through May as part of an experiment in flexible desk work practices. The $92 billion company did not make anyone available to comment on the pilot.
"The pilot project offered us not just the chance to test the practicality and implementation of the desk-sharing concept, but also to show our customer the potential for optimization," said Georg Terlecki-Zaniewicz, IoT (Internet of Things) project manager for ZGS. "The results show savings of up to 20% in terms of energy and overhead costs. At the same time, office carriers can provide a pleasant and more productive working environment for their employees."
Nestlé's open-plan office in Vevey, Switzerland deployed engineering samples of 15 freestanding Zumtobel LED floor lamps similar to the ones pictured here (they are most easily visible in the lower right), but slightly different, for a smart lighting trial. [Photo credit: Adrien Barakat.)
ZGS said data collected by the system can "automate and optimize the operation of the heating, ventilation and air conditioning [HVAC] system as and when required, which in turn lowers energy costs."
Nestlé does not appear to be in rush to move on to a broad, full-time deployment.
"We are in conversations with Nestlé about further steps," a ZGS spokesperson told LEDs Magazine.
ZGS ran the trial from its Digital Services group, which is the segment of ZGS that is pursuing opportunities in IoT lighting, in which the value and usefulness of data collected by lighting systems would factor into the monthly pricing that Zumtobel would charge to provide "light as a service."
While Dornbirn, Austria-based ZGS has won a number of light-as-a-service jobs such as at Swiss Helicopter, Germany's Aluminium GmbH Nachrodt (AGN), and the Faigle Kunststoffe GmbH plastics plant in Austria, those wins have lacked an IoT element.
Rather, they have focused primarily on financing LED lighting, sparing the end user upfront capital costs as well as maintenance headaches.
While smart, IoT lighting is dominating the hopes of many lighting companies, it is not uncommon for potential users like Nestlé and the city of Atlanta to move slowly in stages.
MARK HALPER is a contributing editor for LEDs Magazine, and an energy, technology, and business journalist (markhalper@aol.com).