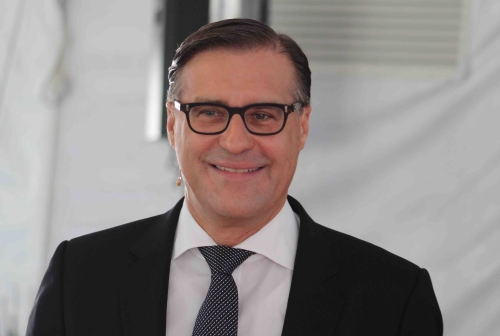 CEO Berlien says Osram is "accelerating" its cost-cutting as it eyes long-term growth in high-tech and a shift in strategic development.
The business of transforming from a lighting company to a self-proclaimed high-tech outfit continued to take a financial toll on Osram, which reported a 48.8% plunge in after tax profits for the third quarter ended June 30, to €33 million. On the positive side, the company managed to hold sales steady at €1.02 billion, and at least for the moment avoided issuing yet another profits warning.
Interested in articles & announcements on LED and lighting business developments?
It also promised to unveil a new strategic development plan in November.
Osram is currently weathering the transition through cost cutting, layoffs, and the freshly announced effort to sell its luminaire business.
"We are accelerating the current reorganization process," said CEO Olaf Berlien. "Nothing has changed in terms of long-term growth opportunities." In a statement, the company added that "long-term growth prospects remain good."
Berlien cited a "difficult market environment" and "temporary weakness in demand of our customers in the automotive industry," as factors in the earnings decline compared to the third quarter of 2017.
About 50% of Osram's revenues come from selling LED chips and LED lights to automotive companies. The chips come from the Osram Opto Semiconductors (OS) group and the lights from its Specialty Lighting (SP) group.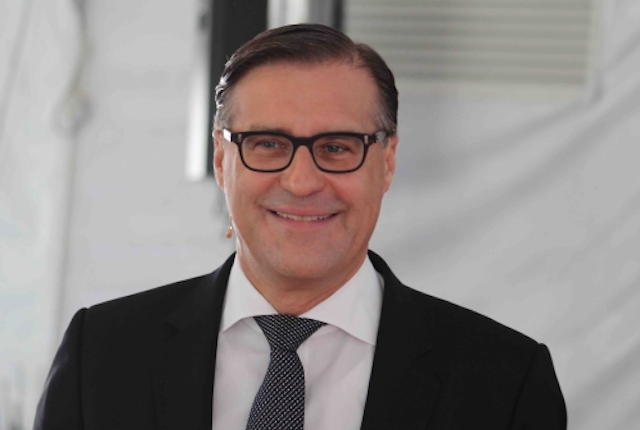 Osram third-quarter profits tumble, but sales keep pace
CEO Olaf Berlien likes what he sees in long-term growth potential, as Osram continues its transition into high-tech. Meanwhile, the company is quietly revising its strategic development plan, for which it will provide more details on Nov. 7. (Photo credit: Mark Halper.)
"In the third quarter of the fiscal year, the general economic slowdown and weak demand in the automotive industry was primarily reflected in our semiconductor segments Opto Semiconductors (OS) and in the Specialty Lighting (SP) segment," Osram explained. "The trade tariffs in the USA, more stringent emission tests in Europe, and lower production expectations from premium manufacturers have also caused uncertainty."
It also noted that currency exchange rates undermined earnings.
And industry segments other than automotive also contributed to the decline. For example, Osram said "there were project delays in business with mobile devices and horticulture applications and a continued slowdown of the general lighting market."
Mobile and horticulture are two prime examples of how Osram is reorienting its strategy around high-tech. Its mobile efforts include infrared LEDs intended to help provide biometric ID on consumer electronic devices. In horticulture, Osram is tailoring chips and lighting systems to provide optimal lighting frequencies and intensities to grow different plants and crops, such as with a system for NASA in space.
Munich-based Osram is engaged in many other efforts to gear lighting into a high-tech and Internet connected operation. It has even been known to sell Bluetooth communication chips — but not lights in some instances — to help commercial outfits gather data about their premises and communicate with people such as shoppers.
However, "smart lighting" in general has yet to go mainstream in the general lighting market. This sluggish uptake is part of what is holding back financial performance.
Yet as Osram continues to pursue smart tech and the IoT from both the lighting and chip level it is increasing its R&D expenditures, which have in turn held back near-term earnings. An ongoing €1 billion chip factory expansion in Kulim, Malaysia is also part of the effort to push LEDs beyond general illumination.
The world's second-largest lighting company's focus on high-tech was a big factor behind the planned sale of the luminaire business. Osram's ongoing efforts in luminaires will revolve around chips, sensors, software, and Internet connections for other luminaire makers. It is already doing this through the Digital Systems portion of its third business group, call Lighting Solutions & Systems (LSS). It is now selling the luminaire portion — the "dumb" portion — of LSS, while retaining Digital Systems.
The attempt to sell luminaires comes as Osram continues, on the other hand, to acquire or invest equity in companies from the high-tech space over the last year, such as connected lighting specialist Digital Lumens, retail software firm beaconsmind, horticultural software firm Motorleaf, horticultural lighting firm Fluence, and others. It has even acquired a laser chip company, Vixar, based in Plymouth, MN.
Throughout its wheelings, dealings, and cost cuttings, Osram has had to lower its financial forecast twice this year. In late April it halved its outlook, noting that revenue for the year that ends Sept. 30 will increase by 3–5%, down from Osram's earlier guidance of 5.5–7.5%. It also lowered its forecast for adjusted EBITDA by around 9%, to €640 million from €700 million.
Two months later, in late June, it pushed things down again, to an expected revenue increase of 1–3%, and adjusted EBITDA of approximately €570–600 million.
So it was notable when Osram did not revise again when it reported for the third quarter yesterday.
Even so, the company is not out of the woods yet.
"Management is looking at number of measures to rectify the current market situation," Osram said. "They are first looking to streamline the global administration, which should reduce cost by approximately 20%. Beyond that, several structural and operational programs have been implemented. This includes the improvement of efficiency in R&D, in the supply chain, and in the German factory alliance. These operational programs should sum to €130 to €140 million in savings by 2020."
Those measures include plans to let go about 600 workers by 2020. The company's headcount has actually grown from the third quarter of last year, from 25,700 employees to 26,900, because of acquisitions, and because of factory openings and expansions in Kulim; in Regensburg, Germany; and in Wuxi, China.
Osram also said it is revising its strategic development plan and will provide more details at a capital market conference on Nov. 7, which is after the company's 2018 year ends on Sept. 30.
The third-quarter results came less than a week after the world's largest lighting company, Signify, reversed its own financial outlook by saying that sales will not grow this year. Signify made that announcement as it reported a 3.4% drop in revenue for the second quarter ended June 30, to €1.54 billion, and a 60% fall in net income, to €29 million.
MARK HALPERis a contributing editor for LEDs Magazine, and an energy, technology, and business journalist (markhalper@aol.com).
*Updated August 8, 2018 at 9:34 AM for correction of headcount.