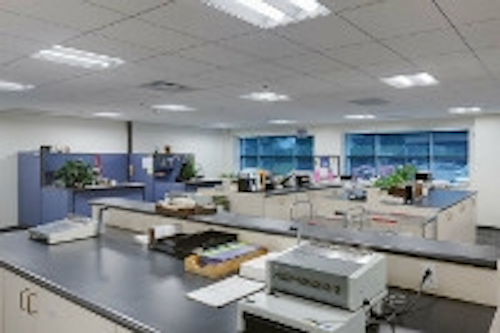 Tri-State Generation and Transmission Association selected RT Series LED luminaires from Lithonia Lighting, an Acuity Brands company, in addition to nLight lighting controls and occupancy sensors, for an office expansion and renovation at their headquarters. The new lighting system is expected to save 10% on energy over its life cycle. The controls will include reprogramming capabilities, allowing it to change when office furniture is rearranged.
The luminaires used were the RT series recessed 2×4 and 2×2 LED luminaires, which feature a 24W and 38W option for the 2×2, and a 40W and 49W option for the 2×4. Both the 2×2 and 2×4 feature an 82 CRI and a color temperature of 3500K, 4000K, or 5000K. More than 300 RT Series LED luminaires were installed.
The control system used was the nLight Network Control System from Sensor Switch, an Acuity Brands company. The control system is embedded in each fixture, and 100 control devices, such as daylight harvesting sensors and programmable controls, along with 35 occupancy sensors, were installed as well. The control system allows the office to operate on a timed solution, with the lights turning on and off automatically based on a programmable schedule. The system also includes manual switches for employees working early or late. If the lighting system is activated manually it will shut down the lights after several hours if they are not deactivated manually before then.
"Tri-state was very interested in using LED lighting technology everywhere it was appropriate," said Bob Hawkins, Lighting Applications Engineer, The Lighting Agency, who helped evaluate the best LED lighting solution for the job. "They had a great experience using LED lighting technology outdoors and wanted to achieve the same benefits indoors. We conducted a demonstration with the lighting and digital controls, and Tri-State determined the RT Series with embedded nLight controls would be the best fit for their facility."