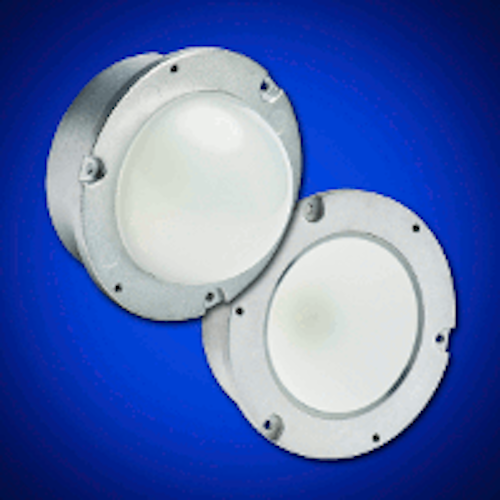 Cree has announced a new 4000-lm LED modular light engine with a choice of drivers that the company says can effectively replace 70W ceramic metal halide lamps. Lighting manufacturers can adapt the solid-state lighting (SSL) module into existing luminaire designs and immediately deliver a 50% reduction in energy usage even before dimming is considered for additional savings.
" We can provide our customers the same light quality and brightness required for their spaces using just half the power of our competitors still using CMH," said Quinten van de Vrie, director at LEDs Progress about the LMH2. "Working with Cree gives us a significant performance advantage over our competitors."
Cree is offering the LMH2 family over a broad range of flux output from 650 to 4000 lm and in CCTs ranging from 2700K to 4000K, and CRI greater than 90 offered in all CCTs. But it seems that the new high-end model of the family has caught the interest of customers, with van de Vrie adding, "The new 4000 lumen LMH2 LED Module is an ideal LED light source to replace 70W ceramic metal halide in many lighting applications."
Bryan Scott, owner of Barn Light Electric added an endorsement, saying, "Cree's 4000 lumen LMH2 LED module will allow us to replace ceramic metal halide and CFL, which our commercial customers are requesting. Now customers that want to light big spaces with high ceilings have brighter options of the same beautiful, energy-efficient light in the style and charm of vintage-style barn light fixtures."
Scott's comments also get at the crux of the advantage that a module offers. The company could adapt the technology into an existing product line quickly. We often write about how LEDs enable new form factors and require new ways of thinking. But there are plenty of applications where specifiers desire a traditional look with better efficiency. Scott added, "The new LMH2 LED module allows us to quickly expand our line of LED lighting without making any changes to the beautiful vintage housing that we're known for."
The other advantage of a modular light engine approach is lower development cost and that translates into less risk. "We are excited that Cree is expanding the LMH2 LED Module family because they provide LED lighting solutions with low design risk," said Mike Wang, vice president of lighting engineering at Edison Price Lighting. "The LMH2 LED module delivers all the best features of lighting technology — light output, efficacy, quality of light, and long lifetime — in a stable format."
Cree is offering a number of options in terms of drivers that can be paired with the module, with the combination delivering system efficacy as high as 108 lm/W. For example, the company offers a Digital Addressable Lighting Interface (DALI)-enabled driver for networked applications and other dimmable drivers as well that operate down to 5% of full output. The module is backed by a five-year warranty. And Cree asserts that customers will get access to light-source documentation such as LM-80 reports that simplify the Energy Star certification process.