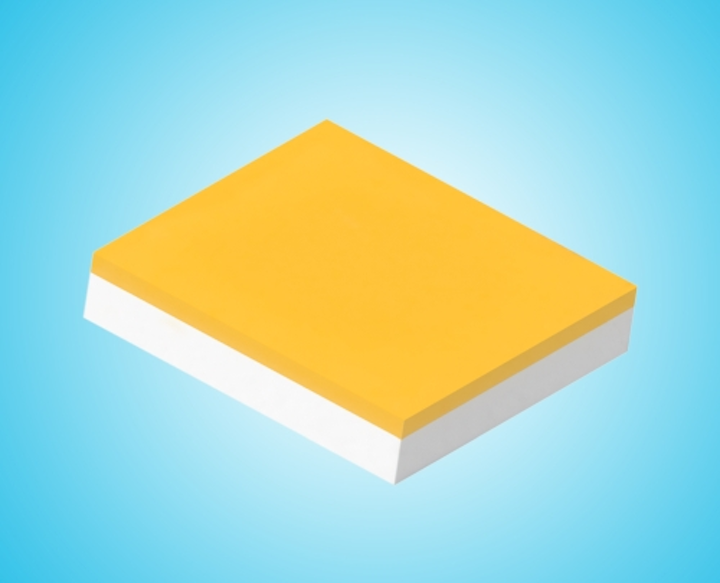 Fillet-enhanced CSP LEDs add reflective side walls to maximize light extraction from the top emission surface, thereby matching the new components to directional and other high-output applications.
Samsung Electronics has announced a new family of chip-scale package (CSP) LEDs that the company refers to as Fillet-Enhanced CSP (FEC) LEDs. CSP LEDs are inherently five-sided emitters with no package covering the sides of the devices. The FEC products use a reflective coating on the four sides of the CSP device to reflect light and maximize the flux out of the top surface.
Interested in articles & announcements on packaged and CSP LEDs?
We have covered the five-sided emission issue in several articles since CSP LEDs first came to market via Lumileds at Strategies in Light 2013. And we also covered the topic of emission and beam in a recent webcast on packaged LEDs.
In many applications, five-sided emission is perfectly fine. For example, linear luminaires need wide beams and light in every direction. And other applications, such as the street lights we covered at LightFair International (LFI) this year, place the LED under a total internal reflection (TIR) lens, eliminating any issues with the side emission.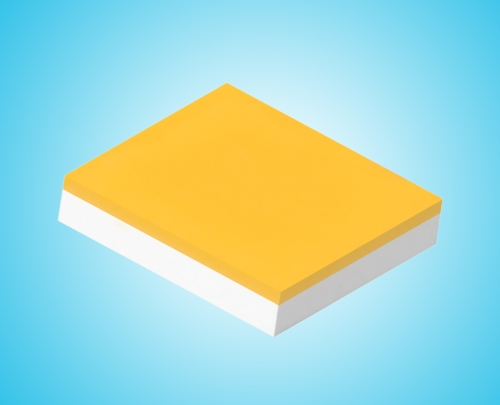 Samsung's new Fillet-Enhanced CSP LEDs will deliver high lumen output and efficacy for high-bay and directional lighting.
Directional lighting, however, requires maximum light output in one general direction. That's the application Samsung will address with the FEC family along with high-bay lighting. Moreover, Samsung said the new LEDs have higher efficacy than did previous Samsung CSP LEDs.
The FEC announcement covers a broad performance range with what the company termed 1W- and 5W-class LEDs. "Our FEC lineup represents an outstanding set of highly advanced LED component solutions that accommodates a variety of luminaire designs from below 1000 lm to well over 10,000 lm," said Jacob Tarn, executive vice president of the LED Business Team at Samsung. "Samsung will continue to pave the way for widespread adoption of CSP technology in the mainstream lighting market, bringing greater performance and cost benefits to a growing number of lighting manufacturers."
Samsung referred to the 1W LM101B as a mid-power LED and the 5W LH231B as a high-power LED. The former, driven at 700 mA or 0.5W, delivers 200-lm/W efficacy at 80 CRI and 5000K CCT. The latter, driven at 2A or 6W, delivers 170 lm/W at 80 CRI and 5000K CCT. Those performance figures are certainly among the tops in the industry.
The FEC LEDs are coated on the sides with titanium dioxide (TiO2). Samsung related the resulting emission to be similar in beam control to a mid-power LED packaged in an epoxy-molded compound (EMC) cavity. The internal reflective surfaces eliminate crosstalk between LEDs and enables tighter packing of such LEDs in an array, according to the company.
The new LEDs join the 3W LH181B LED in the Samsung CSP family and the company said the FEC LEDs are already in mass production. Moreover, Samsung has shipped LEDs in other applications such as camera flash for several years, as we covered following an LFI press conference in 2016.